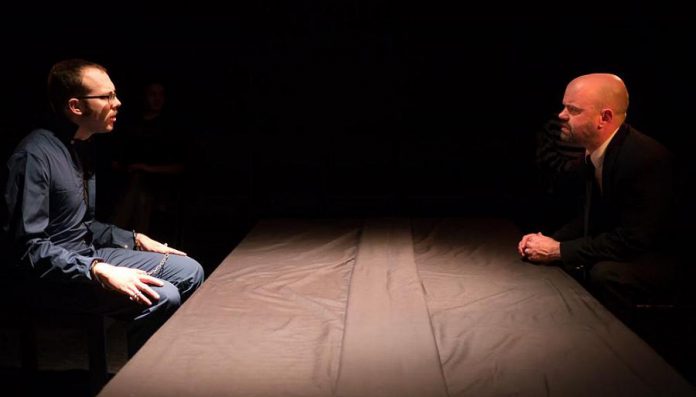 There's little connection between When I Sorrow Most by Simon Turner-Semchuk and Sinking's Better Than Standing Still by Quinn McGlade-Ferentzy. They are different in tone, style, and subject matter. However, they do have a few things in common.
They are both brand new one-act plays written by Trent University students, both smart and highly original shows, and both are being performed this weekend at The Theatre on King in downtown Peterborough under the banner "Double Feature: Monstrandum Corpus Hominis".
Directed by Simon Turner-Semchuk, with Quinn McGlade-Ferentzy on lights and sound, "Double Feature" is both horrific and delightful and offers uncomfortable thrills and heartfelt laughter. The result is a schizophrenic night of theatre that needs to be seen.
The first short play, When I Sorrow Most, is an intense drama about the relationship between a deranged serial killer and his parents.
The uncomfortable but highly original drama features Dan Smith and Hilary Wear as James and Alice, the parents of homicidal maniac Jim, played by Jeff Curtis. Kelsey Gordon Powell also appears as Jim's victim.
When I Sorrow Most is truly inspired, as the relationship between killers and their parents is an untapped subject rarely is examined in the media or fiction. In society's attempt to dehumanize killers, the fact a killer is someone's child is something people would rather ignore.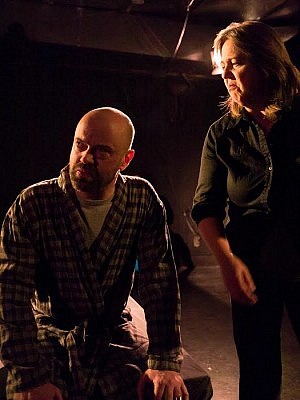 The play examines a mother's love, a father's shame, and the treacherous balance between love and hate. It also examines subjects of sexuality and repression in a futile attempt to try to understand why Jim did the things he did.
Dan Smith gives a strong dramatic performance as a father who can't look past the deeds his son has done, while Hilary Wear bleeds emotions as she straddles the lines of loyalty and disgust for her son.
Meanwhile, Jeff Curtis is terrifying as the deranged Jim. Unremorseful of his crimes and the pain he has caused his family, with just a simple gesture Jeff Curtis can curdle the audience's blood. Curtis gives a haunting performance that brings no pity from the audience, and doesn't fall into the cliches of other fictional serial killers.
The true strength of When I Sorrow Most lies in some of the unique production decisions. Presented as a "theatre in the round", the performance comes so close to the audience that the performers violate all sense of personal space. Already an uncomfortable show due to the subject matter, the close range of the performance creates an additional sense of claustrophobia.
Also, the director decided to present the flashback scenes of Jim and his victim in limited light, with the scenes performed in near darkness creating an eerie effect. Both are brilliant production decisions resulting in thrilling theatre.
When I Sorrow Most is a brilliant new short production that deserves a life of its own. This is a show that could easily be extended into a full-length script — or better yet a film project.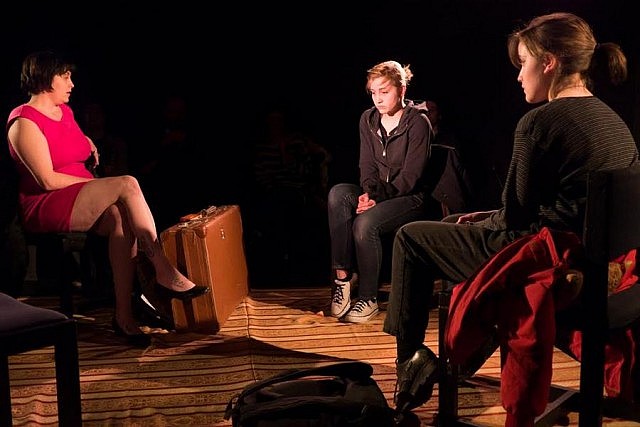 Although dramatic in other ways, Sinking's Better Than Standing Still is a dramedy about three women at crossroads in their lives looking for new beginnings, and the whimsical drag queen who helps them on their journey.
Get ready to take a ride on the "Trans Rail Rail Trans"! Your conductor is Wyatt Lamoureux in drag, who hosts three strangers — Skylar Ough, Lyne Dwyer, and Shannon LeBlanc — who are passengers on a train to different destinies. One woman is on the way to her estranged father's funeral, one woman is heading home to her family after a disastrous relationship, and the youngest seems to be heading to nowhere.
At first the three women are uncomfortable with each other and prone to stilted banter and awkward silences. But as the journey continues and the booze flows, the three begin to tell their stories to the audience, giving three very different but compelling tales of their lives. Skylar, Lyne, and Shannon create three very different characters, but connect with the audience who can't help but care about them and where their journey will take them.
The centerpiece of the show is the wild and flamboyant performance by Wyatt. Filled with whimsy and fun, Wyatt is part narrator and part hostess and offers big and genuine laughs to the audience. A delight to watch, Wyatt's performance is filled with fun.
Sinking's Better Than Standing Still is a smart and funny show, with equal parts joy and pathos. Clever, funny and surreal, it's a show that leaves you smiling. It's is the perfect show to follow When I Sorrow Most as it cuts through the bleak subject matter of the first show, and puts you in a cheerful mood as you leave the theatre.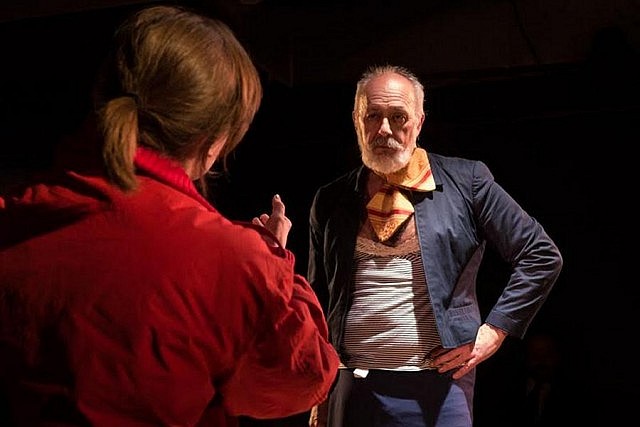 The two plays come together for a night of smart and highly original theatre by two young and talented new playwrights. I've became an instant fan of both Quinn and Simon and I'm excited to see what comes from these two authors next. This is theatre to be excited about.
"Double Feature: Monstrandum Corpus Hominis" runs from February 11th to 13th at The Theatre on King (159 King St., Suite 120, Peterborough). Shows begins at 8 pm. and tickets are $10 (or pay what you can) at the door.
All photos courtesy of Andy Carroll, www.flickr.com/photos/andys_camera/.