Valentine's Day is coming up this weekend, on Sunday, February 14th. Are you looking for the perfect way to celebrate love but feeling conflicted about the commercialism that has become attached with Valentine's Day?
This year, honour your loved ones without the stress and without the "stuff". Celebrate naturally with family, loved ones, or on your own by inviting Mother Nature along. Go beyond the typical candy, roses, and fancy jewellery this Valentine's Day.
Have you ever shared a meal with a chickadee? Many Valentine's Day dates are spent sharing a delicious meal. This year, grab a pocket of sunflower seeds and head out to one of our nearby natural areas to have a meal with the cutest date you'll ever have. In just the right location, chickadees will gladly feed from your hand giving them some needed winter sustenance, and you, a special moment with nature.
Some great places to feed chickadees in the Peterborough-area include Jackson Park, Trent Nature Areas, and Miller Creek Conservation Area. Wait until you hear or see the tiny birds fly up alongside you on the trail, then stand very still with an outstretched handful of seed. To feed chickadees, you'll need to practice some patience and persistence but it sure will be a date to remember.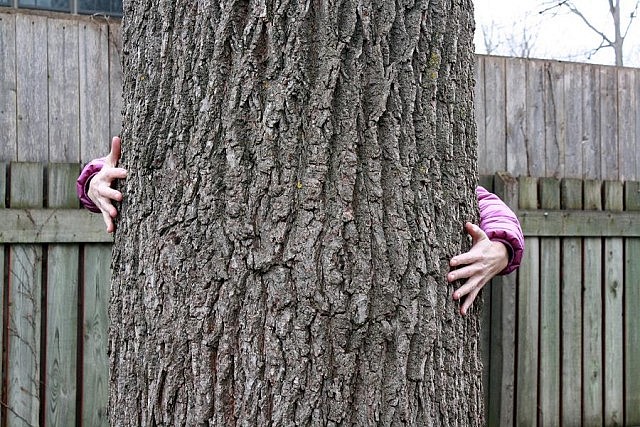 Have you hugged a tree lately? Feel the love this Valentine's Day. Science now tells us that hippies had it right; exposure to trees has been shown to help improve concentration levels and reaction times, have positive effects on mental illnesses, and increase mental capacity and overall well being.
Go ahead and hug the huge Maple tree in the front yard, or your favourite boulevard Oak. If you're looking for a particularly large embrace, you may want to visit Mark S. Burnham Provincial Park where you will find large old growth Hemlock to wrap your arms around.
Or, pick up a copy of Beneath The Canopy, Peterborough's Urban Forest and Heritage Trees book at the GreenUP Store to select some favourite trees from around the community.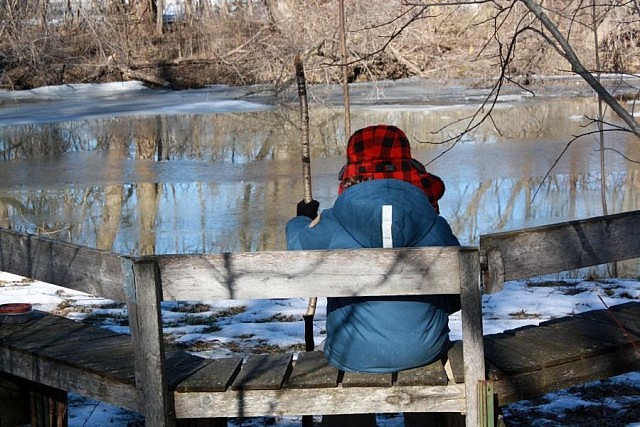 Enjoy some relaxing time alone with Mother Nature this Valentine's Day and experience some solitude in nature.
How can you find a way to get some quiet time together? There are many serene, calming trails and green spaces that are quite close by.
GreenUP Ecology Park, Beavermead Park, and Roger's Cove are great urban parks connected by the Trans Canada Trail that offer quick access to nature right in the city, with quiet benches by the water, bridges over the meandering Otonabee River, lovely views of Little Lake, and short looped trails that will take you just off the beaten path.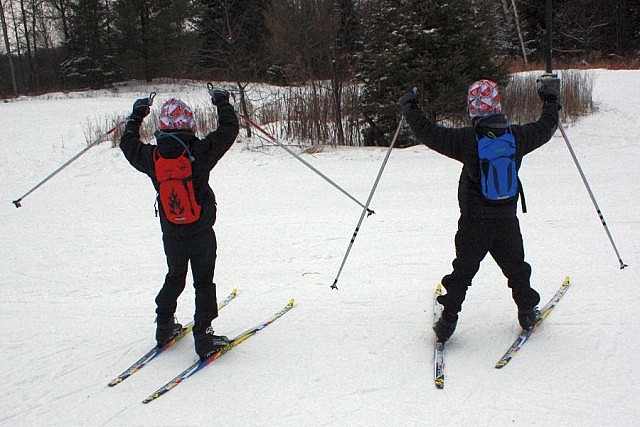 If you are looking for a more action-packed Valentine's Day, consider a day of winter sports or active play. When we play together, we stay together. Planning a Valentine's Day of outdoor activities with Mother Nature can be great fun on your own, with a friend, or with the entire family. Being active outside during winter is an excellent way to enjoy the forest and the snow, and there are many health benefits, too.
Outdoor play increases fitness levels, raises levels of vitamin D, reduces stress, improves mental health, and enhances our appreciation of nature. For a great thrill, go tobogganing on Armour Hill or enjoy the seasonal tradition of skating on the canal; from the centre of the city to the outstretches of Peterborough County, the area is full of amazing opportunities for hiking, tobogganing, skiing, snowshoeing, and skating.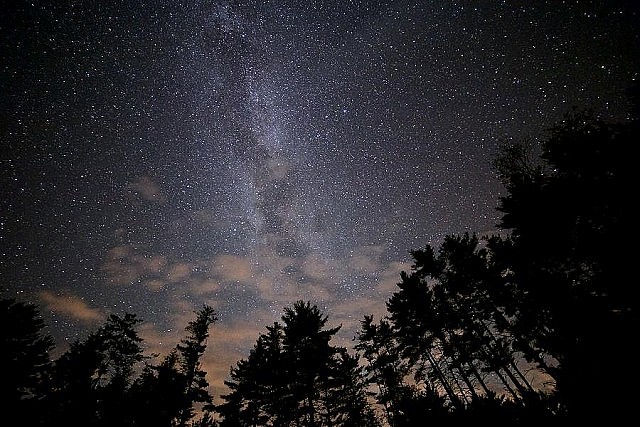 If you are more of a romantic type, plan to enjoy the night together. What could be more romantic than a walk under the starry sky with the possible glimpse of the northern lights? Pack a blanket, some binoculars, and a thermos of hot chocolate to enjoy under the stars.
The moon will be at first quarter stage on February 14th, so there is a good chance that the sky will be dark enough to allow for great visibility of the stars. It is best to find a spot away from the lights of the city, so the glare is less likely to impede your view. Walk to the closest park, or turn off the porch lights and lay out on the picnic table in your back yard. Give your eyes time away from streetlights and flashlights so that your night vision can adjust to the darkness. Cuddle up under a blanket and enjoy picking out the constellations, and don't forget to wish on shooting stars.
Whether you are single or taken, you can enjoy celebrating love the natural way. Happy Valentine's Day to all!