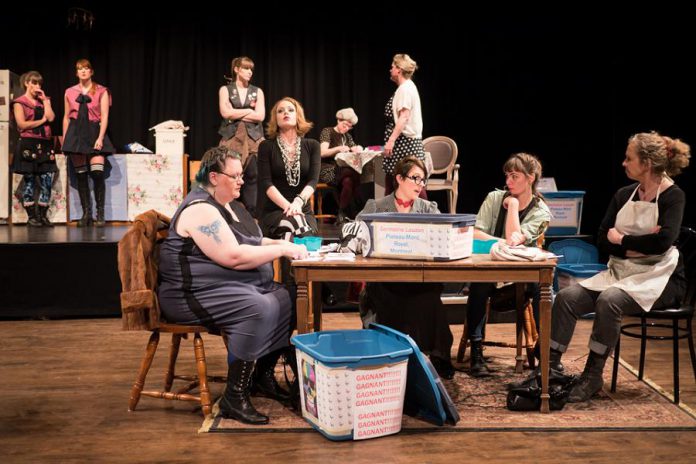 When director Amy Cummings puts on a show, she never fails to deliver. Picking interesting productions and skilled at working with large casts, Amy's work with The Motley Collective is always a highlight of the Peterborough theatre season.
With Michael Tremblay's Les Belles-Soeurs, Amy has possibly directed her finest production yet.
Emotional, funny and tragic all at the same time, Amy's production assembles an incredible cast of women who captivate the audience as they reveal the secret lives of Quebec housewives in an unforgettable show.
Written in 1965 by Michel Tremblay in French, Les Belles-Soeurs has become a classic of the Canadian stage. First performed in 1968 in Montreal, the show created controversy in Quebec for its use of working-class dialect and women discussing subjects considered taboo at the time.
Women had never been played so realistically in Quebec theatre before. As a result, Les Belles-Soeurs helped change the landscape of Quebec theatre and opened creative doors for future playwrights.
An English translation of the play was first produced in Toronto in 1973 and the show has also been turned into a musical, has been translated into Yiddish, and has been rewritten for a Scotland production. Despite its 50-year-old script, the play's themes and the stories the women share seem to be frozen in time, making the show as relevant today as it was when it first premiered.
Constructed around a kitchen party, Les Belles-Soeurs isn't a conventional production with a strong storyline. Instead, it's a series of 15 character studies of various women ranging from the ages of 16 to 93. It's a look at women beyond their roles as wives, mothers, and daughters and, instead, identifies them as individuals with desires, needs, and secrets.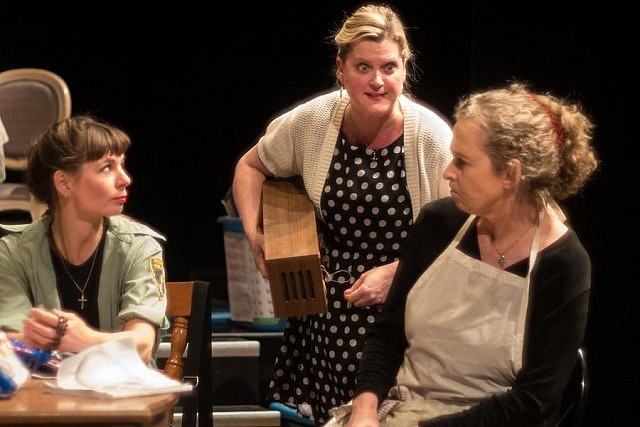 Dani Breau leads the cast as Germaine Lauzon, a housewife who has won one million stamps in a sweepstakes that can be traded in for merchandise. To celebrate her windfall, she organizes a "stamp pasting" party by inviting all the women she knows, including her sisters Gabrielle (Cathy Ogrodnik) and Rose (Leah Bell), along with neighbours, in-laws, acquaintances, and other women from the community.
As small talk turns to gossip, the women discuss a wide range of topics from appropriate attire for corpses to a hyper-sexual ode to Bingo. As the evening goes on, one by one each of the women launches her own monologue, revealing her secret story and true thoughts and feelings.
A range of stories come to the forefront including the estranged sister nobody wants, the troubled teen in crisis, the woman with a secret night life, the lonely woman having a love affair with a brush salesman, the woman nobody listens to, and the socialite who secretly hates the commonness of the entire affair.
But how long can a kitchen full of women get along? Eventually ugly emotions such as greed, envy, and social prejudices takes over — leaving dreams dashed in a pool of stamps and tears.
The beauty of The Motley Collective's production of Les Belles-Soeurs is in the casting of the show. Amy Cummings has assembled an amazing group of local actresses of all ages, resulting in an incredible ensemble performance.
While many of the actresses will be recognized from Peterborough's theatre community, most are not normally affiliated with Motley Collective productions. The actresses I expected to see were surprisingly absent, replaced by actresses from other companies. The result is a very interesting combination of talents on the stage together, making for exciting theatre.
Dani Breau plays it big in the role of Germaine. Obviously on top of the world with her sweepstakes win, she has a sense of smugness — as if the whole idea for the party is to just show off her winnings to all the women she knows. Whether she's fighting with her daughter Linda (Nicole Allard) or flittering around her kitchen instructing the women on their stamp pasting, Dani creates a woman trapped in a middle-class world who wants to find happiness in material things. The prospect of all the merchandise she has won is her key to moving up in the world, and her party is part celebration but also part gloating.
But happiness can't be found in material objects, and it quickly becomes apparent that Germaine's bond with the women assembled, including her own sisters, may not be as strong as she thought.
Each of the other actresses in the cast brings something special to the stage, and their collective stories create the body of the work:
Angela Sorensen plays the neighbor jealous of Germaine's luck
Sarah McNeilly is the socialite who believes she is better than the common women
Lindsay Unterlander is the odd girl out
Lorna Green plays a woman with a secret night life
Tami Whitley is a lonely woman looking for love
Aideen Clancy is the exasperated sister-in-law taking care of her ailing senile 93-year-old mother-in-law, played by Barb Mills
Wendy Smith is the judgmental pious matriarch whose scruples are challenged by greed
Naomi DuVall is the pregnant teen looking for an abortion
Caroline Durand is the angry neighbour
Robyn Smith plays the woman nobody wants to listen to.
Together these actresses, along with the other women in the cast, create a room filled with strong characters and outstanding performances, working something unique into their individual vignettes.
The most heartfelt and tragic performance of the production goes to Marsala Lukianchuk as estranged sister Pierrette. Shunned by her sisters and ostracized by her community, the role of Pierrette is a true showcase role, and Marsala brings a sense of humanity and pathos to this beautiful and damaged character.
Her true confessions are some of the most potent moments of the show and, despite being painted as a degenerate by the other characters in the show, in the end she might be the most genuine and moral of them all.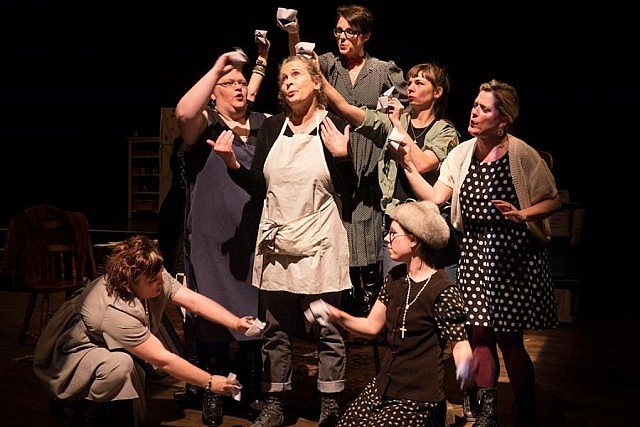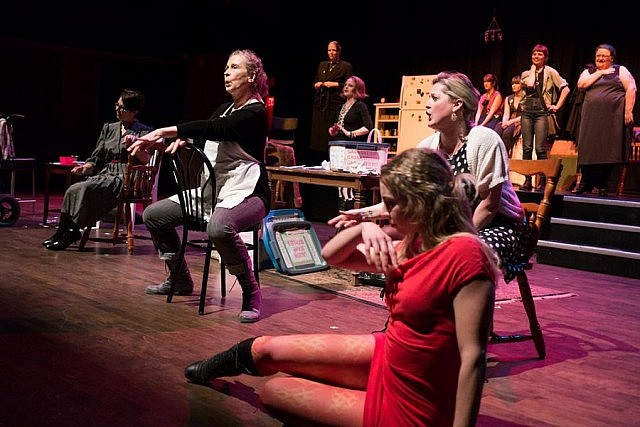 While the "beautiful sisterhood" between the characters in Les Belles-Soeurs may be questionable, the bond created between the actresses in the cast isn't: this cast meshes together beautifully, and you can see the bond and feel the joy they create together in this wonderful show. Amy Cummings has outdone herself, creating a wonderful piece of theatre with an exceptional cast and crew.
Les Belles-Soeurs is must-see theatre, and a testament to just how incredible Peterborough theatre can be.
Les Belles-Soeurs runs for four performances from February 11th to 13th at the Market Hall (140 Charlotte St., Peterborough). Shows start at 8 p.m., with an additional 1 p.m. matinee on February 13th. Tickets are $25 ($15 for students or the underwaged) and can be ordered at the Market Hall Box Office, by phone at 705-749-1146, or online at www.markethall.org.
All photos courtesy of Andy Carroll, www.flickr.com/photos/andys_camera/.