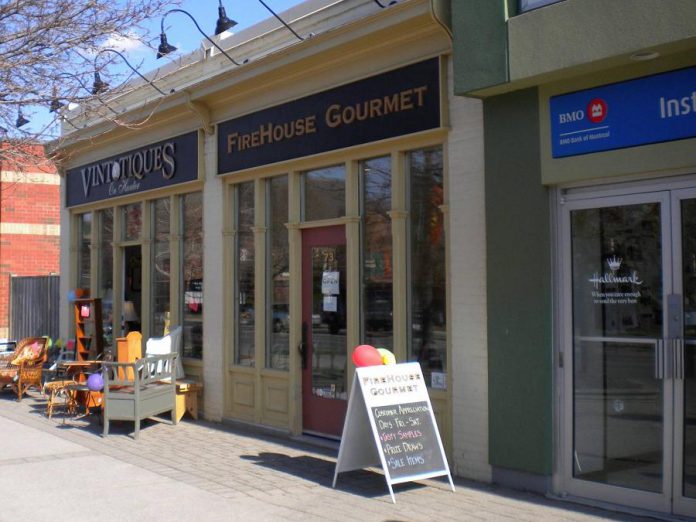 This month, food writer Eva Fisher bids farewell to FireHouse Gourmet as we know it, pairs wine and chocolate with Naked Chocolate and Kawartha Country Wines, eats 50 kale plants in one sitting with Tiny Greens, and prepares the perfect cup of tea with Amusé Coffee Co.
---
FireHouse Gourmet closes its Hunter Street storefront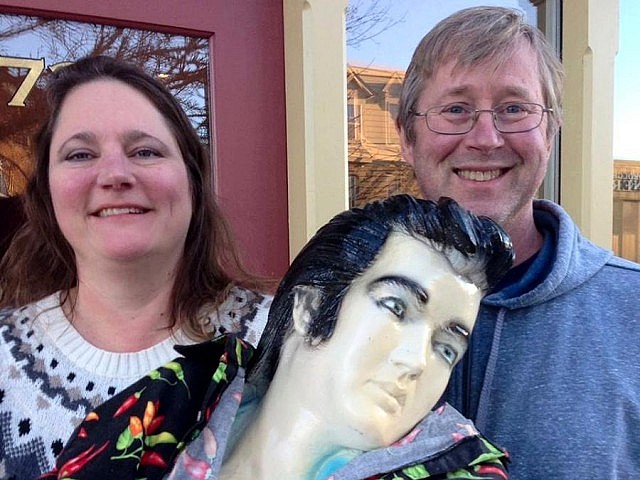 FireHouse Gourmet (formerly of 73 Hunter St. E., Peterborough) has closed the doors on its Hunter Street storefront.
Owners Anna and Dave Russell announced last Monday that they plan to refocus their company. "After 10 years we closed our storefront but not our business."
The popular shop, known for its extensive range of hot sauces, plans to expand its online presence with a particular focus on gift baskets. "We are expanding our gourmet gift basket line, adding Ontario and exclusively Canadian themes as well as Kawartha Select sets featuring local products. This spring we'll add online ordering and local delivery of baskets as well as our customers' favourite flavours."
In spite of their closed doors, Anna and Dave will still be a part of Peterborough's food community. "We also plan on popping up at local events and businesses. We're bringing FireHouse Gourmet to the people!"
The pair will be missed by the East City community. Bill Kelcey, store owner of Kelcey's Nutrition Centre (65 Hunter St. E., Peterborough, 705-745-6120), said that they were sad to lose a great neighbour.
"They always had a smile and were willing to lend a screwdriver if Dave could find it!" Bill says.
Sabrina Rowles of Enticing Cakes Inc. (57 Hunter St. E., Peterborough, 705-775-2253) also spoke highly of the pair.
"We have no doubt they'll have great continued success with their latest venture," she says. "Their smiling faces and love for all things seasoned will be missed on Hunter Street East."
---
Local businesses encourage you to pair wine with chocolate … as if you needed an excuse
Chocolate? Delicious. Wine? Yes please! But if you've ever tried to dunk your Twix bar into a nice glass of Cabernet, you know that not all wine and chocolate pair well together.
This weekend, Kawartha Country Wines (2452 County Rd. 36, Buckhorn, 705-657-9916) is hosting a "Wine and Chocolate Weekend", pairing a selection of their wine with local chocolate from The Chocolate Rabbit (11 Queen St., Lakefield, 705-652-8884).
"With nearly 50 varieties of wine we have a lot of options for wine pairing," says Kawartha Country Wine owner Trish Dougherty. "This year, we're debuting dark chocolate balls filled with our Black Elder Wine, a dry blend of Black Currant and Elderberry. You have to pop the whole chocolate into your mouth and you get this great burst of flavour from the wine."
Can't make the event? Head down to Naked Chocolate (142 Hunter St. W., Peterborough, 705-775-6253). Chocolatier Angela Roest recommends Naked's single origin chocolates for wine pairing.
"Like wine, the flavour of chocolate is greatly influenced by where it is grown," Angela says. "Single origin chocolates — that is, chocolates made from cacao from specific regions — highlight these nuances and for this reason they are particularly versatile in wine pairings."
On a more general note, Angela recommends that you take note of the sweetness of the wine and the chocolate.
"The wine should be at least as sweet as the chocolate," she says. "If not, you'll most likely experience an astringent taste on your tongue after a sip of wine."
Intensity is also important when pairing wine and chocolate: "Bold wines pair well with similarly bold chocolates".
Trish agrees that sweetness and intensity are important, but suggests that an experimental approach can produce impressive pairings.
"Some of our best pairings emphasize a particular flavour in the wine or chocolate: a chipotle-infused chocolate can bring out a peppery note in a red wine," Trish explains. "A semi-sweet pear wine paired with dark chocolate covered ginger is also delicious, because pear and ginger are a great combination."
And what if you're not a fan of wine? Angela suggests trying a fortified wine or spirits.
"Because of their higher alcohol content, fortified wines — like port, sherry, sweet marsala — are much sweeter than regular wines and pair easily with many of our chocolates," Angela says. "In a similar way, cognac, scotch, coffee and cream liqueurs are also deliciously versatile."
Avid byline readers will note that I'm also the general manager of Kawartha Country Wines, so I'd like to take the opportunity to invite you to our Wine and Chocolate weekend. The event takes place February 13th and 14th from 10 a.m. to 6 p.m..
---
Garden fresh greens in February with Tiny Greens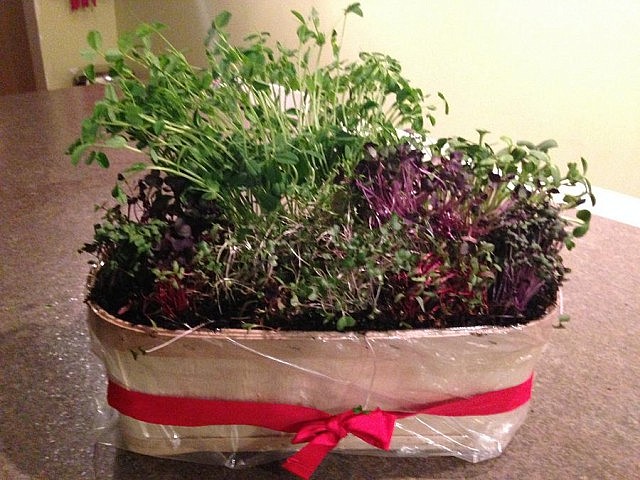 There's something immensely satisfying about picking and eating something fresh: that last minute, let's-make-a-salad run to the garden.
Tiny Greens owner Tina Bromley wants to give you that feeling year round. She grows her own microgreens and sells them at the Peterborough Farmers' Market.
Microgreens are essentially young plants harvested just after the first leaves develop. Tiny Greens offers theirs as countertop gardens. The plants are still growing in the soil when you buy them, so you can harvest as needed for a fresh addition to salads, sandwiches, and smoothies. They are also popular as a garnish.
Many plants make delicious microgreens. Tina has a broad and changing variety including healthy kale, spicy daikon radish, sweet pea shoots and slightly nutty sunflower greens. She also offers herbs including basil, garlic chives and cilantro. Tina thinks of her customers when deciding what to plant.
"I always grow for my customers," she says. "I look for varieties that taste great, have many health benefits and add colour and beauty to any plate or gathering."
Tina says that the nutritional benefits of microgreens often bring customers her way.
"Remember that one little microgreen is not just a cut up leaf, it's an entire plant in its earliest stages and this makes it incredibly nutritious. Even a small amount of microgreens on your entrée may be as many as 50 little kale plants."
Tina's market stall contains a variety of edible arrangements, little container gardens with a variety of microgreens in each basket.
"We call ourselves healthy florists and carry a line of edible arrangements for that healthy someone in your life," she says. "Many choose them instead of traditional flowers."
This Saturday, Tina will be bringing a variety of Valentine's Day arrangements to the Peterborough Farmers' Market (R.A. Morrow Memorial Park, Peterborough, 705-742-3276). You can order them in advance online at tinygreens.ca.
---
Are you making tea wrong? Talking tea with Amusé Coffee Co.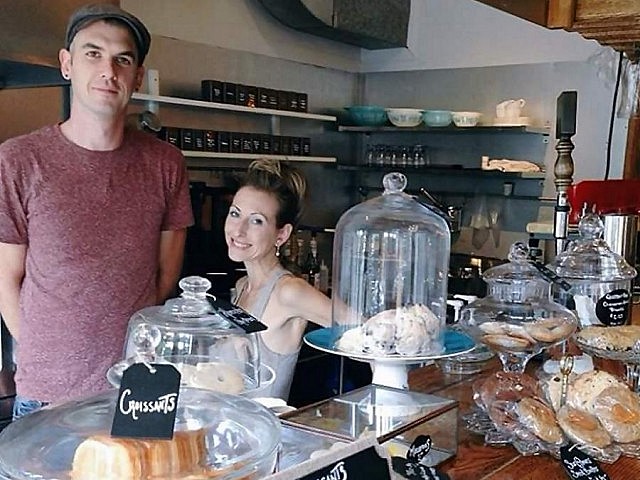 Known for their fair trade coffee and Parisian inspired fare, Amusé Coffee Co. (641 George St. N., Peterborough, 705-874-7640) is also home to over 25 varieties of tea including white, green, oolong, black, yerba mate, rooibos and herbal blends.
I asked owner and tea lover Lindsay Brock to guide me through the perfect cup.
When making tea at home, Lindsay recommends you watch the clock.
"Although there is no wrong way to make tea in my opinion, there are some general guidelines that tend to yield the best results," she says.
Green teas are the least forgiving. Lindsay recommends steeping them for 2 to 3 minutes with water that is hot but not boiling (74-82 degrees).
"Boiling water and over-steeping can really compromise the flavour," she explains. "If you don't like green tea because it's too bitter, try again with these guidelines and you just might be surprised."
Black teas should be steeped 4 to 7 minutes on average, with water just below the boiling point. Herbal teas are the most forgiving and can steep anywhere for 5 to 30 minutes — or even indefinitely.
Amusé Coffee Co. also serves matcha, a form of green tea made from shade-grown leaves ground to a powder fine consistency.
"Protected from direct sunlight, the growth is slow and the result is sweet and chlorophyll-rich, which gives matcha its intense vibrancy," Lindsay says.
Matcha is prepared by whisking the powder in a bowl with a bamboo whisk until frothy, at which point it can be topped up with hot water or with steamed milk to make a matcha latte — one of Amusé's most requested drinks. The powder can also be used in baking, smoothies or yogurt.
In addition to tea and coffee. Amusé Coffee Co. offers a full range of espresso-based beverages and house-made pastries. They also serve fresh soups, croissants, French madeleine cookies and more.