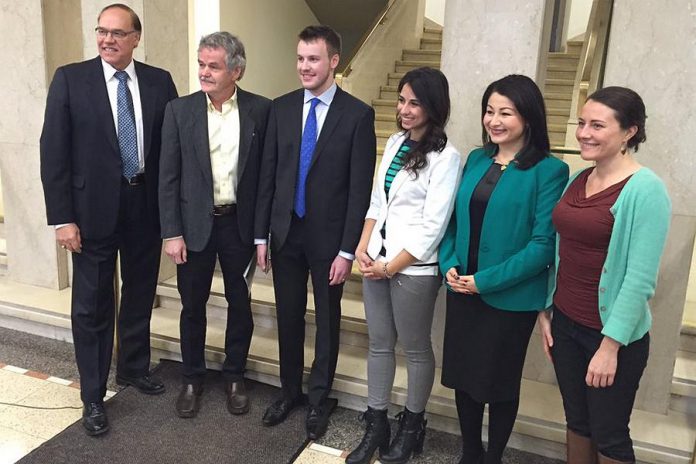 Adam Noble, the founder of bioproducts company Noble Tech Inc., has announced plans to construct a 50,000-square-foot production facility at the new Trent Research and Innovation Park in Peterborough. The $20-million production facility will offer sustainable solutions for wastewater treatment, as well as the nutritional and pharmaceutical sectors.
The announcement was made earlier today at Peterborough City Hall.
Noble Tech Inc. researches, cultivates, and markets unique microalgae strains and their derivatives for various market applications. Noble, who founded the company while still in high school in Lakefield, has garnered international recognition for his algae research, including the gold medal at the Intel Science and Engineering Fair in Pittsburgh in May 2012 and a Top 20 Under 20 award from Youth in Motion in June 2014.
"We are going to change the way the world treats water and we want to do that right here in Peterborough," Noble says. "We have an aggressive growth strategy that will help us become the green tech leader in this field. Noble was incubated in the community and we want to build on our foundation in this region while creating jobs and growing the green economy."
Noble Tech intends to begin construction on its new facility in spring 2017. The new facility will have a capacity to produce more than 10,000 tonnes of algae per year.
The timing is dependent on the construction of servicing to the Trent Research and Innovation Park by the City of Peterborough and Trent University, and the City of Peterborough finalizing the management structure for the park. Noble Tech Inc. plans to be the first tenant of the research park.
"We're looking forward to working with Trent University and the City of Peterborough to move these plans forward," Noble says.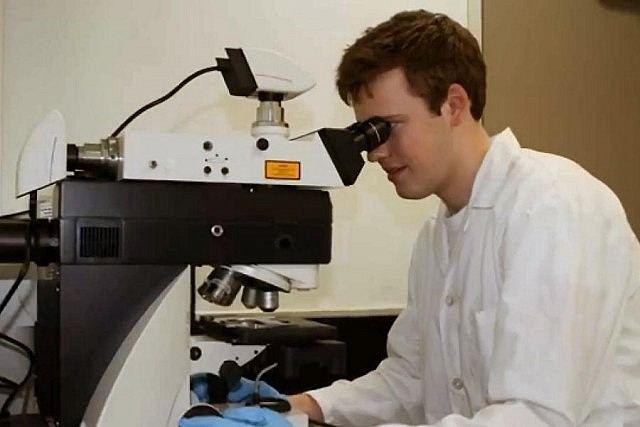 Noble established his company at the Greater Peterborough Innovation Cluster on Trent University's Symons Campus, where he continued his algae research as a research assistant with the support of Trent University. While he is currently studying at the Royal College of Surgeons in Ireland to become a surgeon, he has paused his studies to pursue his business interests.
"Noble Tech is a wonderful story of youthful innovation nurtured by university faculty and a community that values the entrepreneurial spirit," says Dr. Leo Groarke, president and vice-chancellor of Trent University.
"We are enthusiastic about their plan to become the first tenant of the new Trent Research and Innovation Park. They are focused on environmental technologies; are already engaged with Trent researchers and our world class facilities; and will offer work experience and employment for Trent students and new graduates."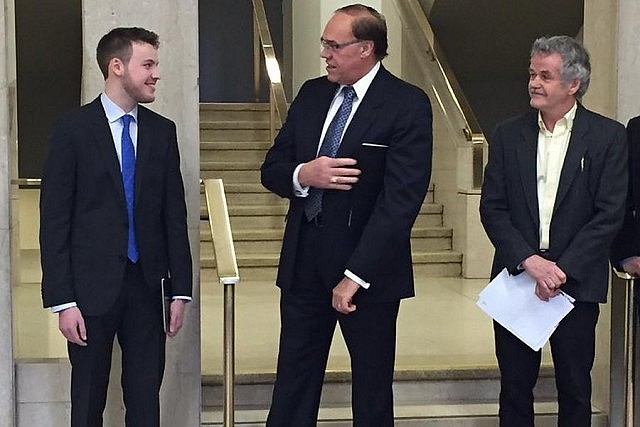 The company currently employs six people with plans to grow its team to 12 people in 2016. Upon the completion of Noble's new research and production facility, the company expects to increase its workforce to 25 positions.
"Adam Noble and his team at Noble Tech are at the forefront of the evolution and diversification of our regional economy," Mayor Daryl Bennett says. "We are leveraging the knowledge and talents of the internationally recognized researchers at Trent University and Fleming College, entrepreneurial spirits like Mr. Noble, to spur job creation at this research and innovation hub."
For more information on Nobel Tech Inc., visit www.nobleincorporations.com.
---
Weston Youth Innovation Award 2013 Winner – Adam Noble