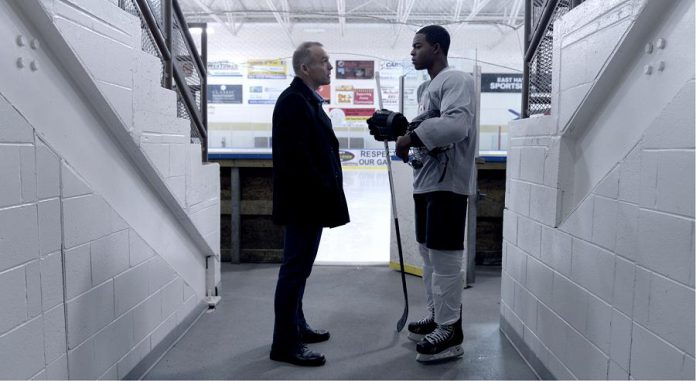 Following up on the successful screening last month of the Canadian adventure-thriller Numb, former Peterborough residents Chad Maker and Kirk Comrie of A71 Entertainment are once again bringing a big-screen independent film to Peterborough: the emotionally charged drama Across the Line by acclaimed music video director Director X.
The film screens at Market Hall Performing Arts Centre (140 Charlotte St., Peterborough) at 8 p.m. on Saturday, April 16, 2016.
Across the Line focuses on a young black NHL hopeful living in a racially divided community in Nova Scotia. When tensions come to a head in his hometown, it puts his career in jeopardy.
Stephan James (Race, Selma) stars as Mattie Slaughter, the young hockey star who is struggling to keep his nose clean while his brother Carter, played by Shamier Anderson (Wynonna Earp) gets further involved with local hustlers. In a stellar performance as Mattie's love interest Jayme, Sarah Jeffery (Shades of Blue) deals with being mixed race in a divided community and the ignorance of her boyfriend John, played by Steven Love.
While set in the present, the film is based on true events of race riots that happened in Preston, Nova Scotia during the late 1980s.
"Across the Line is an important film for us," Chad says. "With a lot of our films, we try to shine the light on socially relevant subjects. Racial tension is often something we, as Canadians, feel is more an American problem. The truth is race issues are everywhere — including our own backyard."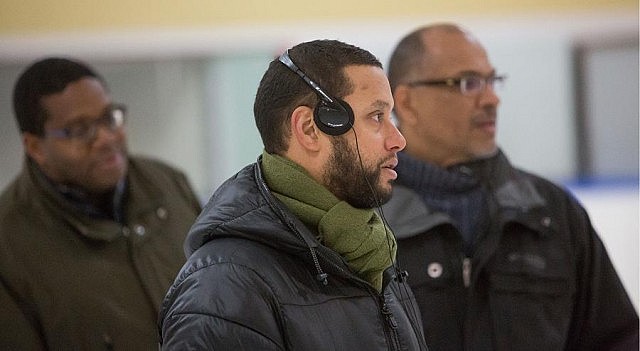 Written by Floyd Kane, Across the Line is directed by Julien Christian Lutz, better known as Director X, who is known for his work on high-profile music videos. He directed Drake's viral hit Hotline Bling, Iggy Azalea's Fancy, Justin Beiber's Boyfriend, and Rihanna's Work.
"Across the Line was inspired by the riots at Cole Harbour High in 1989 and the subsequent ongoing riots that happened in different high schools there," Director X says. "I'm mixed race myself, so I know these arguments and fights in high school — all of that racial foolishness. But there's a lot of family stuff in the film; a lot of stuff to do with actual families. It has some real heart. Everyone knows and can relate to these stories."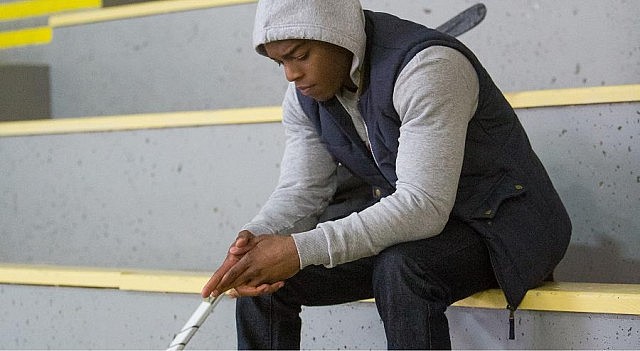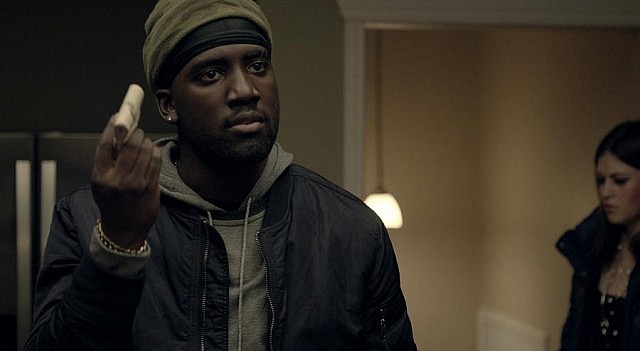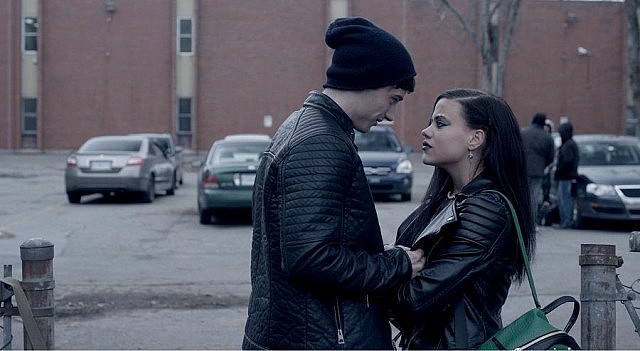 The film opened across Canada on April 8th and opens in Toronto and Halifax on April 15th and has been garnering rave reviews. It recently won Best First Feature Film at the Canadian Film Fest, along with Best Actor for Stephan James in his role as Mattie Slaughter.
Prior to his lead role in Across the Line, James starred as civil rights activist John Lewis in the Oscar-nominated film Selma and also appeared in the CBC television mini-series The Book of Negroes based on Lawrence Hill's award-winning novel.
Earlier this year, James starred in the lead role as African-American track and field sprinter Jesse Owens in the biopic Race.
Across The Line is the second independent film that Chad and Kirk — who are TASS graduates — have brought to Peterborough this year as part of A71 Entertainment's Canadian Indie Film Series.
After the April 16th screening at the Market Hall, actor Stephen Love (who plays John, the boyfriend of Mattie's love interest Jayme) will participate in a question-and-answer session hosted by the A71 Entertainment team.
"It's been a great experience not only bringing great films to the Market Hall," Kirk says, "but also to have some of the stars or directors come so people can meet them and get the inside scoop on making a film and the challenge that it is. We're aiming to bring something more than just popcorn to the movie experience."
You can follow the Canadian Indie Film Series on Facebook and on Twitter @cdnfilmseries or visit www.CanadianIndieFilmSeries.com. For other A71 films, visit www.A71entertainment.com.
---
Across The Line – Official Trailer