This month, food writer Eva Fisher gets the meat sweats with Muddy's Pit BBQ, learns to make an award-winning cheese with Mariposa Dairy, congratulates Minh's Chinese Grocery on 35 years in business, and talks Kombucha with Kelcey's Health Foods.
---
Meat lovers rejoice: Muddy's Pit BBQ reopens for 7th year
Ribs, brisket, pulled pork, and smoked sausage… Muddy's Pit BBQ (3247 Country Rd. 2, Keene, 705-295-1255) has become a meat lover's mecca. They reopened for their seventh season on Wednesday, April 6th.
Using local meat from Otonabee Meat Packers, pit boss and owner Neil Lorenzen creates authentic slow-smoked barbeque on an outdoor pit overlooking a farm field.
It all began with a plate of ribs at Arthur Bryant's Barbeque in Kansas City when Neil was in his 20s. "Those weren't the boiled ribs my mom made," he says.
From there, Neil started experimenting in his backyard, ultimately developing the recipes that would make Muddy's a local landmark.

So what makes great barbeque? The right wood plays a role. Neil recommends "a good hardwood for even burn and hot coals." At Muddy's, they use a blend that is mostly maple.
Neil says that if it's done right, you don't need a lot of seasoning.
"Don't be afraid to be bold with your flavours; however, let the meat speak for itself," he explains. "Don't hide your hard work with tons of sauce and spice. Patience, secrets, and lies to your cooking always makes for good barbeque."
In addition to barbeque, Muddy's offers a selection of salads and baked beans.
While you're in the area, Neil recommends a visit to some of Keene's local farm stores: Traynor Beef Farm, Three Roads Chicken Farm, and Harley Farms are all open nearby.
---
How to make an award-winning cheese: Mariposa Dairy nominated for 7 Canadian Cheese Awards
Mariposa Dairy (201 George St, Lindsay, 705-324-9306) has been shortlisted seven times for the 2016 Canadian Cheese Awards. The Lindsay cheesemaker uses 100% Ontario milk to create a variety of goat, sheep, and water buffalo cheeses.
Cheese maker Pieter Van Oudenaren is the lead hand in Mariposa's artisan cheesemaking department. He described the process of creating the cheeses that made the finals.
Lindsay Bandaged Cheddar is a finalist in the Old Cheddar, Best Goat Cheese, and Best Ontario Cheese categories. It is a clothbound goat milk cheddar, which means it is wrapped in cheesecloth as it ages in their temperature- and humidity-controlled aging room. Each wheel of cheese is place on a pine board and turned each week for one year to ensure even aging. This gives the cheese a complex layered flavour and a sightly crumbly texture.
Tania is a finalist for Best Ontario Cheese. The Tania is 100% sheep milk cheese made in the Toscano style. The Tania is aged without cheesecloth, which allows it to develop a rind. "We allow mold to grow on the outside and then we brush it during its lifetime to allows flavours to penetrate in the cheese," Pieter explains. The cheese is ready after six months.
---
Mariposa Dairy at the 2015 Royal Agricultural Winter Fair in Toronto
---
Their newest offering, the Zoey, is a finalist in the Best Blended Milk Cheese, Mixed Rind Cheese, and Best New Cheese categories. It's a washed rind cheese made of a blend of sheep and goat milk. Each wheel is washed with a brine, which introduces salt to enhance the flavour of the cheese. Softer than the Tania or the Lindsay, Pieter says that the Zoey is the best pick when you're looking for a melting cheese.
Pieter and the team of cheesemakers at Mariposa work together to develop new cheeses. In the case of the Zoey, "We looked at other recipes and started out with one recipe and have continued to tweak it. It seems to have grabbed the marketplace and the interest of judges in competitions." The Zoey was a champion at the Royal Winter Fair last fall.
Mariposa sells exclusively goat and sheep cheeses, but is also currently producing a water buffalo cheddar under contract for another farm.
The results will be announced on Thursday, and will be posted online at The Canadian Cheese Awards website at www.cheeseawards.ca.
---
Minh's Chinese Grocery open 35 years in downtown Peterborough
The year was 1981. Minh and Lehoa Van were selling egg rolls and wontons at the Peterborough Farmers' Market. They decided they wanted to take their business to the next level with a downtown storefront. They called it Minh's Chinese Grocery (430 George St. N., Peterborough, 705-748-4264).
Thirty-five years later, the business is still going strong.
Minh and Lehoa were actually from Vietnam. "At that time, it was just Chinese," their son Ken Van explains. "If we were to open it now, it would be called the Asian grocery store."
Minh's carries food from across Asia including Japanese, Korean, Vietnamese. and Thai.

Minh and Lehoa are generous with cooking advice for their customers. "Especially my mom," Ken says. "She knows a lot."
The family goes to Toronto twice a week and selects all of the fruits and vegetables by hand. They buy in small quantities to ensure what they sell is fresh.
"We inspect everything that we buy," Ken notes. "It's not like we just order it and have it delivered."
Minh's Chinese Grocery is open six days a week, and is the perfect place to go if you need a ripe avocado tonight.
---
Making and enjoying Kombucha with Kelcey's Health Foods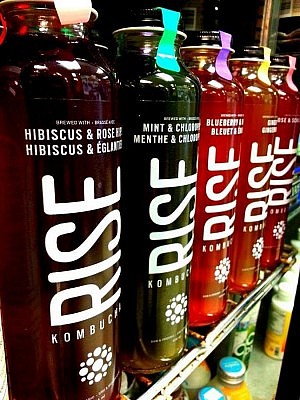 Kombucha is a bubbly fermented tea that continues to rise in popularity. It can be found bottled at health food stores or made at home using a SCOBY — which stands for symbiotic colony of bacteria and yeast and looks somewhat like a jellyfish. Sounds delicious, right? Stay with me … it is.
Refreshing, fizzy, sour and very slightly alcoholic, kombucha has a delicious and distinct flavour. It can be brewed plain with black tea, infused with fruit, sweetened with honey, or even flavoured with herbs.
Tori Kelcey from Kelcey's Health Foods (65 Hunter St. E., Peterborough, 705-745-6120) praises the health benefits of kombucha. As a probiotic beverage, many believe it to be good for digestion and gut health. It's also high in antioxidants.
Tori suggests that kombucha could assist body detoxification and prevent arthritis pain, but clinical studies on kombucha are virtually nonexistent.
"This information mostly stems from testing the kombucha itself and drawing conclusions from its makeup and from feedback from people who drink it regularly," Tori says.
Making kombucha at home is relatively simple: you ferment a batch of sweetened black tea with a SCOBY for seven to 10 days, then bottle it and let it sit at room temperature for another couple of days. As it continues to ferment, it should carbonate slightly in the bottle.
Although you can't buy a SCOBY, the staff at Kelcey's has connected a few of their customers with like-minded home brewers. Tori has one word of warning for prospective kombucha makers.

"Most home batches will have considerably more alcohol than store brands," she says. "I had a customer come in who tested her batch and found it made 4% alcohol kombucha. This isn't always the case, however; most are more around 1% to 2%."
Kelcey's Health Foods also offers two varieties of ready-to-drink of kombucha. Both aren't pasteurized, which is important among kombucha fans, because pasteurization kills the probiotics.
Don't like the taste of kombucha? Maybe you could wear it instead. SCOBY has been dried and used to make textiles and jewelry.