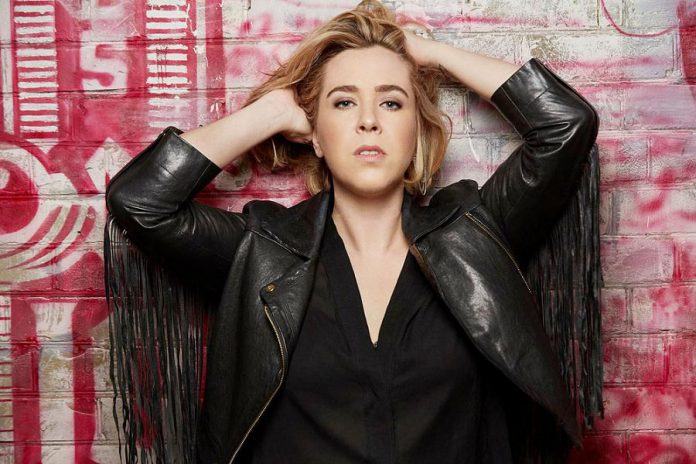 When the late Fred Anderson presented the first Peterborough Musicfest concert on July 1, 1987 — jazz great Moe Koffman headlined the inaugural Peterborough Festival of Lights show — the musical dreams of a four-year-old Millbrook girl were in their earliest stage of forming.
Fast forward to this Saturday (June 25th) and the opening of Peterborough Musicfest's 30th anniversary season. That little girl is little no more. With six Juno Awards on her mantel and five studio albums to her credit, Serena Ryder is a giant on the indie rock landscape. When she takes to the Fred Anderson Stage shortly after 8 p.m., it will mark her fourth time doing so and her first Musicfest appearance since 2011.
"I think it's always important to give back to the community when you have enough for yourself," related the 33-year-old in a 2014 interview with kawarthaNOW's Josh Fewings.
Ryder has plenty to offer in the giving back department. With her sixth studio album, Utopia, scheduled for release this year, she continues to ride high the success of its predecessor, Harmony, and its hit singles "Stompa" and "What I Wouldn't Do".
Released in November 2012, Harmony, certified triple platinum for sales, earned Ryder Artist of the Year and Songwriter of the Year honours at the 2014 Juno Awards presentation, which she co-hosted. In all, she was nominated for five Juno Awards that year.
At the time of the Ryder's 2014 interview with kawarthaNOW, she was touring in support of Harmony. What brought her to Peterborough was an all-ages benefit concert for the Five Counties Children's Centre.
"Playing a show in Peterborough is really awesome. But it's also pretty nerve wracking, to be honest," she said. "When I come back home, I see so many family and friends. I want to give each person all of my attention."
Rest assured Ryder will have the full attention of the thousands gathered in Del Crary Park this Saturday night, as she returns again to the city that gave birth to her immense musical talent.
It was at age 17 that Toronto-born Ryder left her Millbrook home, moving to Peterborough where she attended Peterborough Collegiate and Vocational School (PCVS). She dove into the city's vibrant live music scene, cutting her teeth as a performer and a songwriter, performing solo as well as with local bands such as Thousand Foot Krutch and Three Days Grace.
In 1998 came the proverbial big break in the form of local independent record label owner Damon de Szegheo. Impressed by what he heard and saw, he got Ryder into the studio. That led to the 1999 release of Falling Out, Ryder's debut album. Still, it wasn't until the release of subsequent albums Unlikely Emergency and If Your Memory Serves You Well that she earned industry and music fan accolades. At the 2008 Juno Awards, Ryder took home Best New Artist of the Year honours.
Ryder's life has been a whirlwind ever since: a mish-mash of touring, television appearances, writing and recording. She followed up the gold-certified success of her third album with like status for Is It O.K, which earned her a Juno Award in the Adult Alternative Album of the Year category. The organizers of the 2015 Pan-American Games held in Toronto chose Ryder's "Together We Are One" as the games' official theme song.
For all the performance and recording accolades that have come her way, Ryder, as she related to kawarthaNOW, is most passionate about her songwriting.
"I don't plan on being a superstar who travels around the world and is on the cover of every magazine in every country … that's really not attractive to me," she said.
Songwriting, she added, "gives me a sense of freedom. I'm looking forward to being a songwriter for people who enjoy having their faces plastered on all the magazines."
In addition to her music, Ryder is an accomplished visual artist whose talents include drawing, painting and sculpting. There's also a long list of charity-related work which has benefitted such organizations as Young Artists For Haiti, the Time For Climate Justice campaign and the Canadian Kidney Foundation.
And Ryder is no one-trick pony instrumentally. In addition to guitar, she plays piano, mandolin, ukulele, banjo, harmonica, bass and drums as she ranges between folk, roots, country and adult contemporary music genres with ease.
At the end of the day, as Ryder related in that 2014 interview, inspiration is the impetus for what continues to make her tick.
"It is the reason I've always known that this is what I want to do with my life, and I'm so grateful for it," she said.
"Inspiration gave me confidence. To me, inspiration is so elusive. It's in everything. It comes when it comes and it's not there when it's not there. There doesn't seem to be a science to it. Inspiration is the closest thing to God that I know."
This Saturday's season-opening concert is sponsored by Energy 99.7, Toronto-Dominion Bank, Darling Insurance, Holiday Inn Peterborough Waterfront, Ward McFarland LLP, Long & McQuade, Bennett's Home Furnishings, Trent Valley Honda, Rotary Peterborough-Kawartha and Sun Life Financial Peterborough.
Peterborough Musicfest is presenting 19 free-admission concerts during its milestone 30th anniversary season — each staged Wednesday and Saturday nights with the exception of the traditional July 1 Canada Day concert featuring Powerhouse: A Tribute to Chicago.
Overseen by general manager Tracey Randall and staff, a board of directors, and numerous volunteers, Peterborough Musicfest's stated mission is to "provide diverse, affordable live music to enrich cultural and economic prosperity in our community."
For more information on this concert and/or the 2016 season, visit www.ptbomusicfest.ca or phone the Peterborough Musicfest office at 705-755-1111.
---
"Stompa"
"What I Wouldn't Do" – Serena Ryder