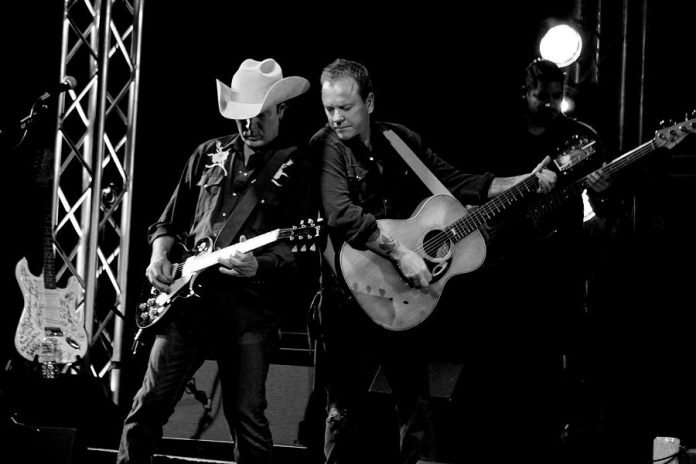 Without fail, the organizers of Peterborough's annual Musicfest free summer concert series are good for at least one surprise when the lineup is revealed.
Such was the case on May 5th when, before an excited bunch gathered at the Silver Bean Café, it was announced that Kiefer Sutherland will headline the second concert of Musicfest's 30th anniversary season at 8 p.m. on Wednesday, June 29th at Del Crary Park.
Kiefer Sutherland?! The actor? He sings too?
The 49-year-old British-born Canadian-raised film and TV star does indeed sing. He comes to Peterborough and the Fred Anderson Stage in advance of the release of his debut 11-track album of original music, Down In A Hole.
"It's the closest thing I've ever had to a journal or diary," said Sutherland in an April 2016 interview with cleverock.com.
"All of these songs are pulled from my own personal experiences. There is something very satisfying about being able to look back on my life, good times and band, and express those sentiments in music. As much as I have enjoyed the writing and recording process, I'm experiencing great joy in now being able to play these songs to a live audience, which is something I hadn't counted on."
The musical side of Sutherland's talent took serious flight in 2002 when he founded independent record lable Ironworks Music. After performing songs he had written for other singers, Sutherland's partner, Jude Cole, pushed him to pursue his music more intently.
He did just that, heading into the studio to record and booking appearances.
"When I sat down with Jude at what ended up being the beginning of the making of this record, my goal was to record three or four songs and send them to BMI and see if any of their artists would like to record them," noted Sutherland in the cleverock.com sit-down.
"Jude really liked the way they sounded and thought that I should do them. The album kind of organically came out of that."
As for performing live, Sutherland noted "There's unspoken rules between actors and the audience in a theater. That doesn't exist when you're playing music. You're encouraged to cheer, you're encouraged to yell, you're encouraged to speak your mind. I have to be honest. The first few times that I went to play a few years ago were probably some of the scariest moments that I ever had. I realized what kind of a commitment it was to put yourself in such a vulnerable position."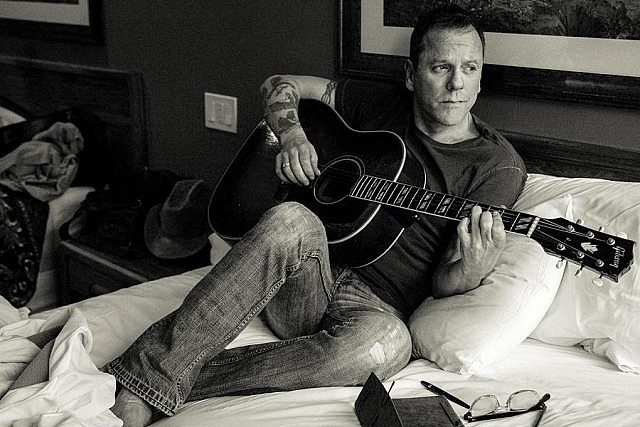 While Sutherland is turning heads and perking up ears with his musical talent, he unquestionably remains best known to millions for his portrayal of Jack Bauer on the critically acclaimed television series 24, for which he has been awarded an Emmy Award, a Golden Globe Award, two Screen Actors Guild Awards and two Satellite Awards.
But long before he first appeared in 24 in 2001, Sutherland made his big screen debut in 1983 — as did Matthew Broderick — in the comedy-drama Max Dugan Returns. Three years later, his role as a bully in Stand By Me caught the attention of filmmakers and more significant roles followed courtesy of, among other feature films, The Lost Boys (1987), Young Guns (1988), Renegades (1989), Young Guns II (1990), Flatliners (1990), A Few Good Men (1992) and Eye For An Eye (1996).
That Sutherland would make acting his profession was pretty close to a given. Born to actor parents Donald Sutherland and Shirley Douglas, he was named after Warren Kiefer, who directed his famous father's first feature film, 1964's Castle of the Living Dead.
Five years after his parents divorced in 1970, Sutherland moved to Toronto from California with his mother, where he attended various elementary and secondary schools. But his connection to Canada runs much deeper: his maternal grandfather is Stephen Douglas, the former Saskatchewan premier best known for bringing universal health care to this country.
Besides pursuing his music interests over the past decade, Sutherland found time to make his Broadway debut in 2011 in the revival of That Championship Season. His overall body of work has earned him induction into the Hollywood Walk of Fame and, in 2005, Canada's Walk of Fame alongside both his parents.
---
"Not Enough Whiskey" – Kiefer Sutherland
Making of Down In A Hole – Part 1
---
The June 29 concert is sponsored by CHEX Television, CitiFinancial, Canadian Tire, Studio-N Graphic and Web Design, Whelan's Flooring Centre, DM Wills Associates Ltd., Ashburnham Funeral Home and Reception Centre, and Griffin's Greenhouses.
Peterborough Musicfest is presenting 19 free-admission concerts during its milestone 30th anniversary season — each staged Wednesday and Saturday nights with the exception of the traditional July 1 Canada Day concert featuring Powerhouse: A Tribute to Chicago.
Overseen by general manager Tracey Randall and staff, a board of directors, and numerous volunteers, Peterborough Musicfest's stated mission is to "provide diverse, affordable live music to enrich cultural and economic prosperity in our community."
For more information on this concert and/or the 2016 season, visit www.ptbomusicfest.ca or phone the Peterborough Musicfest office at 705-755-1111.
---