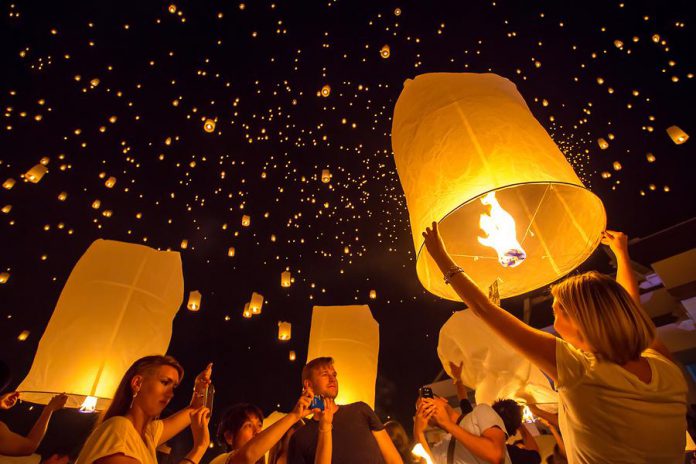 Is it possible that something so enchantingly pretty and peaceful to behold can pose a dire and very real threat to both person and property?
It's July 1st, 2013 in Smethwick, West Midlands in England. A massive fire at a plastics and paper recycling plant burns widely out of control, causing an estimated £6 million worth of damage before it's extinguished.
The perpetrator, caught by closed circuit cameras just before midnight the day before, is guilty as charged.
"When you've got something that seems to be readily available and popular, and seems cool, what's wrong?" asks Terry Rees regarding the sale and use of Chinese lanterns, the culprit behind the devastating West Midlands blaze.
In Asian countries and elsewhere around the world, Chinese lanterns have been readily available for centuries to be launched airborne as part of long-established festivities.
Also known as sky lanterns, the small paper-constructed hot air balloons, in which a small fire is suspended, remain a growing concern for Terry, the executive director of the Federation of Ontario Cottagers' Associations (FOCA).
As head of the Peterborough-based organization whose mission is to protect thriving and sustainable waterfronts across the province, Rees' voice is a persuasive one amongst a growing number calling for an outright ban on the use of Chinese lanterns in rural regions, particularly in those areas in close proximity to cottages, year-round homes, and businesses.
"A few years back, I was quoted saying something to the effect of 'what kind of idiot would set an uncontrolled flame floating over woodland?' I stand by that," says Terry, noting a personal experience at his cottage north of Havelock a few summers ago served to reinforce his concern.
"There was a fire ban on, it was a tinder-dry year, and there were absolutely no fires allowed at any time of day or night," he recalls, noting dry conditions were prevalent — not unlike what has being experienced this month across much of central Ontario.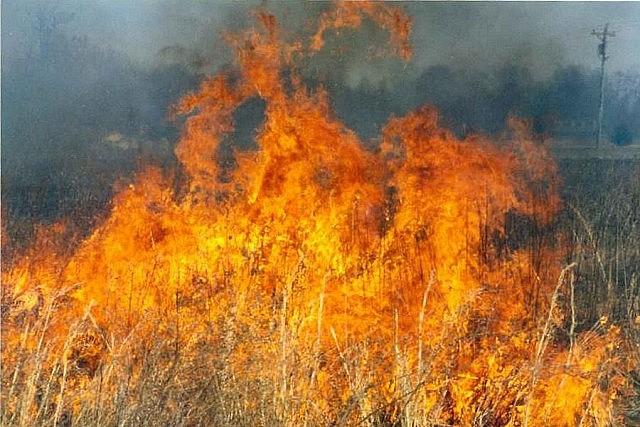 "Sitting on the dock, I had a lantern float right over me and go up behind our place. I don't know where it landed. It could have landed in the bush or on someone's cottage or on my place. That's an unnerving thought; that those things might be unleashed and land somewhere that no one might know about until it's too late and it's already caused some sort of a fire."
"I fought forest fires for a couple of summers, so I know how devastating and how difficult they can be to control, so prevention is the real big deal for me."
Terry and his association counterparts are not alone in that effort, also targeting the use of fireworks in rural areas. He points that out a section of the Forest Fire Prevention Act prohibits the discharging of a flare, fireworks or an explosive that leaves any residue from the discharge not fully extinguished.
In addition, according to the Act, "no person shall use or operate in or within 300 metres of a forest area any burner, chimney, engine, incinerator or spark-emitting outlet that is not provided with an adequate device for arresting sparks."
While this provision doesn't mention Chinese lanterns or fireworks by name, the use of both in or near forested areas is clearly governed by it. A fine and/or imprisonment awaits those convicted in contravention of the provision.
"You're letting off an incendiary device in the woods. Common sense is where we all have to start," notes Terry, clearly frustrated that some, hearing that message, choose to ignore it.
Backing FOCA's efforts, in increasing number, are municipalities across the province. This month, Niagara Falls, St. Catherines, and Brant have all banned all open-air burning until further notice.
Locally, the City of Kawartha Lakes has a bylaw-backed ban on the sale and/or use of Chinese lanterns.
"Kawartha Lakes covers more than 3,000 square kilometres: we have a lot of wooded and rural areas that could be adversely impacted if one of these flying lanterns lands in a hard-to-reach area," observed Kawartha Lakes Fire Chief Mark Pankhurst during municipal council's consideration of the bylaw.
"Flying lanterns may look visually impressive when released, but there is no way to control their flight path and there is no telling where they could land. If the lanterns land in trees, on rooftops or on buildings, there is the very real possibility of a fire resulting."
Meanwhile, in North Kawartha Township, home to some 12,000 seasonal residents, Fire Chief Jesse Lambe says there isn't a bylaw in place that prohibits the use of Chinese lanterns but notes "we do strongly recommend that people don't use them. We are working towards banning them (via a bylaw) but we haven't got there yet."
Chief Lambe adds, for the most part, "people do use common sense," noting Chinese lanterns are typically let loose over lakes. That said, he admits there is "great concern" over their use in any rural setting.
"If one of these lanterns lands in a rural area that's hard to reach, that's an issue, for sure," says Chief Lambe.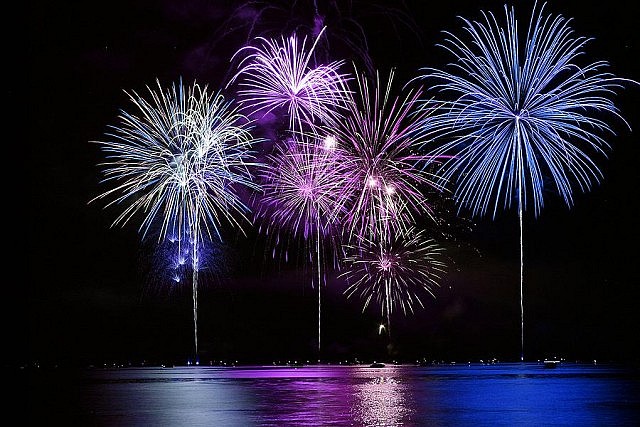 With the approaching Canada Day long weekend, Chief Lambe adds the use of fireworks in North Kawartha is governed under a bylaw which covers open air burning, noting if a fire ban is in effect, the discharge of fireworks is prohibited.
His concern is shared by the Peterborough Fire Services. On its website at www.peterboroughfireservices.ca, the department lists a number of safety reminders, including a clear warning to never discharge fireworks near combustible materials such as buildings, trees and dry grass, and to discharge only if wind conditions are favourable and don't create a wayward spark hazard.
The use of fireworks in the city is subject to the provisions of City Bylaw 674 with penalties for contravention and conviction spelled out clearly.
Also in Peterborough, open air burning using wood, including the use of chimineas and other wood-burning outdoor fireplaces, is prohibited. Under the Ontario Fire Code, open air burning is not permitted in the city except for the purpose of cooking food on a barbecue or grill. The penalty on conviction, as laid out in the Fire Protection and Prevention Act, is hefty with a fine up to $50,000 and/or one year in jail.
"Open air burning is not permitted in the city, period, unless you have a TSSA (Technical Standards and Safety Authority) approved device," affirms Amanda Nichols, public educator with Peterborough Fire Services.
"If you have a gas- or propane-fuelled device, you can use that. Even if you have a little chimney for cooking food, it's still not permitted."
Enforcement of the bylaw, notes Amanda, is complaint driven, adding, "We're not driving around the city looking for campfires. If we receive a complaint, then we would respond and we would ask the person to extinguish the fire."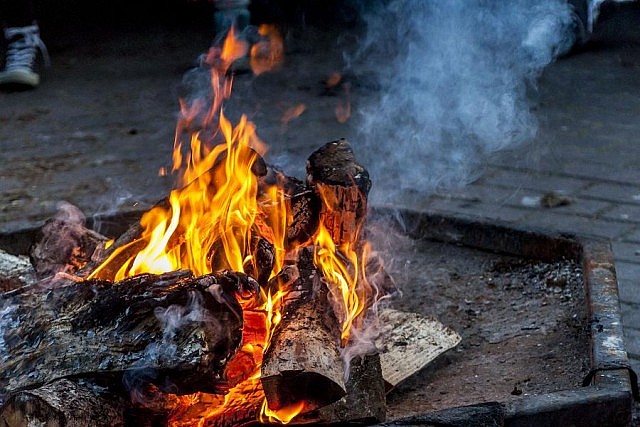 The City of St. Catharines, in advance of the Canada Day long weekend, has instituted a ban on the use of fireworks in the municipality due to dry conditions. Amanda says no such ban is in effect in Peterborough but that doesn't lessen concern.
"We're looking at the dry conditions; it's very easy that a spark could get away and cause a pretty large fire … it's just not worth the risk," says Amanda. "And with open air burning, it creates a lot of toxic smoke which could be bothersome to your neighbours. We don't have very many large lots or a lot of space."
As for Chinese lanterns, Amanda says they're released rarely within city limits but they too pose a fire risk that the department is more than wary of.
"We haven't had a lot of complaints about them but we have had some enquiries from people that want to use them, purchase or sell them. Again, our message is we don't recommend them. Most of them are made out of oiled rice paper and they can very easily catch fire. But also they can get away and land who knows where … on rooftops, in dry lots, anywhere."
Still, the sale of Chinese lanterns and backyard wood-burning devices isn't illegal and they are readily available.
"We can't tell retailers not to sell these things because there is open air burning permitted in the County," notes Amanda. "They do have signs that say check with your local municipality to ensure that they're allowed. We hope that people are doing that."
The aim of the open air burning ban, stresses Amanda, is simple: keep residents and visitors safe.
"It's not meant to be harsh," she says.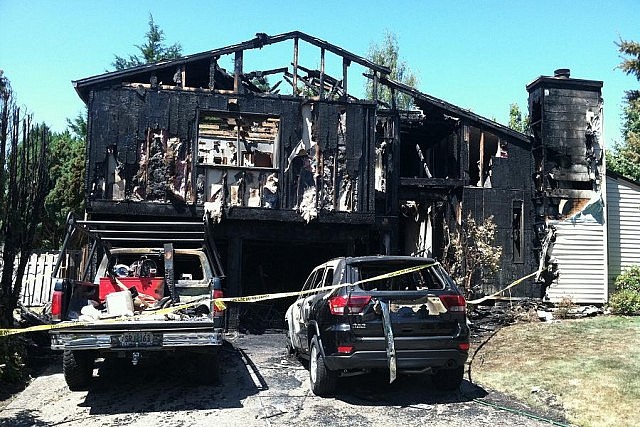 FOCA, notes Terry, is also well aware that this region at high or extreme high risk for fire due to the lack of rain.
"It's a particularly bad time, but it's never a good time to light something on fire and put it up in the air," says Terry of Chinese lanterns.
"Common sense — that's where we all have to start. The law is there for the people who are really blatantly disregarding it. But in the court of public opinion, when a fire is burning during a ban, the average citizen often won't say anything to their neighbour — even if it's threatening personal property or the lives and limbs of their family and friends."
He adds the devastation caused recently by wildfires in and around Fort McMurray, Alberta brought the risk and dangers to front of mind for millions across the country.
"The risks are real and people need to manage fire very carefully throughout cottage country," he says.
"Just this year, we were on an island and someone chose to have an unsupervised fire in a barrel behind their place and it got out of control. The place would have burned down if it hadn't been for the quick action of neighbours. People need to realize, particularly in the spring but also throughout the summer and fall, that there's no magic rule that says it's burning here and that it won't burn six inches away."
"We're blessed to be able to have these areas to live in but we also have a whole bunch of responsibilities that come with that. We're a self-enabled bunch in rural Ontario, so we do have to mind our selves and be mindful of the fact our surroundings are different than they are in the city."
Bottom line?
If you're planning to have backyard get-together, be it at home in the City of Peterborough or the City of Kawartha Lakes or up at the cottage, check beforehand to be sure you're in compliance with municipal bylaws before having an open-air fire or setting off fireworks.
The risk of being fined aside, one word comes into play and should guide your actions: respect. Respect for your neighbours' well-being, respect for their property, and respect for the land we all share.