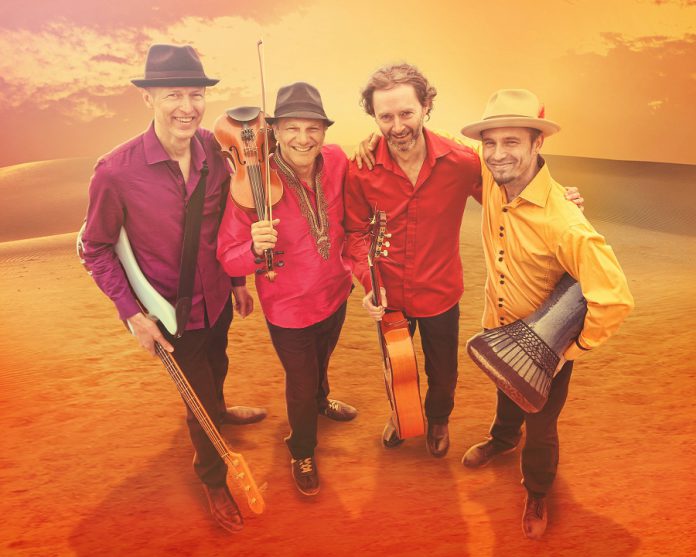 When William Shakespeare penned "all the world's a stage" for his comedy As You Like It in 1599, we can be fairly certain he didn't consider the opposite would ring true 400-plus years later.
Yet here we are, set to welcome the world music mastery of Sultans of String as the band makes its Peterborough Musicfest debut this Saturday (July 9) at 8 p.m. at Del Crary Park.
Hailed by Maverick Magazine (UK) as "an energetic and exciting band with talent to burn," Sultans of String features an eclectic mix of Celtic reels, flamenco and gypsy jazz grooves, and Arabic, Cuban and South Asian rhythms.
The end result remains a generous helping of international music sounds, styles and influences that will indeed bring the world to the Fred Anderson Stage.
"We both actually love trying out crazy ideas and seeing what sticks," noted Sultans of String co-founder and six-string violinist Chris McKhool in a 2013 www.JazzMonthly.com interview, referring to his relationship with musical partner and flamenco guitarist Kevin Laliberté.
"When we saw the power of this style of music on the listening public, we knew we had to do more of it. We were happy to pick up gigs here and there, happy to make $75 a man to play all night in a theatre lobby or any club. Neither of us was married or had kids at the time, so we were footloose and fancy free. Then, in 2007, we honed in and decided to take it to the next level. We became pickier about our repertoire, putting together an actual set list of songs that would engage audiences rather than just entertain ourselves."
---
"Journey To Freedom" – Sultans of String
---
So it was that McKhool and Laliberté added Eddie Paton (flamenco guitar), Drew Birston (bass) and Chendy Leon (percussion) to the mix and headed into the studio. The result was Sultans of String's debut album, Luna.
But it was the follow-up to that recording, 2009's Yalla Yalla, that set the band on its way. Nominated for a 2010 Juno Award in the Instrumental Album of the Year category, Yalla Yalla enjoyed #1 status on Canadian Top Ten radio charts while earning the band two Independent Music Award nominations.
"The most important thing in creating the Sultan sound was creating shorter, more focused tunes with memorable song titles and strong arrangements that would be palatable to listen to on a recording. But we also never liked the idea of being nailed down to one genre, so there is a lot of variety," explained McKhool.
"It's exciting music that is a great tool to tell our stories. The variety keeps me going because each of the different styles can lead to a different kind of mood, bring out different elements of our personalities and allow us to engage in a variety of physical antics while performing live."
In September 2011, the band's third album, MOVE, brought continued Top Ten radio airplay but it was 2013's Symphony! that resulted in a return to the Juno Awards, earning Sultans of String a second Instrumental Album of the Year nomination as well as SiriusXM's nod as World Group of the Year.
It also opened the door to a very busy touring schedule that continues to this day. In fact, earlier in the day of its inaugural Musicfest appearance, Sultans of String is performing at the Taste of Lawrence Festival in Toronto.
Sultans of String arrives in Peterborough on the strength of its latest album, Subcontinental Drift, which features sitar master Anwar Khurshid.
---
"Enter The Gate" – Sultans of String
---
Peterborough Musicfest is presenting 19 free-admission concerts during its milestone 30th anniversary season, each staged Wednesday and Saturday nights.
Overseen by general manager Tracey Randall and staff, a board of directors, and numerous volunteers, Peterborough Musicfest's stated mission is to "provide diverse, affordable live music to enrich cultural and economic prosperity in our community."
For more information on this concert and/or the 2016 season, visit www.ptbomusicfest.ca or phone the Peterborough Musicfest office at 705-755-1111.
---