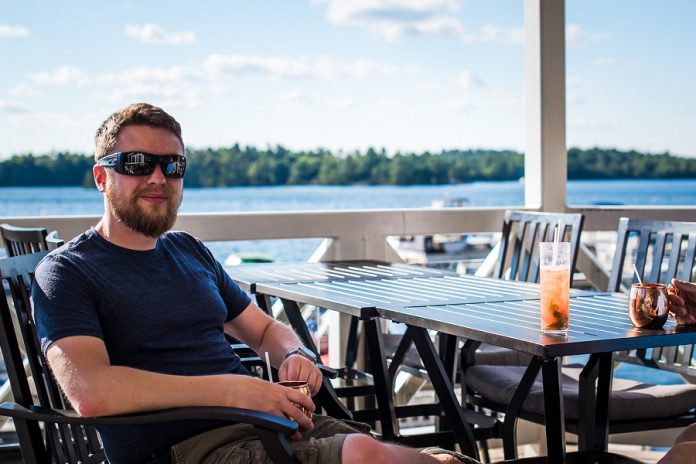 Whether you're looking for live music, a view of the water, or you just want a cold beer in the sunshine, you will find the patio you're looking for in The Kawarthas. From Buckhorn to Bewdley and from Keene to Lindsay, these are some of the best patios in the region.
---
The Hunter Street Cafe District
The Only Cafe (216 Hunter St. W., Peterborough, 705-743-7591)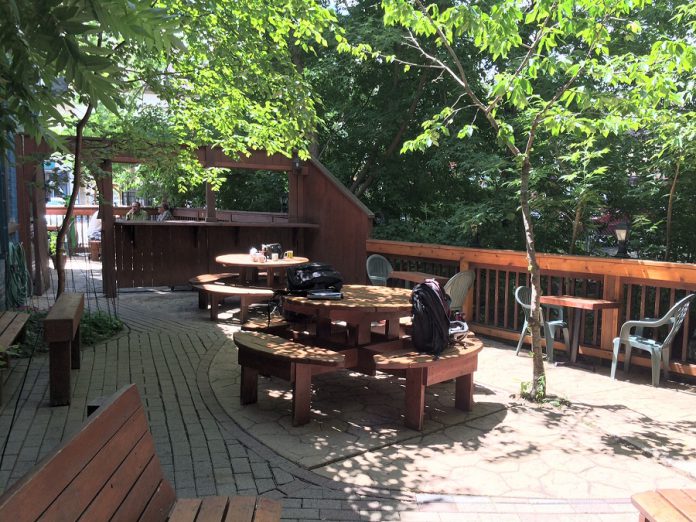 The Only Cafe patio is a good pick day and night: stop by late in the morning for a Cowgirl breakfast, which comes with fried mushrooms and brie. Stop by very very early in the morning for last call overlooking Jackson's creek.
Kettle Drums (224 Hunter St. W., Peterborough, 705-874-1500)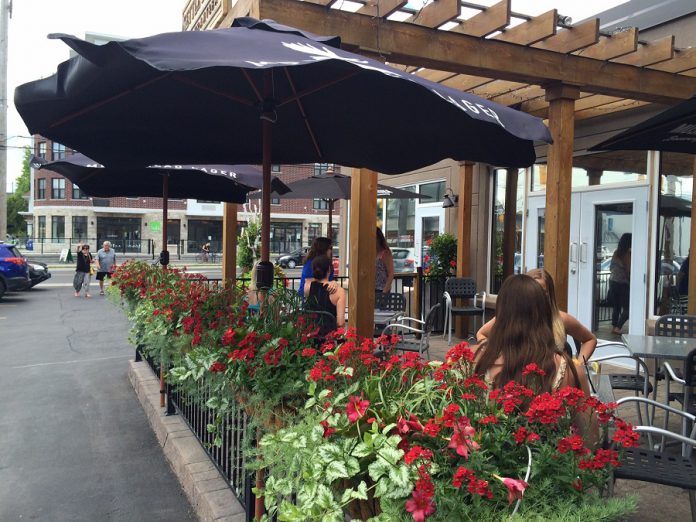 Visitors to the Kettle Drums Patio can enjoy a Rose Wine Sangria, a blend of French Provence Rose Wine, fresh Strawberries and Rosemary topped with Soda water. On Wednesdays Kettle Drums serves barbecue from a charcoal grill, and on Sundays you can bring your own bottle of wine for a $1 corking fee.
La Hacienda (190 Hunter St. W., Peterborough, 705-742-1559)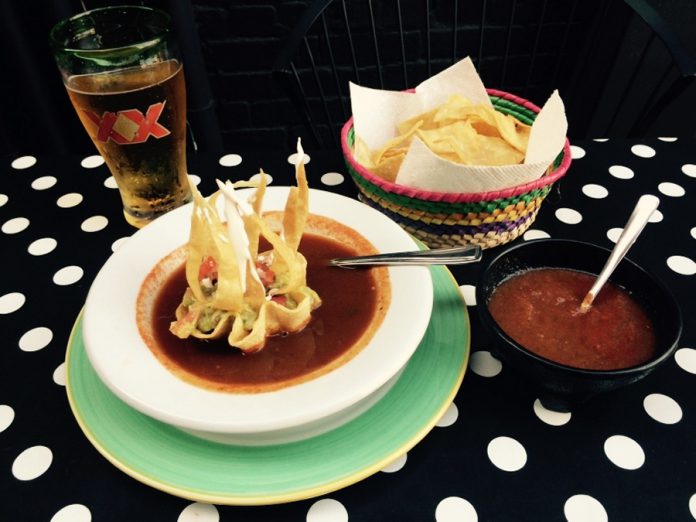 If you're looking for a margarita in the shade with a slightly more intimate atmosphere La Hacienda is a wonderful choice. Their nachos are exceptional.
Black Honey (217 Hunter St. W., Peterborough, 705-750-0014)
Black Honey's back patio is a nice place for weekend brunch. Enjoy good coffee and tasty crepes beside murals by local artist Shannon Taylor.
Spanky's Downtown Pub and Patio (201 Hunter St. W., Peterborough, 705-874-5078)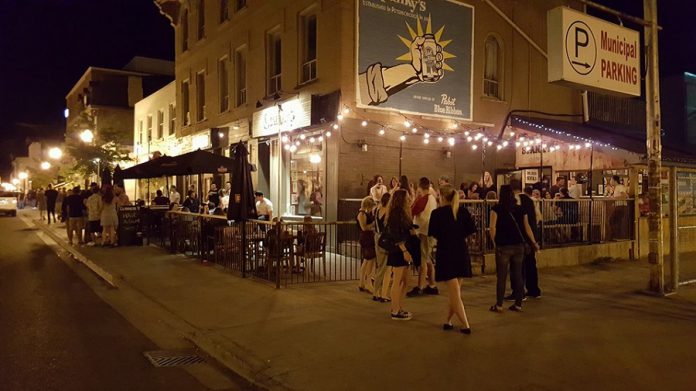 This popular downtown patio recently added Spank's Franks and Barbecue, a hotdog stand featuring homemade mustard and relish.
---
Peterborough Downtown
Silver Bean Cafe (130 King St., Peterborough, 705-749-0535)
The Silver Bean's beautiful riverside patio, located in Millenium Park, serves good coffee, breakfast and lunch. They use local suppliers including The Planet Bakery, Kyoto Coffee, and Batten's Country Choice Honey.
Elements (140 King St., Peterborough, 705-876-1116)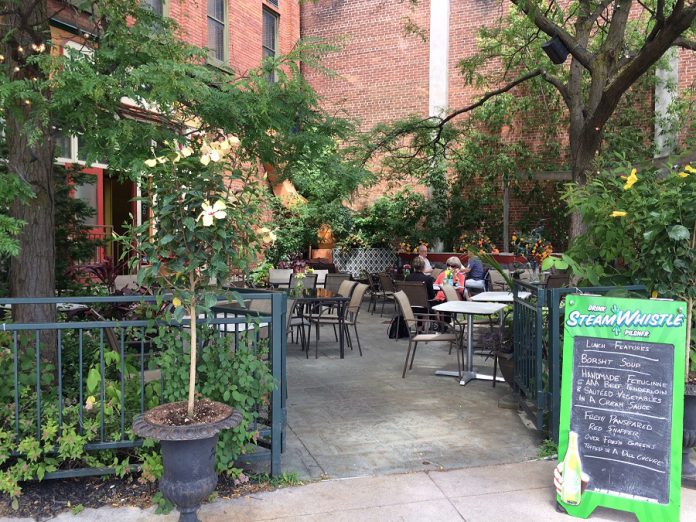 The Elements patio is set inside of a beautiful garden shaded by locust trees, so it has an intimate atmosphere. They offer Spanish inspired fine dining with a local and seasonal focus and a fantastic wine list.
Riley's Pub (251 George St. N., Peterborough, 705-750-0375)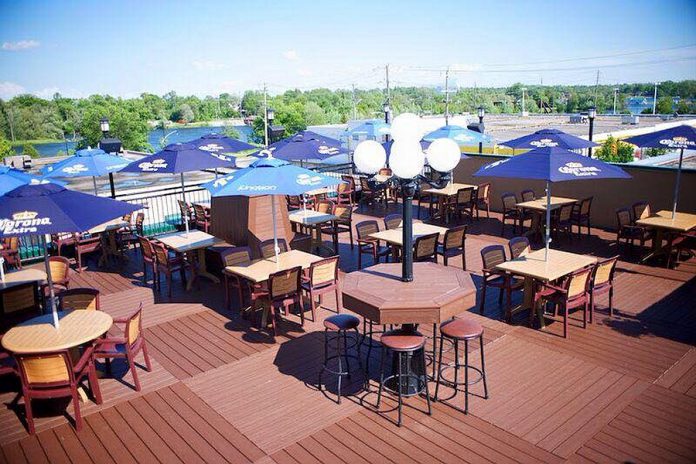 Riley's rooftop patio looks out over the downtown and the river, so you can keep watch over the city while you dine on crowd-pleasing pub fare.
The Riverside Grill and Gazebo (150 George St. N., Peterborough, 705-740-6564)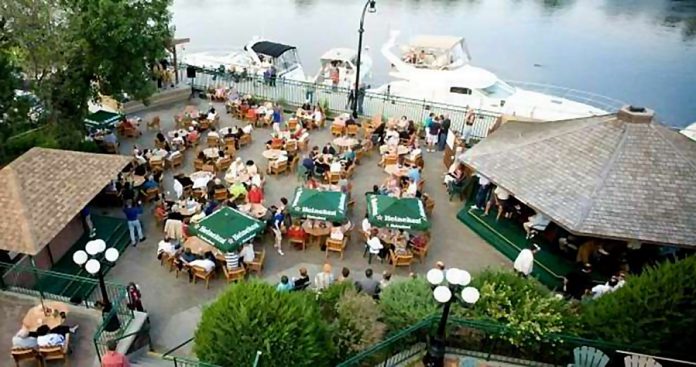 Great local food on the water close to downtown at the Holiday Inn, where the Otonabee River meets Little Lake. The Riverside Grill and Gazebo features Friday night blues and a Publican House patio party every Sunday afternoon featuring live music. There's also the Kawartha Choice Battle of the Burgers where local farms face off weekly to be crowned the best burger in the Kawarthas.
Charlotte Anne's Restaurant (390 Queen St., Peterborough, 705-742-2944)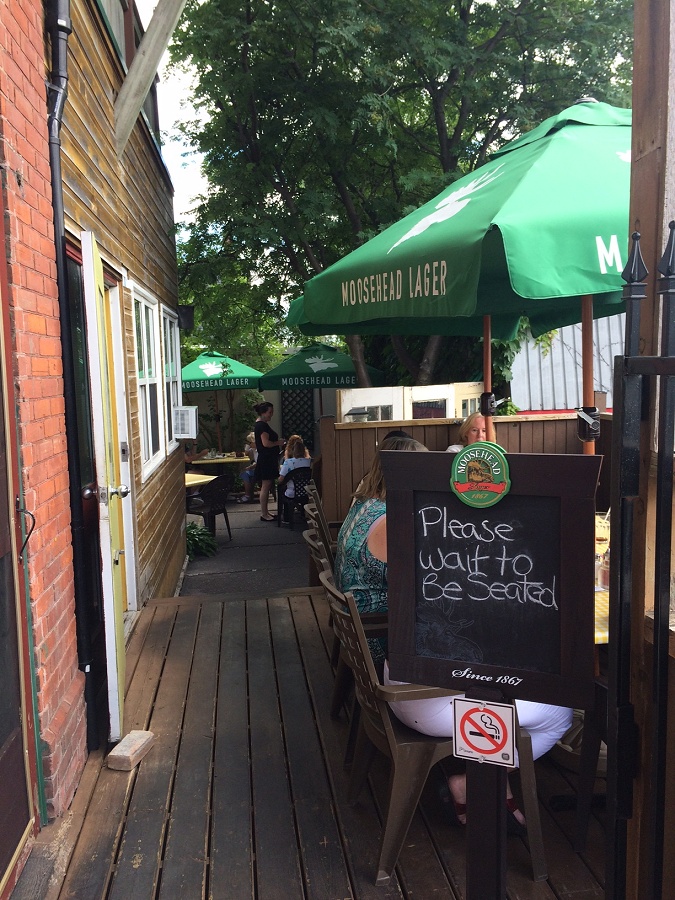 Charlotte Anne's serves a large menu of burgers, sandwiches, salads, starters and more on their shaded garden patio.
Champs (203 Simcoe St., Peterborough, 705-742-3431)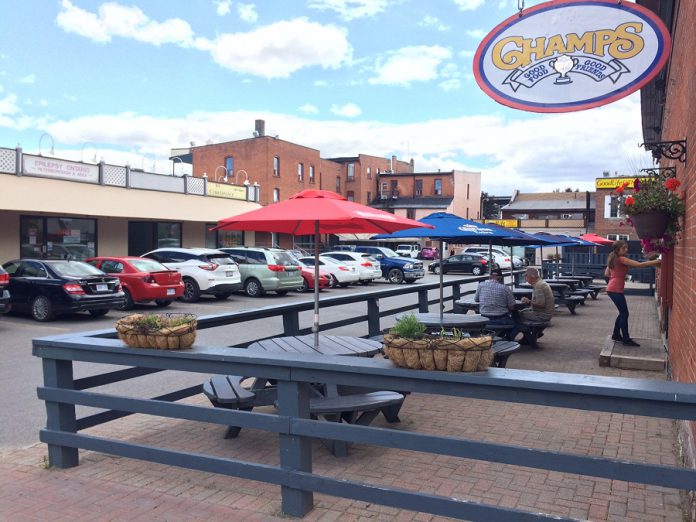 Champs' patio might not have as nice a view as some of the other establishments on this list (unless you have a really nice car) but it's a very popular central sports bar patio in Peterborough with taco specials every Tuesday and delicious wings.
The Ashburnham Ale House (128 Hunter St. E., Peterborough, 705-874-0333)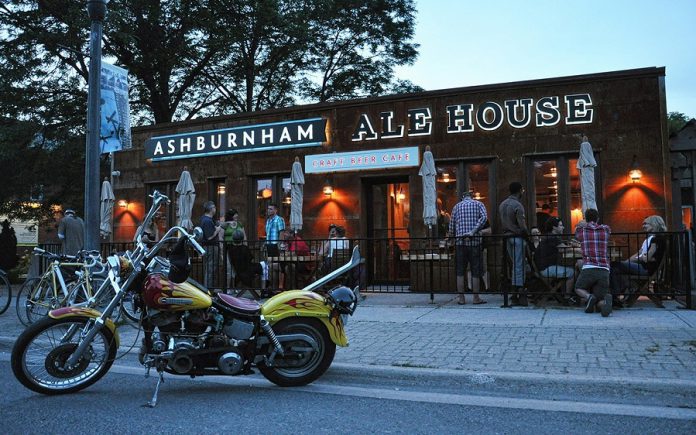 With a great selection of craft beer and some of the best "sammiches" around, The Ashburnham Ale House is a great place to grab a pint in the sunshine.
---
Buckhorn, Woodview, and McCracken's Landing
Main Street Landing (1939 Lakehurst Road, Buckhorn, 705-657-9094)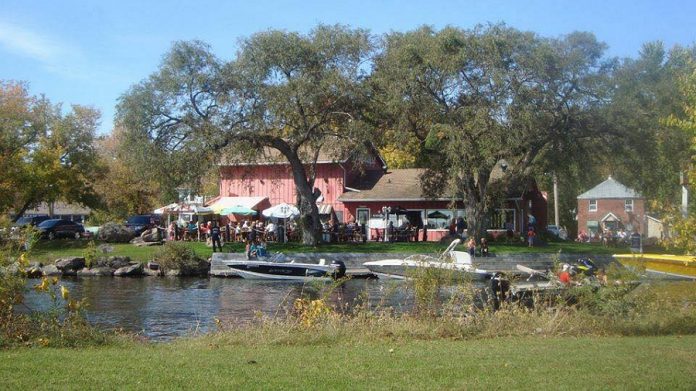 Ideal for a morning breakfast, Main Street Landing offers a crowd pleasing menu just steps from Buckhorn's Lock 31.
The Lantern Restaurant and Grill (2281 McCracken's Landing Rd., Douro Dummer, 705-652-3666)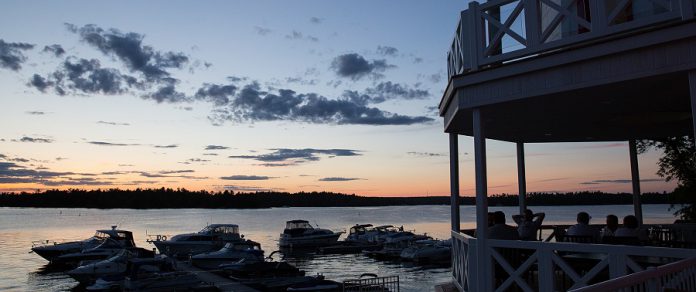 With a local food focus and a spectacular view of Stoney Lake, The Lantern Restaurant's lighthouse patio is a highlight. They have a great selection of craft beer and cider. Join them on Fridays for their weekly fish fry.
The Boathouse at Viamede Resort (595 Mount Julian Viamede Road, Woodview, 705-654-3344)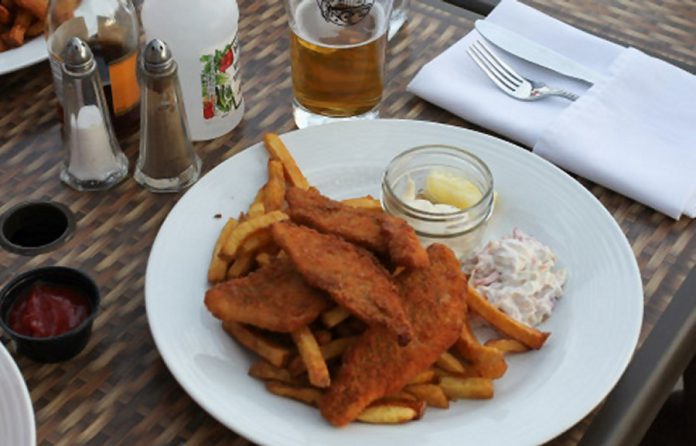 As you may have guessed from the name, The Boathouse at Viamede is located in a former boathouse right on the water. The menu features local options from Crosswind Farm, Traynor Farms, Herb Guys Honey and more. Try the Fish 'n Chips, pieces of breaded lake perch served with citrus chive aioli and house cut fries.
---
Bridgenorth, Ennismore, and Lakefield
Chemong Lodge (764 Hunter St., Bridgenorth, 705-292-8435)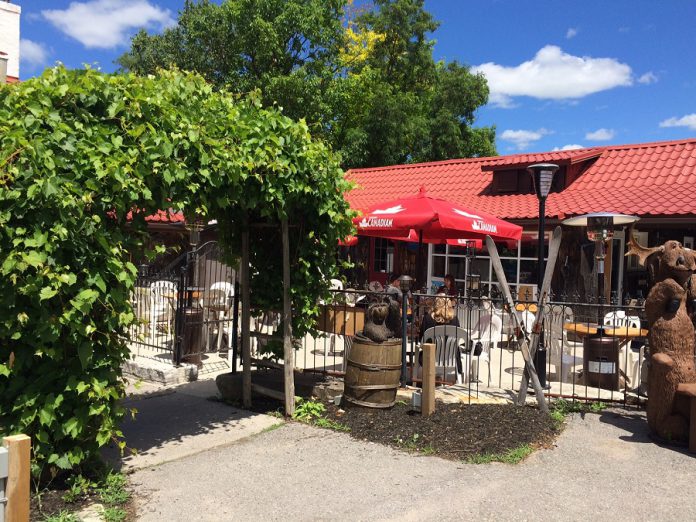 Bridgenorth's fine dining destination also has a patio featuring live music every Friday and Saturday throughout the summer.
Sippin Dip (1500 Yankee Line, Ennismore, 705-292-0292)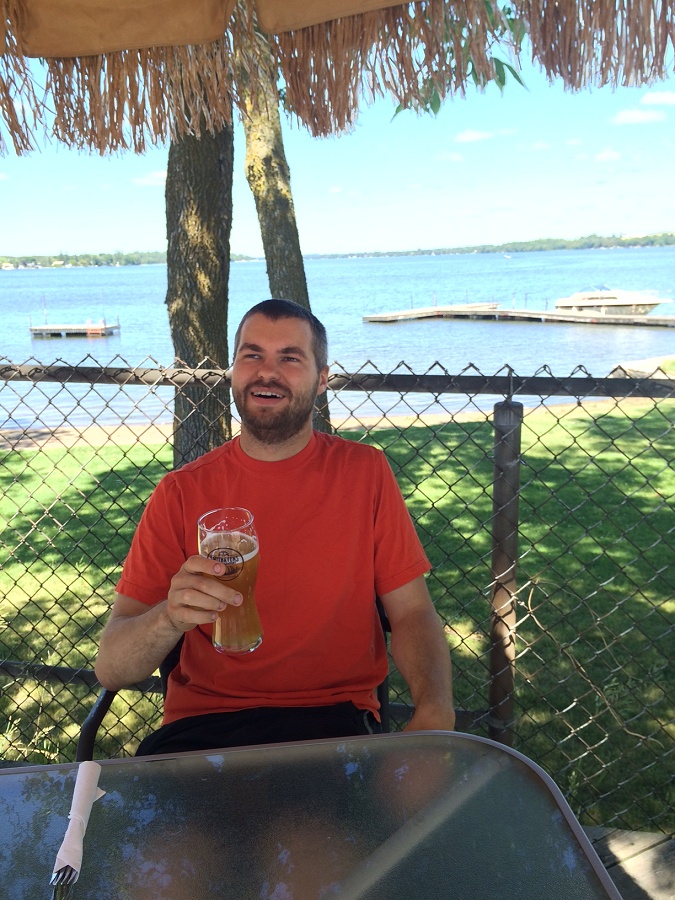 Right by the causeway on Chemong Lake, the Sippin Dip Restaurant and Bakery has a view of the water. The menu features pickerel every day. They also offer gigantic portions of homemade desserts.
Nuttshell Next Door (3 Queen St., Lakefield, 705-652-9721)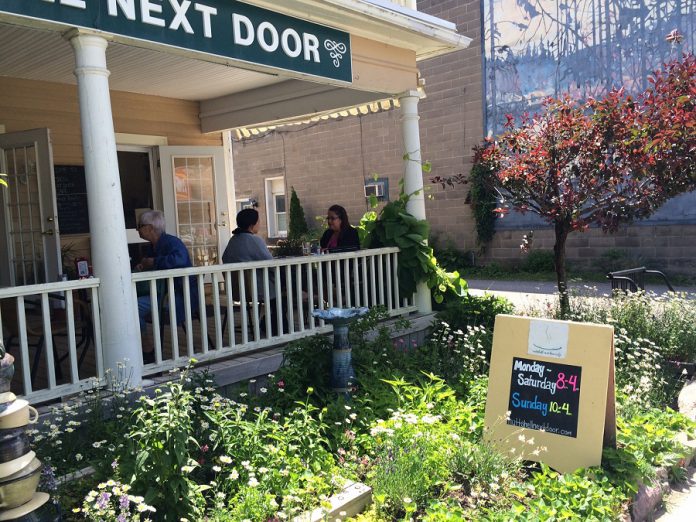 Open for breakfast and lunch, the Nuttshell Next Door's front porch patio overlooks their garden and the street, so you can heckle passers by people watch. Their version of huevos rancheros are a personal favourite, and are served with fresh corn and black bean salsa and cilantro lime sour cream.
---
Lindsay, Fenelon Falls, and Bobcaygeon
The Grand Experience (171 Kent St. W., Lindsay, 705-324-9444)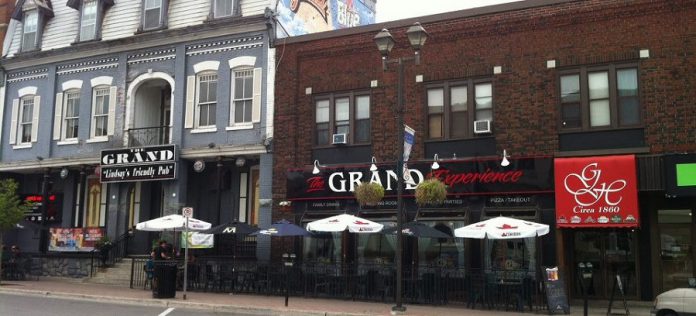 Spanning half a city block, The Grand Experience has been around since the 1980s. They have a streetside patio where they serve breakfast, lunch and dinner. They also serve some of their Bloody Caesars in 500 mL measuring cups.
Murphy's Lockside Pub and Patio (3 May St., Fenelon Falls, 705-879-1100)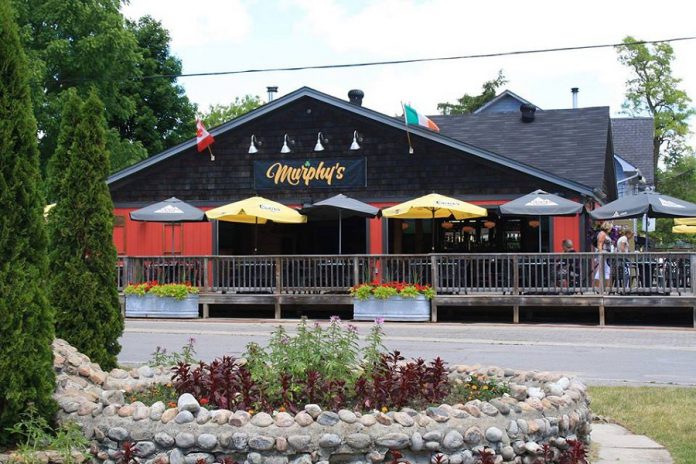 Located close to Lock 34 in Fenelon Falls, Murphy's Lakeside Pub and Patio opened this May. It's a great place to watch the houseboats with an order of fish tacos and a craft beer.
The Perch (9 Lindsay Street, Fenelon Falls, 705-887-7888)
The Perch's patio has a breathtaking view of the falls. The menu features homemade pizza, salads, bruschetta and more. The most popular item is the fish and chips.
Bobcaygeon Inn (31 Main Street, Bobcaygeon, 705-738-5433)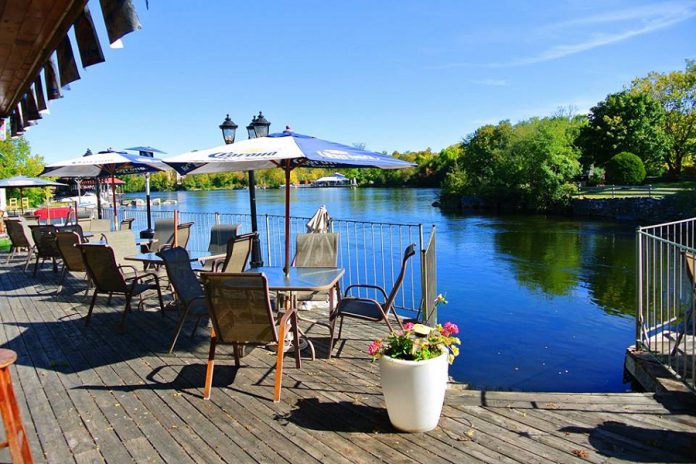 One of the largest patios in the Kawarthas with a waterfront view, the Bobcaygeon Inn is a nice spot to grab some cold drinks by the Bobcaygeon River.
---
Rice Lake, Bewdley, and Keene
The Wild Blue Yonder Pub and Patio (1045 Settler's Line, Keene, 705-295-4591)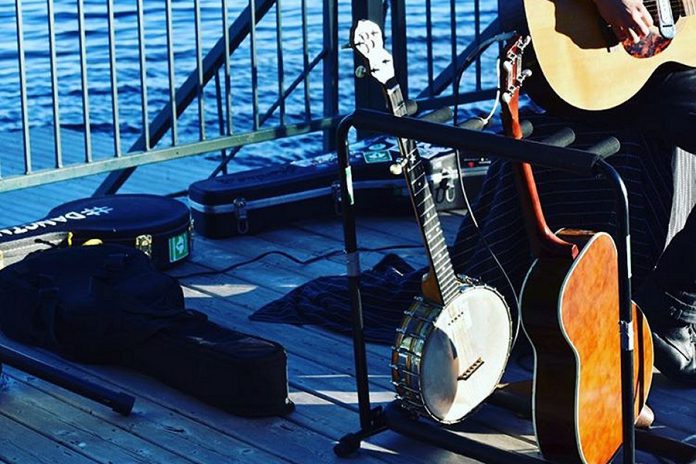 The Wild Blue Yonder Pub and Patio at Elmhirst Resort features plenty of local food options. They grow most of their vegetables and raise their own beef, turkey and ducks. Try the Elmhirst Burger, topped with homemade BBQ sauce, bacon, coleslaw and Empire Cheddar Cheese. Tuesday evenings in the summer they offer live music on the boardwalk overlooking the water.
Muddy's Pit BBQ (3247 Country Rd. 2, Keene, 705-295-1255)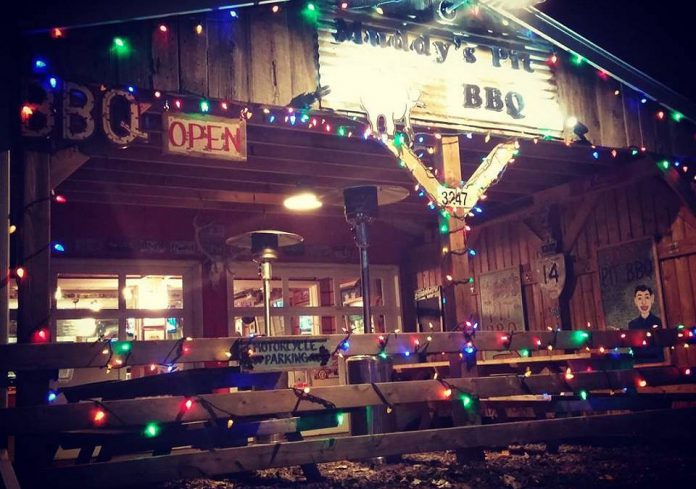 The picnic tables out front of Muddy's Pit BBQ are a great place to catch live music on Sunday afternoons, eat slow smoked locally sourced BBQ, and drink cold beer.
Rhino's Roadhouse (5078 Rice Lake Drive, Bewdley, 905-797-2744)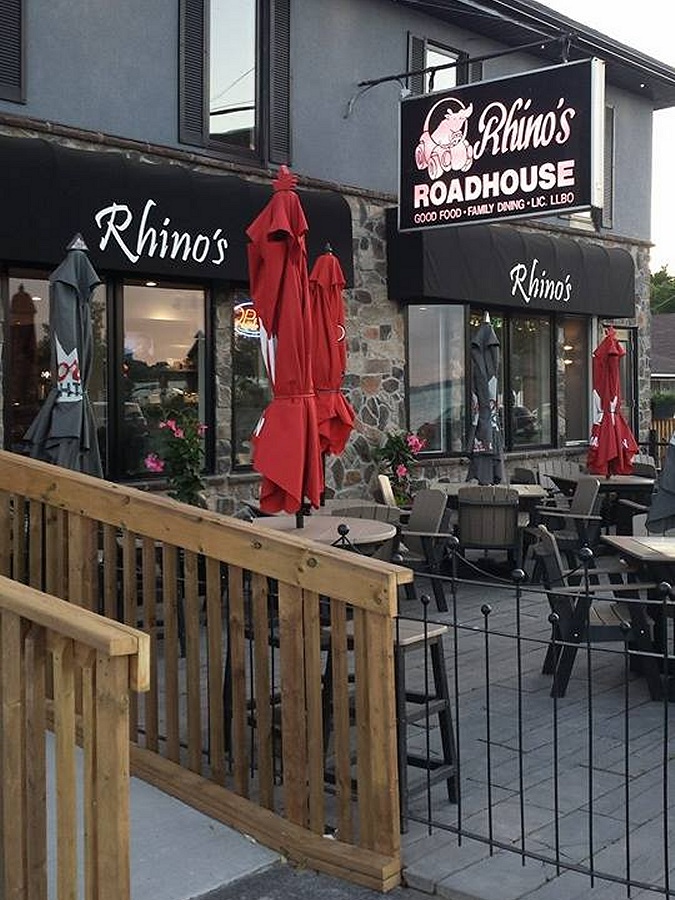 Rhino's Roadhouse has been a fixture in Bewdley for 25 years. They recently rebuilt and reopened after a major fire, so it's a great time to show your support by grabbing some of their famous wings and a brew overlooking Rice Lake.
Did we miss your favourite? Let us know in the comments.