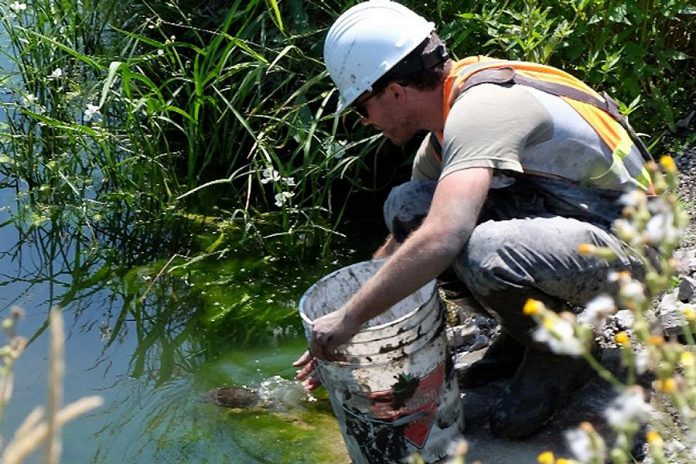 Blackbird Infrastructure Group, the consortium responsible for building the Highway 407 extension to Highway 115, has relocated six turtles in the path of the construction to a new wetland home.
The company moved four painted turtles and two snapping turtles from Nash Pond — a man-made pond created several decades ago for recreational purposes at Nash Road and Hancock Road in Clarington — to the Harmony-Farewell Iroquois Beach Provincially Significant Wetland Complex.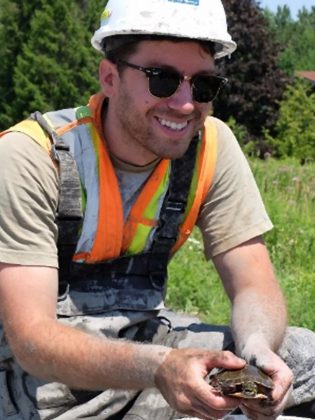 Earlier this month, Blackburn began draining the 4.5-metre-deep pond to install a new culvert under Nash Road and to build a bridge over Nash Road and Nash Creek as part of the construction of Highway 407 East Phase 2. The draining of the pond had been reviewed and approved as part of the environmental assessment completed for the highway's construction.
Blackburn monitored the draining of the pond daily to ensure lower water levels posed no threat to wildlife living in the pond. When water levels were less than a metre deep on July 27th, a four-person team of biologists was able to safely enter the pond to review and collect wildlife for relocation.
The team found the four painted turtles and two snapping turtles (one of which was 60 centimetres or two feet long) and moved them to a slow-moving creek in the nearby wetland. No endangered or threatened species of turtle were identified in the pond prior to draining and none were found by the team.
To conduct the rescue, Blackbird obtained a Wildlife Scientific Collectors' Authorization from the Ontario Ministry of Natural Resources and Forestry. The company also consulted Fisheries and Oceans Canada, Environment Canada, the Ontario Ministry of the Environment and Climate Change, and the Central Lake Ontario Conservation Authority in developing a work plan to drain the pond and move the wildlife.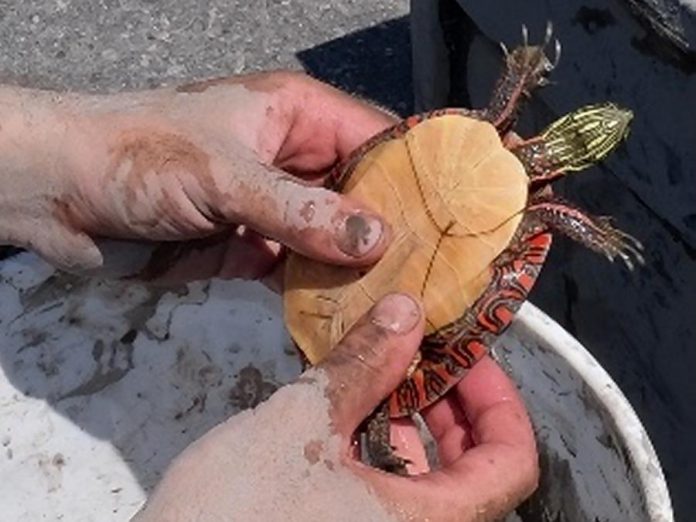 Painted turtles are the most widespread native turtle of North America, and get their name from their distinctive black shells with red or orange markings on the sides. The snapping turtle is Canada's largest freshwater turtle, easily recognizable by their size and their long tails, which have dinosaur-like triangular crests along their length.
Neither painted turtles or snapping turtles are endangered or threatened in Ontario, although the Province of Ontario has designated the snapping turtle as a species of "special concern" — meaning it may become threatened or endangered in the future.
Photos supplied by Blackbird Infrastructure Group