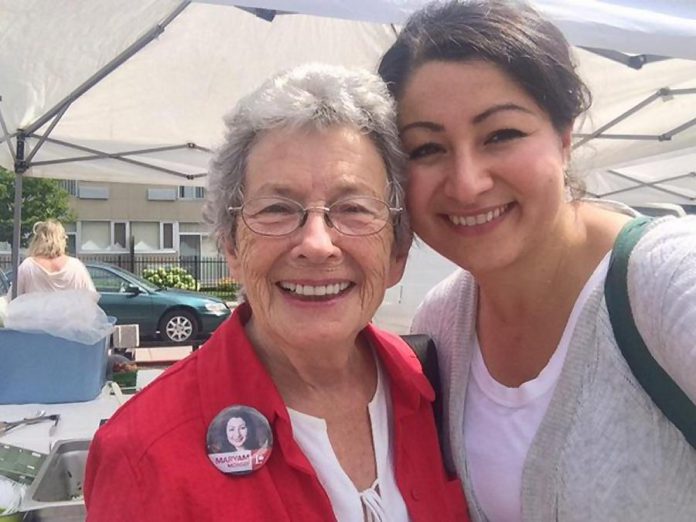 Peterborough is mourning the passing of the matriarch of its business community, Erica Cherney, who passed away at home this morning after a long fight against cancer.
Respected for her quiet wisdom, opinions, and leadership, Cherney was well known and beloved in the Peterborough community.
A businesswoman who owned and operated Cherney Realty for many years, she was also a community leader and relentless volunteer who served on numerous boards and committees.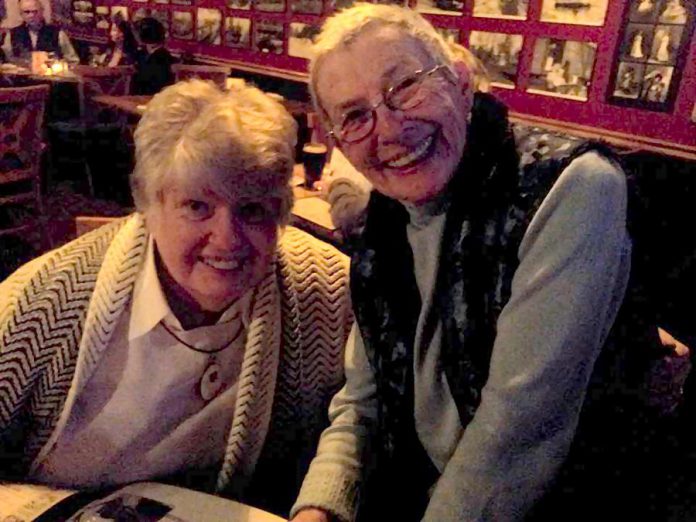 She received many honours over the years, including YWCA Woman of the Year in 1987 and Peterborough's Citizen of the Year Award in 1999. In 2005, Trent University bestowed her with an Honorary Doctorate and, more recently, she was inducted into Peterborough's Business Hall of Fame.
A public service will be held on Wednesday, August 17th at Beth Israel Synagogue (775 Weller St, Peterborough), after which there will be a private family burial.
---
In the Key of E – A film by Megan Murphy
---
Tributes pour in for Erica Cherney on Twitter …
With deepest sadness, DBIA informs our community that Erica Cherney, the champion of the community, passed away. pic.twitter.com/8GZ7uMSjge

— Ptbo DBIA (@downtownPtbo) August 16, 2016
We have lost one of our grand ladies, a true community builder in many ways. A sad day for all who were touched by Erica Cherney's life.

— Daryl Bennett (@MayorBennett) August 16, 2016
The @TrentUniversity and #ptbo communities have lost a true friend and leader. It is a sad day for anyone who knew Erica Cherney.

— Trent Alumni (@TrentAlumni) August 16, 2016
So sad to hear about Erica's passing. Our deepest condolences. She will be missed by all.

— LEPC (@WorkforceDB) August 16, 2016
CCRC mourns the loss of an incredible community leader, and strong supporter, Erica Cherney pic.twitter.com/ERbfgPpXZx

— CCRC (@CCRC_Ptbo) August 16, 2016
Incredibly sad to hear of Erica Cherney's passing. Her contribution to #Ptbo will be felt for generations to come. Our deepest condolences.

— Community Foundation (@cfgp_) August 16, 2016
I will cherish this forever, a business card from Erica Cherney. You will truly be missed and forever in my heart ?? pic.twitter.com/KOcSDYamXj

— Anne Marie Arnold (@AnneMArnold) August 16, 2016
RIP to one of our greatest and most influential fans, Erica Cherney.
Your smile and laughter will be missed by… https://t.co/W9mOVB6u77

— Citiots Improv (@CitiotsImprov) August 16, 2016
@wiredwoman @kawarthanow This city will miss our "Mighty Mouse". A life well lived, loved and laughed. RIP, dear lady – my friend.

— Donna Clarke (@councilwidow) August 16, 2016
Erica Cherney was such a supporter of culture in Peterborough.
Peterborough mourns death of Erica Cherney https://t.co/xc2oqk2v7e

— AGP (@AGPtbo_) August 16, 2016
Our community is losing so many great leaders! We will certainly miss one of our biggest supporters, Erica Cherney.

— Kawartha Food Share (@Kaw_FoodShare) August 16, 2016
In small but mighty Erica Cherney, we have lost a true giant. Thank you, Erica for your laughter, your generosity, and your legacy.

— Gordon Gibb (@GordoGibbo) August 16, 2016
We share in the mourning of wonderful and compassionate community leader Erica Cherney. She will be greatly missed #ptbo

— Peterborough Police (@PtboPolice) August 16, 2016
Heartfelt condolences to Erica Cherney's family & friends. She will long be remembered for her strength, leadership & philanthropic spirit.

— Hospice Peterborough (@hospiceptbo) August 16, 2016
#TrentU saddened to learn of passing of Erica Cherney, 1st woman to chair Board of Governors https://t.co/9kX7zSu7Ne pic.twitter.com/FrE5V0tJzx

— Trent University (@TrentUniversity) August 16, 2016