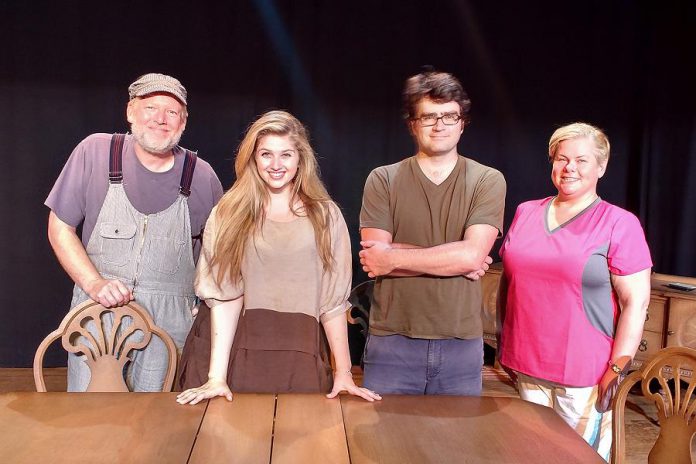 Globus Theatre is bringing its summer season to an end with Funny Farmers by Kevin Riordan. Directed by Sarah Quick, Funny Farmers is a charming spoof on rural life and the modern farming industry that will appeal to anyone who has ever lived or worked on a farm, as well as city slickers who've never stepped on one.
Written by Canadian playwright Kevin Riordan, Funny Farmers is a relatively new production that's only been performed a handful of times.
James Barrett plays Gary, a failed NHL goalie who decided to take on the task of running his family farm. However, due to a number of unfortunate incidents, Gary has lost the farm and is working at Wal-Mart. Now living next door to the farm that his family owned for generations, Gary watches in horror as Jerry (Connor Thompson) — an American lawyer with no farming experience — purchases the property with ideas of becoming an organic farmer.
As Jerry suffers one disaster after another, Gary eventually takes pity on the wannabe farmer and steps in to assist in pulling the farm out of ruin.
Can one failed farmer and a man who has no idea what he is doing create a farming empire?
It takes some big ideas and a lot of heart to make it work. From goats with chlamydia to an unwanted marijuana crop, Gary and Jerry become a mismatched odd couple trying to beat the odds in this good-natured comedy of hard work and rural living.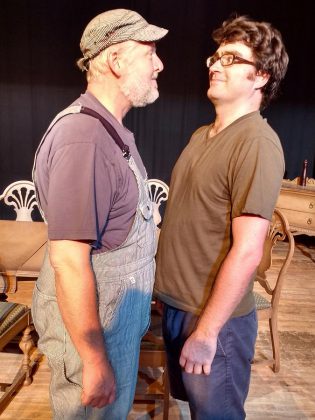 Now I can't help but go into a comedy with a bit of cynicism when it has the word "funny" in the title — just how funny will the show actually be? In the case of Funny Farmers, the show lives up to its name. It's a screwball comedy that stays smart and likeable without becoming too silly or slapstick.
Although some of the situations are outrageous, such as Gary and Jerry's trip to Toronto in the second act, the show is a character-driven piece that never takes itself very seriously. The result is lots of laughs in a light-hearted comedy.
The success of the show lies in the juxtaposition of the relationship between the two lead characters: two men who at first seem to have nothing in common. Gary is filled with resentment over this city lawyer who is ruining the family farm, which is only inflamed as Jerry hilariously continues to say and do all the wrong things in an attempt to bond with his surly neighbour.
The rivalry turns into a friendship and finally a partnership, as the two men find common ground in their attempt to keep the farm alive. A tale of two underdogs trying to be successful, the audience can't help but root for Gary and Jerry to keep the farm alive.
There is no doubt that the audience loves James Barrett as Gary. As the narrator of the show, just his presence alone in the opening scenes creates a warm and inviting energy. Often cast in roles where he plays sensitive characters, James goes against type in the role of Gary.
Far more stoic and rough around the edges than the characters that James usually plays, Gary has a good sense of humour when addressing the audience, but comes off much tougher and removed when interacting with the characters in the show. However, James brings natural warmth to any character he plays, and smoothly guides the audience into the world of Ontario farming.
Connor Thompson brings a nervous energy to the role of Jerry. With high but unrealistic ideals, Jerry comes into farming with no clue of what he's doing and sees idea after idea fail. Interestingly, while Jerry is supposed to be the more sophisticated of the pair, he becomes the comic relief while Gary is the straight man. More comedy is created by the fact that Gary is an American living in rural Ontario.
Jerry becomes the ultimate outsider who's in over his head while trying to make the best of a losing battle. From resisting his desire for venison beef jerky when he decides to go vegetarian to developing relationships with all of his animals, Jerry is a loveable fool stuck in a misguided dream.
Sarah Quick (James' real-life spouse) also appears in the show as Gary's wife Deanna. Known for her terrible cooking, Deanna has a lot to worry about when it comes to Gary. Although supportive of him after he loses the farm, she worries about his happiness, as well as where he goes at night when he skips dinner.
Kelly Holiff co-stars as Jerry's suffering wife Melissa. After only six months of marriage, Jerry brings his wife to the farm — but neglects to tell her he has shut off the power, water, heat, phone services, and internet in an attempt to go back to a simpler way of life.
A strong woman with more common sense than her husband, Melissa wants to skin her idiot husband alive, but quickly falls in love with the community in her role of county doctor.
Meanwhile, in an attempt to escape his wife's cooking, Gary strikes up an unlikely friendship with Melissa after she secretly begins to feed him — in return for the secret chores Gary does in the night to undo Jerry's farming mistakes.
Ultimately, Funny Farmers is a show about two underdogs who come together to beat the odds. It's a perfect way to end what has been a wonderful theatrical season for Globus Theatre at the Lakeview Arts Barn.
I've had a wonderful time driving out to Bobcaygeon every three weeks this summer to visit such a warm and beautiful space, to see old friends, to make new ones, and be around good people. If you've yet to visit the Lakeview Arts Barn this summer, Funny Farmers is a perfect reason to do so.
Funny Farmers is on now until September 3rd at the Lakeview Arts Barn in Bobcayeon. The show starts at 8 p.m., with two matinees at 2 p.m. on August 27 and September 1. Dinner is available by reservation before evening performances at 6 p.m. For more information and tickets, call the Globus box office at 705-738-2037 or visit www.lakeviewartsbarn.com