Renowned Canadian wildlife painter and naturalist Robert Bateman is selling the Haliburton cottage that he and his wife Birgit have owned for more than 30 years.
The 2,100-square-foot log cabin, which Bateman calls "The Lodge", is located on 6.4 acres near the Buckslide River in Haliburton.
Surrounded by wilderness and waterfalls, the cabin has four bedrooms on the main floor and a Rumford-designed granite stone fireplace. It's listed for $520,000 with Team Haliburton Highlands – RE/MAX North Country Realty Inc. Brokerage.
The 86-year-old Bateman is selling the property because he and his wife, who now live in British Columbia, only visit for two weeks every other year.
A Toronto native, Bateman was no stranger to the Haliburton area when he bought the property in 1981.
"Our family came to the south end of Lake Boshkung for July each year of World War II," he writes in a description of the property on the RE/MAX website. "We rented one of cottages owned by Clayton Rogers at Moorefield Acres."
"In those years, a highlight ritual was to take a little skiff and our outboard motor to the mouth of Buckslides river which flowed from Lake Kushog. We then carried the makings of a picnic up a trail to the smooth sloping rocks at the bottom of the steepest rapids of Buckslides."
"We would sometimes play in the river and then cross over to a little side stream that came in to join the main river. A beauty spot was a charming little waterfall on this side stream."
In 1981, while staying at their family cottage on Boshkung Lake, Bateman decided to do a painting of that same waterfall ("Dipper By The Waterfall").
"After finishing the waterfall painting, I got up to stretch my legs and noticed a small faint trail leading up stream," he writes. "Having never explored it, I followed it and came upon a little dam, partly made by beavers and partly man made. It held back a charming pond with cliffs plunging into it."
"The other side was gentle, sloping and open with a tiny cabin — a shed really. To my shock there was a 'For Sale' sign. On an impulse, my wife Bridget and I decided to buy it and the land around it to protect it from commercial development."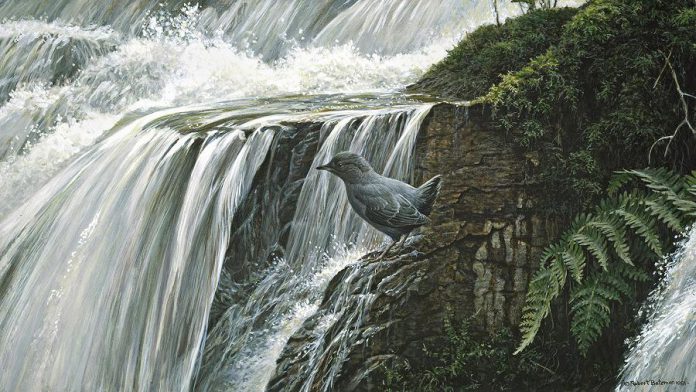 In 1983, Bateman had former student Tom Kinn, who was making a career out of building custom-made log houses, construct the cabin. Bateman says Kinn selected each log while it was still a live tree in a forest south of Huntsville. The entire structure is traditional post and beam construction.
Bateman calls the cabin "The Lodge" because of the beaver pond originally located on the property.
In addition to the structure of the cabin itself, two of its unique features are the "Rumsford" fireplace and the unique chandelier that hangs above it.
The fireplace is based on a design by Sir Benjamin Thompson, an American-born British physicist who was a friend of Benjamin Franklin. During the American Revolution, Thompson was on the side of Britain and emigrated there after the British lost, where he was later made "Count Rumford".
"He designed the perfect fireplace that throws the maximum heat out and draws beautifully," Bateman says in an interview in Team Haliburton Highlands' Haliburton real estate newsletter.
As for the chandelier, Bateman designed it himself. While living in Germany in the late 1980s, he visited Europe's oldest wood building in southern Poland, which featured a chandelier of a similar design.
"I took pictures of it," Bateman recalls in his newsletter interview. "I wanted to make it electrified plus candles, so I designed this with pottery holders for the candles to point up, and with downward-pointing electric lights on a dimmer. If you're in the mood, you can lower it to below eye level and use it like a candelabra."
Although the Bateman family owns another cottage on Boshkung Lake, it's clear that Robert has mixed feelings about selling "The Lodge."
"Our place on Buckslides is of all places in my life one of the closest to my heart," he writes. "This of course is partly because it is full of fond memories. But it is also very special from an objective point of view."
This past July, Bateman held a three-day workshop at Fleming College's Haliburton School of Art + Design (it sold out in two days when it was announced back in March). He created a demonstration painting during the workshop that was later auctioned off at an August fundraiser for the school.
Bateman also gave a talk at the school on August 11th which you can watch on Vimeo.