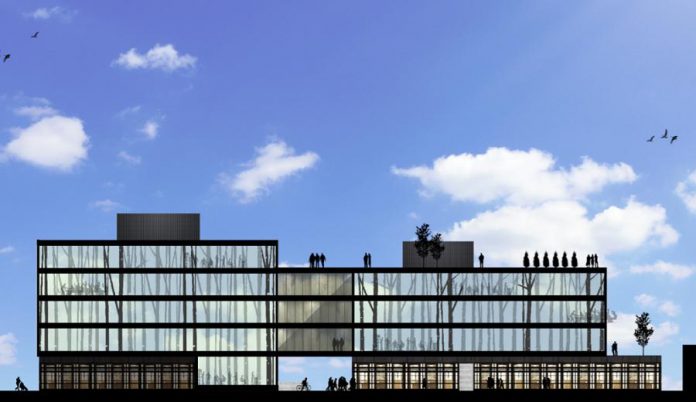 Four local entrepreneurs have come together to transform the former Promenade Building at King and George Street in downtown Peterborough into a new business hub called VentureNorth.
Paul Bennett (president of Ashburhnam Realty), Mike D'Alessandro (co-founder of Park Place Financial and Farmlife), Robert Gauvreau (president of Gauvreau & Associates CPA), and Cameron Taylor (CEO of OUTDOORsmart! and BOATsmart!) have partnered to transform the building, located at the corner of King and George Streets in downtown Peterborough.
The team is also working with public partners on the initiative, which so far include Greater Peterborough Innovation Cluster, Peterborough Economic Development, Start-Up Peterborough, and Junior Achievement.
The Innovation Cluster is already setting up a secondary location on the third floor in the building at 270 George Street. Selected Innovation Cluster clients were invited into the space — known as The Cube — during renovations to continue working on their companies.
"I have accomplished more in my business in the past two weeks than I have in the past several months," says Rick Dolishny, founder of BlushDrop and Bears' Lair 2016 winner, who is using The Cube.
The Innovation Cluster's new space will include a new 10,000-square-foot incubator, which has capacity to hold 40 to 50 client companies and will feature office space, two smaller meeting rooms, open common areas, shared kitchen space, a large boardroom and a copy and print area.

"We are excited to get start-ups out of their basement and sharing ideas," says Michael Skinner, President & CEO of the Innovation Cluster. "Peterborough is primed to become an entrepreneurial hub and the Innovation Cluster is excited to be a part of it."
Skinner was an original co-founder of the initiative, but left the partnership after being selected as President and CEO of the Innovation Cluster.
The Innovation Cluster will continue to maintain its presence at Trent University with the current 1,000-square-foot incubator located in the DNA Building. The original incubator will specialize in supporting young entrepreneurs, cleantech, ag-tech and healthcare solutions.
Peterborough Economic Development plans to consolidate two locations at the VentureNorth hub: the Peterborough & the Kawarthas Visitor Centre located at 1400 Crawford Drive and the Peterborough Economic Development office at 210 Wolfe Street, which includes the Business Advisory Centre.
"We recognize the cost savings and operational benefits of streamlining services under one roof," said Rhonda Keenan, president & CEO of Peterborough Economic Development. "There is also a substantial benefit to having our entire team of experts in one location. We will continue to provide excellent business development, advice and support services, destination marketing services and visitor services at this new location."
The new location will allow Peterborough Economic Development to work more closely with community partners and offers a more convenient location for entrepreneurs in the downtown core. Peterborough Economic Development expects to open the doors at the new location in early 2017.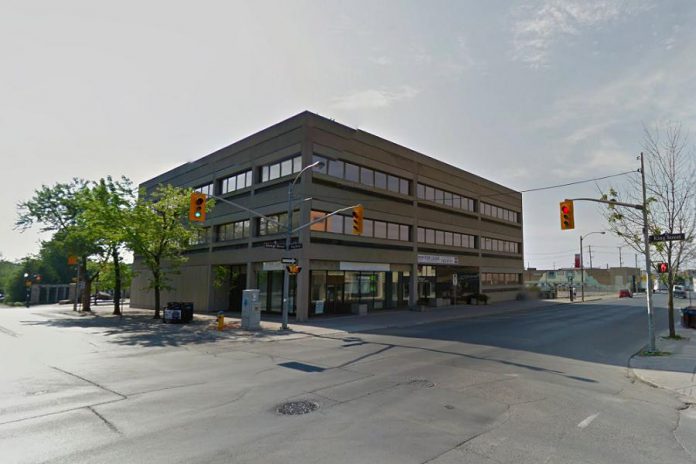 VentureNorth plans to transform all 38,000 square feet of the building at 270 George St. N. into a business hub that brings entrepreneurs, start-ups, public partners, innovation economy businesses, and risk capital providers together under one roof. The idea is to create an ecosystem where business people can connect and work alongside each other, with an added benefit of attracting businesses to locate in Peterborough.
"The VentureNorth initiative is an exciting example of private-sector investment," says Peterborough Mayor Daryl Bennett. "It will stimulate economic activity, benefiting their own businesses by lifting up other businesses and in the process nurturing the health of our overall community."
Over the next six months, $1 million will be used to redevelop the building at 270 George St North. The team has partnered with local firm Lett Architects for the design of a contemporary revitalized space. Kawartha Credit Union is assisting with financing.
The four entrepreneurs leading the initiative have already invested more than $2 million in capital to launch VentureNorth. The team has committed to reinvesting all net operating surpluses generated from leases at VentureNorth into start-ups, financial support for public partners, and the funding of entrepreneur mentorship programs.
This fall, VentureNorth will focus on bringing start-ups and public partners like Peterborough Economic Development into the location.
"Peterborough Economic Development is pleased to relocate to this collaborative ecosystem that will support the growth of the business community in the region," says Rhonda Keenan, president and CEO of Peterborough Economic Development. "From this location we will continue to provide service to entrepreneurs, businesses, and visitors in Peterborough and the Kawarthas."
The team is also seeking corporate partners to support the development of the project. Those interested in sponsorship and partnership with VentureNorth should contact Cameron Taylor at cam@venturenorth.co.
The original version of this story has been updated to include new information provided by the Greater Peterborough Innovation Cluster and Peterborough Economic Development.