On Thursday, October 6th, Ryan Kerr presents Hermann Hagedorn's anti-war play The Makers of Madness at The Theatre on King (TTOK) in downtown Peterborough.
Featuring 14 local actresses in this haunting production about war and greed, The Makers of Madness feels like it was ripped from today's headlines. However, the play was originally written in 1914 — 102 years ago. It's a chilling reminder that, while our society may seem to evolve, when it comes to war we haven't really changed at all.
Best known as Theodore Roosevelt's friend and biographer, Hermann Hagedorn wrote The Makers of Madness just prior to World War I as a commentary on the growing political tensions in Europe, However, while watching the production, it's nearly impossible not to find parallels to the times we live in today.
It's all in here: war, ISIS, xenophobia, Trump and Clinton, fear mongering, CNN and FOX news, gun violence, and Colin Kaepernick. Our current events are beautifully analyzed and summarized in a script over a hundred years old, which makes for a surreal and eerie experience.
For The Makers of Madness, Ryan Kerr decided to break away from Hagedorn's original concept of casting the show with men, and instead gender bends the show by featuring 14 local actresses. With both TTOK regulars and faces new to the space, it's an interesting combination of actresses ranging from the ages of 17 to 60.
In the roles of military commanders, war profiteers, and government dignitaries, Kerr cast Elizabeth Moody, Robyn Smith, Naomi Duvall, Di Latchford, Natalie Paproski-Rubianes, Lorna Green, Meg O'Sullivan, Leah Bell, Carol Lawless, Amelia Hansen, Samantha Mansfield, Andreanne Duplessis, Sarah Rudnicki, and Emily Templeman.
By having women represent what are still considered today to be very masculine archetypes, the gender reversal creates a dynamic experience. The result is a new dimension in the commentary on the art of war.
The Makers of Madness presents two unnamed countries on the eve of war. In the first act, we are introduced to "The Monarchy", where The Queen (Elizabeth Moody) — who values life and peace — is manipulated by her advisors (Carol Lawless, Samantha Mansfield, Andreanne Duplessis, and Leah Bell) into waging war on their rival. Although the Queen is concerned with the death and destruction a war would cause, her advisors present it as a patriotic thing to do.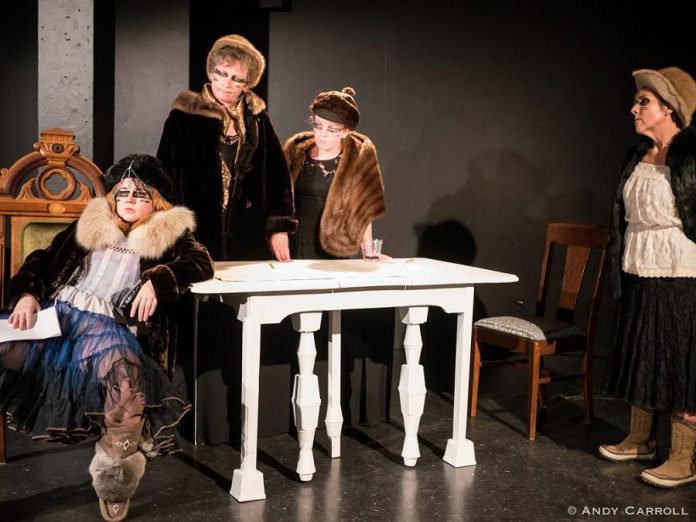 In the second act, we are introduced to "The Democracy" and, in particular, a war profiteer called Grosvenor (Robyn Smith) who has her fingers in every pot and has everything to gain from the upcoming war. As the nation braces for the call to arms, Grosvenor frantically meets with various members of the country's elite and discovers each of their individual roles in the art of war and what each of them has to gain.
From an arms dealer (Natalie Paproski-Rubianes) to a media baron (Di Latchford) to politicians (Meg O'Sullvian and Naomi Duvall), this is a society excited for war and willing to embrace it with open arms.
But in a society of hawks, one dove stands alone: Lorna Green, who gives a believable performance as a Senator who cries for peace. But in a nation with war on its mind, her pleas are muted and go unheard by all except the audience.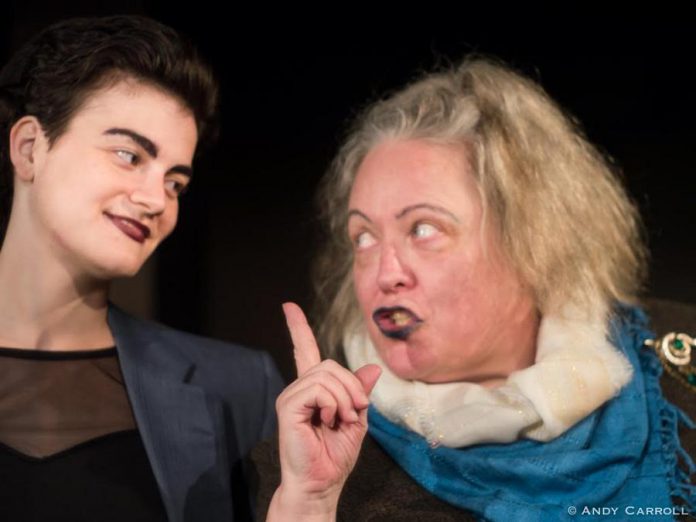 Not only does The Makers of War come with chilling commentary, it's a visually dynamic show due to the costume and makeup designs by Kate Story. Members of The Monarchy are dressed in furs and hats and look like Russian Bolsheviks, while members of The Democracy are dressed in futuristic streamlined and sterile military garb. The makeup is also simple, but extremely effective. The end effect is a show that looks like it's set simultaneously in the past and the future.
Although some performances are notably stronger than others, Kerr has assembled a fine cast of actresses to put together what is an important show. It's a treat to see so many new faces on the TTOK stage and to watch performers I hope to see again.
Despite being written a century ago, The Makers of Madness remains a powerful commentary on society. This boldly presented production gives the audience much to think about as we consider our past and our future.
The Makers of Madness runs from October 6th to 8th at TTOK. Performances begin at 8 p.m. and admission is $10 or pay what you can.