This month, Eva Fisher celebrates Oktoberfest with a round up of sausages from local butchershops and takes a look at Oktoberfest beer with St. Veronus. She also features new restaurant Amandala's, By the Bushel's winter basket program, and passes on a goodbye from Nuttshell Next Door owner Jay Nutt.
---
Sausage roundup: Grant's Butcher Shop, Smokey Joe's, Franz's Butcher Shop, and Primal Cuts
The variety of sausages being made in local butcher shops is tremendous. Kawartha butchers are developing unique flavours and reviving traditional recipes with local meat.
If you're looking to celebrate Oktoberfest this month, you have an easy option: all of these local butcher shops make Oktoberfest sausages.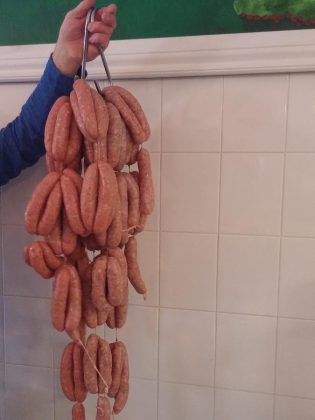 The most popular sausages at Grant's Butchershop (35 King St. E., Bobcaygeon, 705-731-1049) are their apple and pork and bruschetta and pork, but they have recently created chicken ginger and chicken cranberry sausages. All of their sausages are gluten free and made with locally sourced meat. You can also enjoy their handmade sausages baked into a sausage roll.
Smokey Joe's (7949 Highway 7, Peterborough, 705-740-1169) stocks a variety of 11 sausages at any given time. Their flavours include tomato bacon, garlic and leek, Texas, apple, maple blueberry, and honey garlic with dijon. The meat is from the Belleville area.
Franz's Butchershop & Catering (172 Lansdowne St. E, Peterborough, 705-742-8888) offers a variety of regular and smoked sausages including black bean salsa and jalapeno cheddar, both of which have won Ontario Meat Processing awards.
They also offer a variety of German sausages: not only Oktoberfest sausage but Bockwurst and Weisswurst.
Weisswurst is a traditional Munich sausage. It's traditionally served in a clay pot with lukewarm water that is meant to be sucked from the casing. Franz's Weisswurst can be eaten casing and all. It doesn't contain nitrates so the meat is whiter than most sausages. Bockwurst is similar to a frankfurter but made in a wider casing.
Primal Cuts (550 Lansdowne St., Peterborough, 705-775-6378) makes about 15 varieties of sausage, with between 6 and 7 available any given week. They are known for their Square Nail Pork Sausages, which are made with local pasture raised pork finished on mash from The Publican House's Square Nail Pale Ale. The Square Nail sausages are made with parsley, thyme and caramelized onion. Finishing the pork on the square nail mash gives it a sweeter taste.
Primal Cuts also offers merguez sausages, a North African inspired lamb sausage with paprika, cumin, coriander, chili flake, cayenne, cinnamon and garlic.
St. Veronus is bringing in Oktoberfest beers from Munich breweries to Peterborough
If you didn't make it to Munich for Oktoberfest, you can still taste the same beer that was poured in the festival beer tents here in the Kawarthas at St Veronus Cafe and Tap Room (129 Hunter St. W., Peterborough, 705-743-5714).
Munich's Oktoberfest began as a wedding celebrations for the Crown Prince Ludwig and Princess Therese of Sachsen-Hildburghausen on October 12th, 1810. The original Oktoberfest featured horse racing, shooting competitions and feasting. Munich's annual Oktoberfest now draws millions of visitors every year from around the world, and centres around food and beer.
The beer is provided exclusively by the six breweries within Munich's city limits.
The traditional Oktoberfest beer is a Märzen. When Oktoberfest began it was illegal to brew beer in the summertime because it was considered a fire hazard. Märzen beers were brewed in March, the last possible time to brew before Oktoberfest. They were made slightly higher in alcohol (at least 5.7%) so they would remain fresh until beer could be brewed again.
Roland Hosier, the owner of St. Veronus, is bringing in Oktoberfest beers from Hacker-Pschorr and Paulaner. "They're perfect for drinking in the fall as well. They'll have a biscuity quality and they're usually a sort of brisk hopping. They're also meant to be drunk in quantity so they'll be fairly easy drinking."
Roland notes that you don't necessarily need to source from Bavaria to get a delicious beer in the Oktoberfest style. "A number of Canadian and American brewers make very good beers in that style. Beau's brewery make great Oktoberfest, so does Sam Adams."
Amandala's makes fine food from scratch on Water Street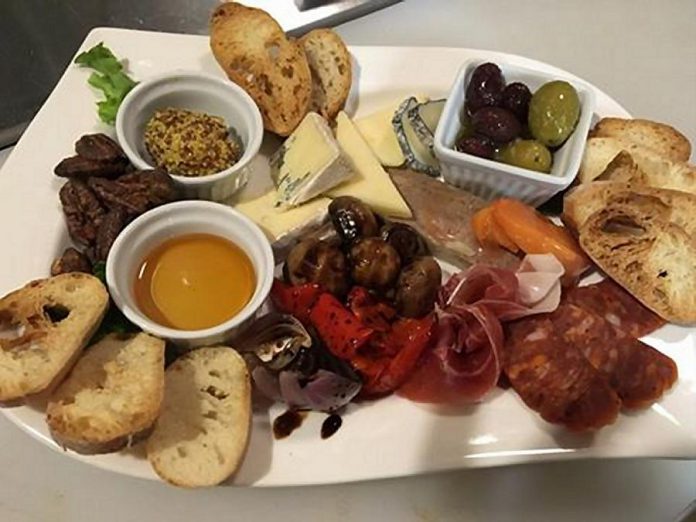 Amanda Menard opened her restaurant Amandala's (375 Water St., Peterborough, 705-749-9090) this August, but she's no stranger to the restaurant business. In fact, she's no stranger to her Water Street location. Amanda co-owned Italian restaurant Niccolini's, but after a split in the partnership she has reopened the location with a new menu and a new atmosphere.
Staying felt right to Amanda. "I really really love the industry, love food, love the community actually — I've really met a lot of great people here and had gotten quite a bit of support. I decided to give it a shot on my own and keep it going."
Amandala's has some Italian menu items, but Amandala's features a variety of cuisines with menu items made from scratch by Chef Simon Brown.
The made from scratch ethic is apparent in the cheese and charcuterie board. It features duck rillette made by the chef and cheddar cheese cherry smoked in house. All of the vegetables on the board are pickled in house, the olives are marinated in house and the pecans are candied in house. Even the mustard is house made.
The most popular menu item so far? Amanda says "surprisingly, the duck." It's a pan-seared muscovy duck breast served rare to medium rare with a black cherry and ancho sauce. Maybe not so surprising after all.
This Wednesday (October 12), Amandala's is debuting a mid week dinner for two that they call "Amandala's Mid Week Indulgence." This will feature a shared appetizer, two entrees, and a shareable dessert.
Register early for By the Bushel's Winter Produce Baskets
By the Bushel (542 Rogers St., Peterborough, 705-760-1387) is a monthly produce subscription featuring items from 20 local farms. Their focus is on fresh, certified organic and ecologically grown produce.
They are encouraging people to register early for their winter basket program, which begins on November 17th and runs monthly for 6 months. Business Developer Margaret Madden says that this is important so their growers will be prepared for the season. "We like to give our farmers numbers so they can plan."
By the Bushel offers spring, main season and winter baskets for pickup in East City. A typical winter basket contains 8-10 different vegetables: squash, potatoes, carrots and beets are popular because they store well. Growers with greenhouses allow By the Bushel to offer kale and salad greens even in colder months.
Around the time you pick up your vegetables By the Bushel sends a newsletter with recipes to inspire.
Although they're not included in the monthly basket, you can also shop online for local items like butter, cheese and honey or additional seasonal vegetables to add to your basket before you pick it up.
By The Bushel is member owned and a lifetime membership costs $25, which includes the newsletter and regular events such as farm tours. Visit www.bythebushel.ca to learn more.
New ownership for Nuttshell Next Door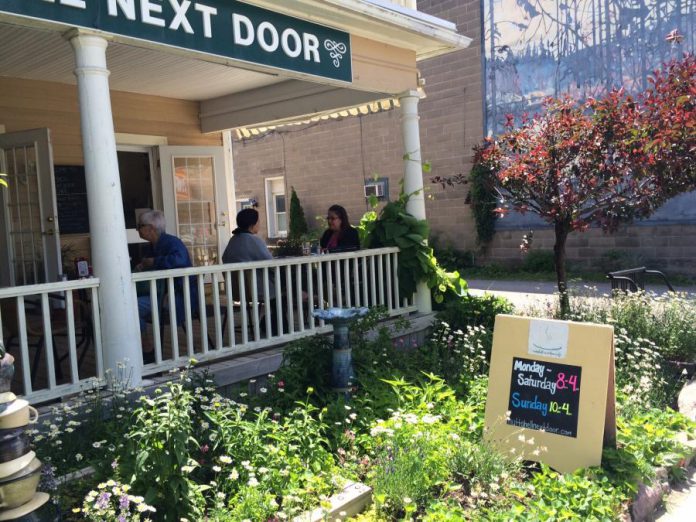 Popular Lakefield cafe The Nuttshell Next Door (33 Queen St., Lakefield, 705-652-9721) will be under new ownership as of November 1st.
Owner Jay Nutt posted a moving farewell on the cafe's Facebook page on October 9th. From the post:
"What made the café special wasn't my tirelessly blind work ethic, but the people who came in and out of both the front and back doors.
It was the gardeners, the artists, the musicians. It was the writers, the teachers, the students. Young moms with babies, and women with old moms. Young people who grew up to be staff. Staff who grew up to have babies. Staff who became family. And at times, family who were staff.
We had weddings, anniversaries, graduations and chapel speeches, break-ups and re-unions. We saw the elderly, people with stages of dementia, people with physical and mental illnesses, and on occasion we lost customers to death. Age. Cancer. Accidents. Sudden passings and long drawn-out battles that ripped out our souls.
But throughout, we saw kindness. Smiles. Gestures of good-will. A community coming together for coffee, for lunch, for the occasional dinner party. Strangers buying coffee for people they'd never see. People sharing tables with strangers they'd just met. If we had one rude person in a day, I learned to acknowledge instead the other customers that supported us in such a positive manner."
Congratulations and good luck to Chef Jay Nutt and his wife Jennifer MacKenzie.
You can read the whole post here.