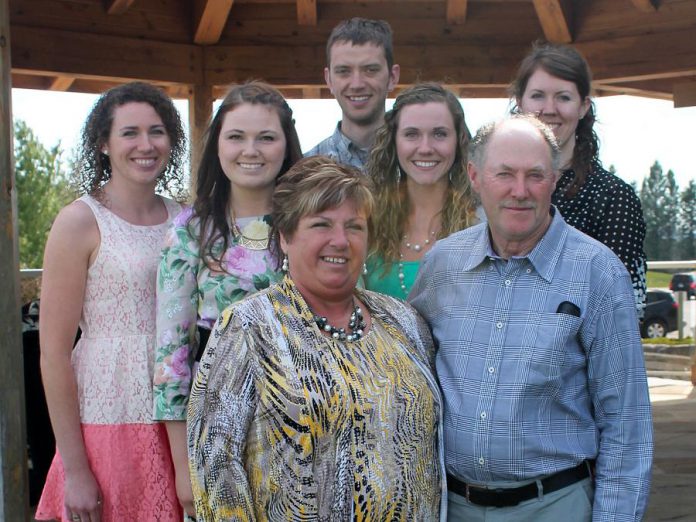 The Peterborough County Federation of Agriculture and the Greater Peterborough Chamber of Commerce have announced that the Buck family, of 1576 Centre Line in Norwood, is the 2016 Farm Family of the Year.
Jim and Barb Buck have been farming for 42 years. Their 375-acre farm includes 35 head of Black Angus beef cattle and 40 head of replacement Holstein heifers. They also harvest hay for feed and several horse farms, soybeans, and mixed grain and/or wheat.
Over the years, the Bucks have earned numerous awards and recognitions, including the Peterborough County Agricultural Award, Peterborough County Plowman's Award, Peterborough County Forage Master's Award, 10-year 4-H Leader Pin/Award, and Holstein Canada 30-year Breeders Pin. They have also won several milk quality certificates.
Jim and Barb are also active volunteers in the farming community. Jim is the secretary/treasurer of the Peterborough County Soil & Crop Improvement Association, past president of the East Central District SCIA, a 4-H Crops Leader, and chairman of the Heavy Horse Show & Field Crops Competition at the Norwood Fair.
Barb is a member of the Norwood Fair Homecraft Division, past social convenor at Trinity United Church in Hastings, and past committee member of the Peterborough County Queen of the Furrow.
The Bucks have been members of East Gen for 40 years. They frequently donate baking and farm product for fundraisers by local community groups, including the 4-H Club, Lions Club, Trinity United Church, and the Norwood Fair Board.
The family farm has hosted many organizations for events including 4-H Judge-It Day, Hay Demo Day, and the Tillage Demo Day, as well as various bus tours. In 2015, they hosted the Peterborough County Plowing Match.
The award will be presented to the Buck family at the Peterborough County Federation of Agriculture Annual Banquet, to be held on Friday, November 18th, at the Holiday Inn Peterborough Waterfront. For tickets, contact Karen Jopling at the Peterborough County Federation of Agriculture at 705-927-5677.