This Friday (November 18th), there's going to be a murder in Peterborough and you are all invited. Lunch and drinks will be served.
The folks from The Theatre on King (TTOK) are stepping out of their King Street home, along with Marianne Vandelinde of RE/MAX Eastern Realty, to present Murder On McDonnel! at the McDonnel Street Activity Centre (577 McDonnel St., Peterborough).
The show marks a number of firsts for TTOK. Not only is it their first time leaving their space to go into the community, but also their first stab at dinner theatre and their first major fundraiser.
"It is a step outside of our usual space," says TTOK's Kate Story. "It's an experiment."
Written by Simon Turner and directed by Kate Story, Murder On McDonnel! features a cast of TTOK regulars including Dan Smith, Naomi DuVall, Di Latchford, Hilary Wear, Lindsay Unterlander, and Matt Gilbert, and features Marianne Vandelinde in the starring role of the afternoon's sleuth.
"A loathsome director is murdered," Kate explains of the plot. "There are a lot of suspects because he is so loathsome. You have your misunderstood playwright. You have your socially and artistically climbing actress. You have your male actor whose ego has been bruised and he's been given minor roles for too long."
"You have the rival director. You have the female theatre caster who has been continuously put down by this director because she is a woman. So everybody has a motive. With the stock characters in the play, it's going to be fun for the audience, fun for the actors, and fun to direct."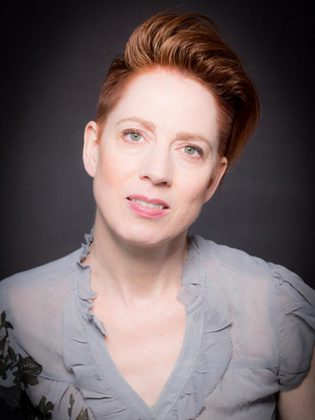 However, despite the show being in rehearsals for weeks, Kate and her cast still doesn't know who the real killer is.
"Simon is writing it as we speak," Kate laughs. "I still don't know who done it!'
In its fourth year in Peterborough, TTOK has developed a solid following of patrons, and an ever-expanding group of players who use the space to provide what is amongst the most interesting theatre in Peterborough.
However, running a small theatre isn't always easy. Although TTOK has always managed to pull through with the support of its patrons, this is the theatre's first attempt at reaching out beyond its established audience to present something for people who are not familiar with the space.
"This is our first attempt at a major fundraising event," Kate says. "When people come in and rent the space, it keeps the space going. But this is the first time we've decided to hold a big event that will, hopefully, justify a payoff for doing all the hard work."
"This is something we find fun, and hopefully other people will as well. We just pulled together anyone who ever said 'I want to help raise money for this space' and we pulled them in. It's been great. We have a great group of people."
Aimed towards a lunch crowd, Murder On McDonnel! runs from noon until 3 p.m.. The show intends to attract a very different demographic than TTOK usually sees come into the theatre. This is a great way for locals who are not familiar with the theatre or the type of productions TTOK does to experience some of the great performers who regularly appear there, and to get a sense of the quality that TTOK offers.
"We are reaching beyond our inner circle with this show," Kate admits. "It doesn't really matter if the audience ever comes to the theatre or not. I'd love them all to come, but this event is for people who just like to lunch. There are a lot of people out there who don't go to the theatre, but get why it's important."
The McDonnel Street Activity Centre is an interesting choice for the event. It's a space that works on a practical level and manages to give the show its own special character.
"It's a really nice space," Kate says. "Rolled into the rental are two bar staff, a working cash bar, and a great kitchen, so we decided to do it there. It's out of our comfort zone and it's not downtown but it's close enough to walk to. I think it'll be fun. The staff are really into it too. They've never done anything like a murder mystery."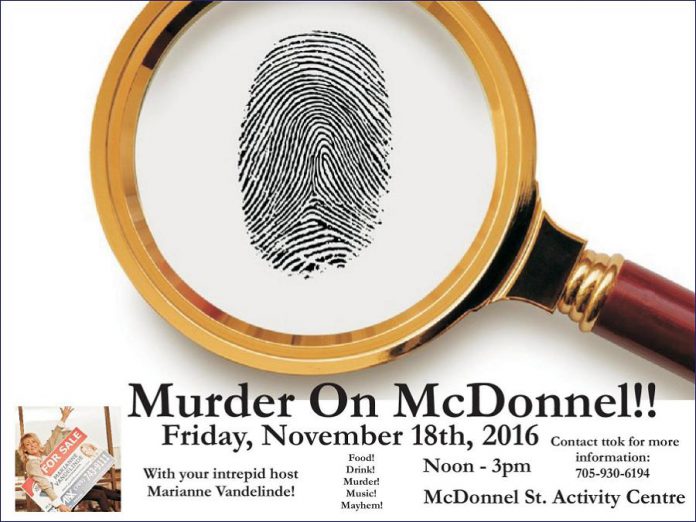 Catering for the event will be supplied by a number of local establishments, including Sam's Place and Black Honey. But the lunchers won't have to worry about missing any of the show while they eat. The clues to the mystery will be presented between courses.
"The acting bits aren't going to be too long," Kate explains. "We want people to enjoy their meal and not have to watch the show, so we'll be doing scenes between courses."
Possibly one of TTOK's most unique experiments, Murder On McDonnel! is a great event for an office holiday party, as well as people who want to support an important artistic space that's become one of the backbones of Peterborough's artistic community.
"TTOK is a safe space for anybody," Kate says. "We don't care if you make theatre with the Citiots, or the Guild, or St. James Players, or Theatre Trent. It doesn't matter. You can be someone writing their first play. It doesn't matter. Come on in. It's really important to incorporate everybody."
Murder On McDonnel! takes place from 12 to 3 p.m on Friday, November 18th. Tickets are $55 per person, or $425 for a table of eight, available at Black Honey or by contacting The Theatre on King at 705-930-6194 or Kate at kstory@nexicom.net.