The team behind the design for the new Canadian Canoe Museum has won a prestigious Canadian Architect Award of Merit.
At Canadian Architect's annual awards gala in Toronto last night, the magazine presented Heneghan Peng Architects and Kearns Mancini Architects with the award.
"It's an honour to receive a Canadian Architect Award — particularly for a project that celebrates a Canadian icon, the canoe," says Roisin Heneghan, Director, Heneghan Peng Architect.
The Irish-Canadian team's design will be built to house the world's largest collection of canoes and kayaks at the Peterborough Lift Lock National Historic Site on the Trent-Severn Waterway. The team's elegant serpentine glass pavilion, graced by a rooftop garden, was chosen in January 2016 as part of the museum's two-stage competition — the first of which garnered close to 100 submissions from around the world.



The Canadian Architect awards, now in their 49th year, are the highest recognition for excellence at the design stage in the Canadian architectural sector. By focusing on commissioned but not yet completed projects, the program recognizes design ambition and supports an overall culture of design excellence. A total of 10 awards were announced for projects selected from nearly 150 professional submissions.
The award-winning projects will be published in the December 2016 issue of Canadian Architect, available as of December 8th at www.canadianarchitect.com.
The jurors commented that the new Canadian Canoe Museum "provides two promontories to view the canal. One is the museum itself with its ample glazing and the other is its landscaped roof." They added: "It's very generous in that way, reinforcing the connection to the locks and to the waterway where the canoes have travelled."
"This national award is an incredible honour," says Bill Morris, Chair of The Canadian Canoe Museum Board of Directors. "It is humbling, and at the same time, befitting of a redevelopment project that is of national scope and significance. It's an exciting time, and we are moving forward with much momentum thanks to an incredible project team and our key partners in redevelopment, the City of Peterborough and Parks Canada."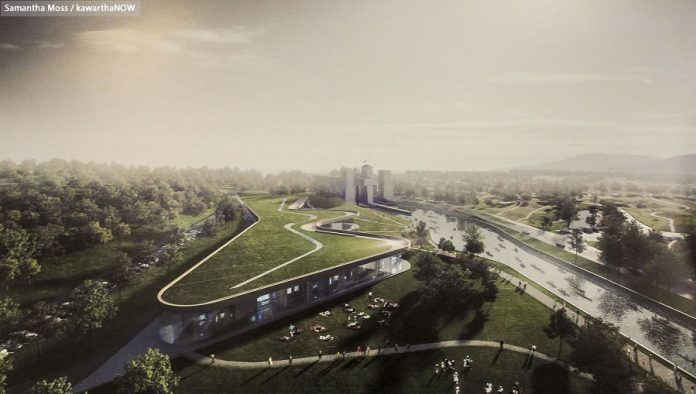 The design has been envisioned with, and for, its community. Purpose-built for the collection, the new museum be the high-profile hub of the organization and the headquarters from which it reaches out across the country. The redevelopment project is currently in the detailed design phase.
"The strengths of this design are its simplicity and its sophistication," says Lisa Rochon, Chair of The Canadian Canoe Museum's Architect Selection Committee and Senior Fellow, Global Cities Institute, University of Toronto. "It breaks with ego-driven architecture to offer a gentle, organic space that poetically winds its way along the Trent-Severn. I can't wait to see this museum built. It's going to change the way we think about architecture, place making and the canoe — a true icon of design."