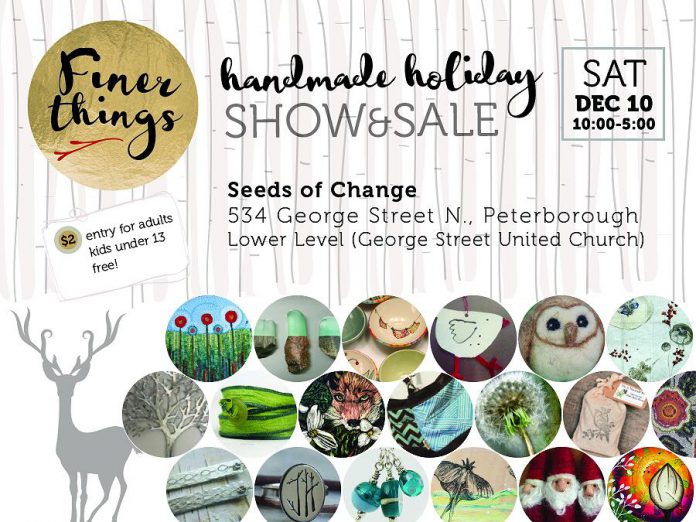 This is the second week for this new column and I'm starting to understand how Santa feels. It's tough to pick the best of the best in any category — especially when talents abound in our local communities.
This week I'm focussing on where I want to be, what I want to attend, and where my "retail therapy" will be happening. My recommendations this week include top-level local artisans, family fun, theatre, and music.
---
Love our local artists and Keep It In The Kawarthas: Finer Things and Focus Fair
This weekend there are two events that will showcase local artists, crafts, and artisans who you need to meet and know more about. They're all local and beyond abundantly talented. Supporting these events directly supports our community and allows these amazing people to continue to create. Rearrange your plans for both days this weekend — trust me on this. These are one-of-a-kind gifts for everyone on your shopping list (including you)!
The Finer Things Show and Sale on December 10
On Saturday, December 10th from 10 a.m. to 5 p.m., Sprigg Collective presents The Finer Things Show and Sale, which will be held in the lovely auditorium at Seeds of Change (downstairs at the George Street United Church, 543 George St. in Peterborough).
Showcasing the talents of 19 artisans from the area, this show offers a wide range of art, jewellery, hooked rugs and textiles, to colouring books, gift cards, Christmas ornaments, cards, and much more. The Hard Winter Bread Company will be on site selling coffee, tea and treats.
Admission is $2 and children under 12 get in free. The first 50 households through the door will receive free tote bags designed by Sarah Crane.
kawarthaNOW kudos to Annie Schertz of Studio Luma and Sarah Crane of Frolic art and Design who have organized the Sprigg Collective to promote an eclectic group of local artists. Browse their website at www.experiencesprigg.ca for more details on the artists and artisans.
Focus Fair Holiday Arts & Crafts Show on December 10 and 11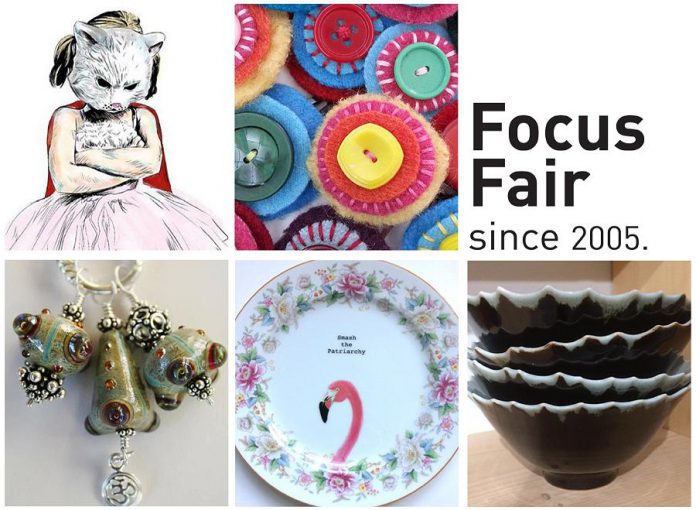 kawarthaNOW kudos also go out to the Focus Fair Collective who have, for the past 11 years, organized this stellar art and craft show of local creatives.
Focus Fair is an event that's renowned for great local Christmas shopping. It takes place over two days, so you will have plenty of time to browse and do some serious local shopping.
Focus Fair happens at The Spill (414 George Street North in downtown Peterborough) where you can sip coffee or beer, or enjoy a tasty snack in the festive and friendly atmosphere of The Spill. This year's show features a wide variety of treasures, handcrafted by local artists, bakers, gardeners, and crafters.
The show runs from 11 a.m. to 5 p.m. on Saturday, December 10th and 11 a.m. to 4 p.m. on Sunday, December 11th.
---
Craig Cardiff returns to the Market Hall on December 8
Once you've experienced a Craig Cardiff concert, you'll be a fan for life. The Juno-nominated musician's insightful stories and lyrics, and his connection to the audience, will leave you wanting more. Special guest Melodi Ryan will be opening the show.
Advance tickets are $20 ($15 for students) and are available at the Market Hall Box Office or online at www.markethall.org. Tickets are also available (cash only) at Moondance (425 George St. N., Peterborough, 705-742-9425) or at the door for $25.
We're giving away a couple of pairs of tickets tomorrow (December 7th) to see the concert. For your chance to win, sign up for our VIP Enews.
VIDEO: "Love is Louder" – Craig Cardiff

---
A weekend of local music: JT's reminders for In from the Cold, Cozy Christmas, and The Three Martinis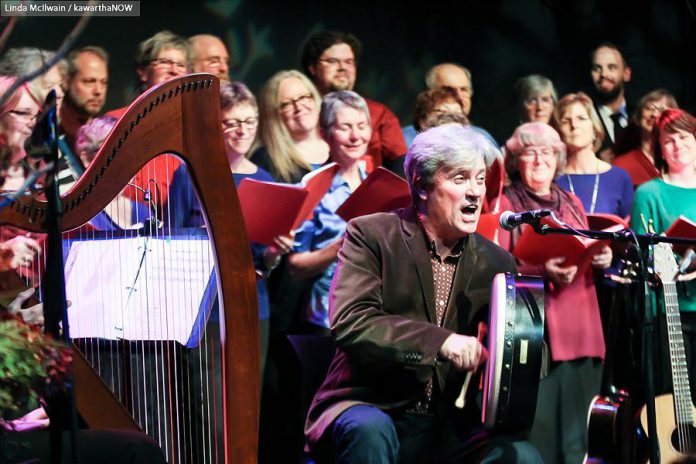 Last week I wrote about three amazing top-level local performances. I'm here to remind you that they're happening this weekend and you can in fact plan to attend all three! If you do, you'll be supporting local performances and some very worthy causes.
---
Amber Coast Theatrical presents "First Date" – A Musical Comedy at The Gordon Best until December 11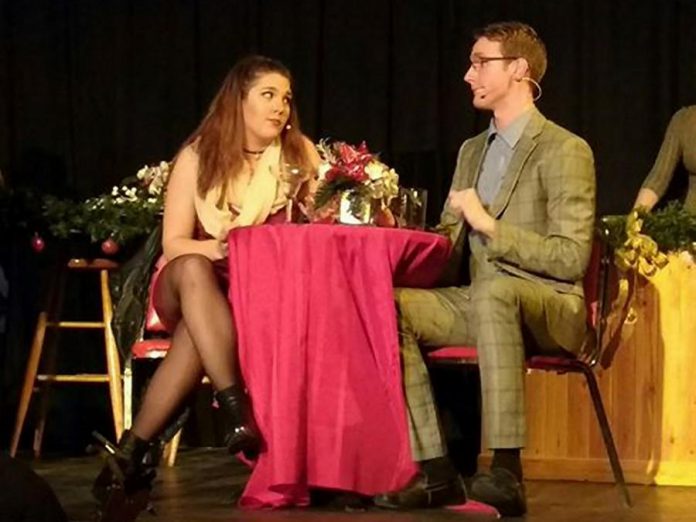 It's been an amazing year on local stages and several local theatrical companies and venues are flourishing. This is good because our theatre columnist Sam Tweedle likes to have a full calendar. Well, it seems there is room for more companies and more theatre as the Amber Coast Theatrical debuted last week with their first production "First Date" – A Musical Comedy at Gordon Best Theatre (216 Hunter St. W., Peterborough, K9H 2L2).
Sam loved it and I really can't do it more justice than he has when he wrote "First Date: The Musical and the birth of Amber Coast Theatrical are a Christmas gift to Peterborough. The show is clever, relevant, cutting edge, and romantic. The cast is talented, vibrant, sexy and fun." You can read his full review here .
The show wraps up this weekend with two evening performances on December 10th and 11th at 8 p.m., and one matinee show on December 11th at 2 p.m. Tickets are available online at www.thegordonbest.ca or at the door for $16.
---
JT's picks for family fun this weekend: The Reluctant Dragon and Carolling with the Donkeys
Peterborough Theatre Guild presents "The Reluctant Dragon" until December 11
The Peterborough Theatre Guild's production of Kathryn Schultz Miller's family play "The Reluctant Dragon" opens tonight (December 6th) and runs until Sunday, December 11th. Adapted from the story by Kenneth Grahame (and the inspiration for the animated film How To Train Your Dragon), The Guild has taken its production in a new direction by setting it within an 8-bit video game!
This innovative new script is lively, fun and fast-paced; full of comedy and audience participation! The production features a cast of talented young actors, along with three adults. Performances happen at 7 p.m., except for 2 p.m. matinees on Saturday and Sunday. Tickets are only $5 and are available at the Peterborough Theatre Guild box office (364 Rogers St., Peterborough) or by calling 705-745-4211.
Read our story on the show here.
PrimRose Donkey Sanctuary presents Carolling with the Donkeys on December 11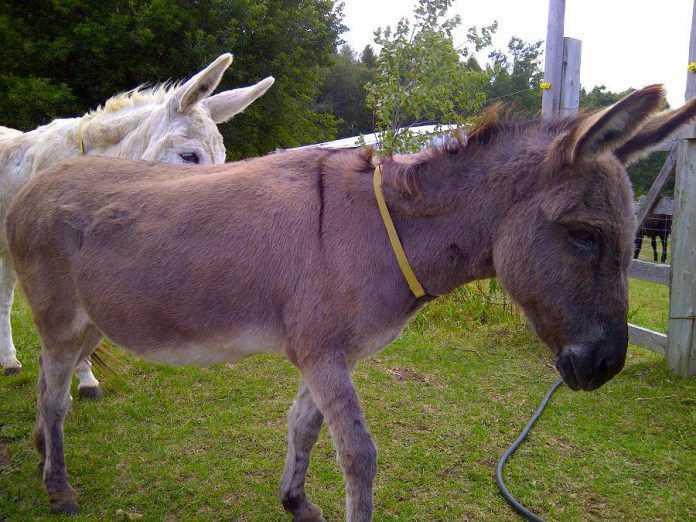 The PromRose Donkey Sanctuary is a special place and that makes carolling with the donkeys a very special seasonal event.
This Sunday, December 11th you can tour the barn and sanctuary, purchase Christmas cards to support the donkeys, and enjoy complimentary refreshments.
Admission is free, but donations are gratefully accepted. For more information, see the Facebook event.
You can find the sanctuary at 1296 Bowmanton Rd. in Roseneath.
---
Save the date! Three concerts featuring local talent on December 17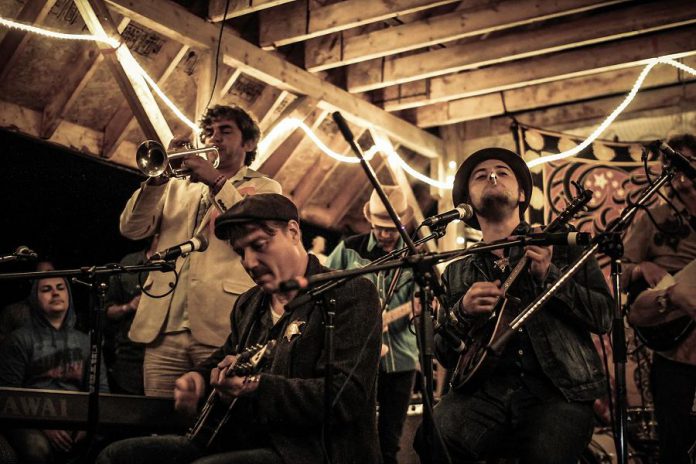 Next weekend it's a trifecta of local talent and music happening on Saturday, December 17th at some of the best venues in Peterborough. All local, all amazing, and all typically sold out — choose one and support local.
Al Black and Rezonator start their show at 8 p.m. in the Nexicom Studio at Showplace Performance Centre (290 George St. N., Peterborough). Rezonator is a classic rock band with a bluesy edge featuring Frank Watt, JP Hovercraft, Brent Farrow and Chris Hiney as well as Al Black. Al is best known to Peterborough as the backbeat of some of the best blues, R&B and rock bands including Jackson Delta, Buzz Thompson and Max Mouse and the Gorillas. Tickets are $28 and can be purchased online at www.showplace.org.
The Weber Brothers presents "When Christmas Falls on Peterborough" beginning at 8 p.m. at Market Hall (140 Charlotte St., Peterborough). The Weber Brothers are promising a Christmas show like no other when they introduce a multimedia presentation of their new concert film, five years in the making and directed by local filmmaker Rob Viscardis. Tickets are $25 plus fees in advance, $30 plus fees at the door. For more information and for tickets, visit www.markethall.org.
VIDEO: "When Christmas Falls on Peterborough" – The Weber Brothers

The Silver Hearts presents Silver Hearts XMAS and CD Release Party from 8 to 11 p.m. at the Gordon Best Theatre (216 Hunter St. W., Peterborough). Their new album is finally ready to share, just in time for the giving season. And you will also enjoy the opening guests Mayhemingways — it will be a perfect evening for some "Hunter Street Blues". This one is selling fast so don't delay! Tickets are available at www.thegordonbest.ca.
---
If you'd like to have your event considered as a top pick, your first step is to make sure to submit it to our event system.
Iif you want to be in the know about what's coming up (and maybe win tickets!), you should subscribe to our VIP Enews which will arrive in your inbox every Wednesday morning — along with the most recent version of this column. Sign up for our VIP Enews here.
Thanks for reading and please let me know what you think by posting a comment below.