Lakefield's Faith Dickinson of Cuddles for Cancer needs your help to make 300 of her Cuddle blankets for children at Peterborough Regional Health Centre (PRHC) and Sick Kids Hospital in Toronto in December.
The 14-year-old philanthropist has launched her 4th Annual Kids at Christmas Campaign and is asking families, schools, churches, businesses, and other organizations to sponsor a blanket for $50. Your donation allows a child admitted to PRHC over the Christmas season to receive a Cuddle blanket on December 23rd.
Following the delivery of blankets to PRHC, Faith will visit Sick Kids Hospital in Toronto and deliver Cuddle blankets to children on the Oncology Unit. Last year, enough donations were raised to also donate Cuddle blankets to children on the Bone Marrow Unit.
To help Faith reach her goal of 300 blankets in December, you can make a $50 donation in one of three ways:
Via email transfer to cuddlesforcancer@hotmail.com (please include the password)
In person at Fabricland Peterborough at Portage Place (1154 Chemong Rd., Peterborough)
By mail to Cuddles for Cancer, PO Box 1317, Lakefield, ON K0L 2H0 (cheques can be made out to Cuddles for Cancer).
The name of the sponsor will be included on the letter that accompanies the Cuddle blanket.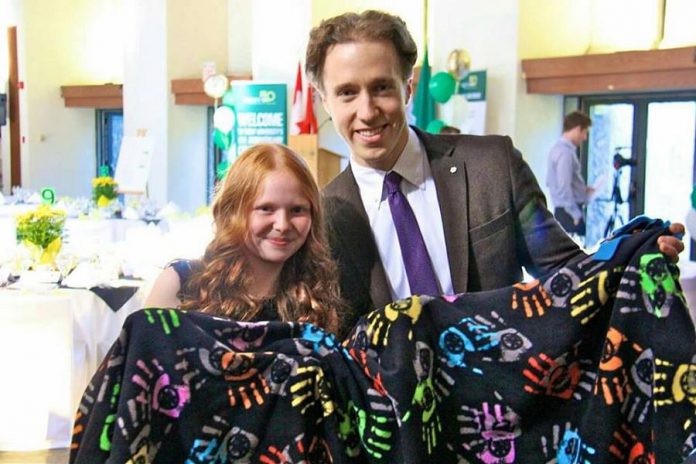 When Faith was just nine years old, she made a fleece-tie blanket for her Aunt Lyndi in Alberta who was fighting breast cancer. After her aunt told her she got very cold during cancer treatments and the blanket helped, Faith came up with the idea of making fleece blankets for other cancer patients undergoing treatment. She and her mother Carrie founded the non-profit organization "Cuddles for Cancer".
In the past four years, Faith has made more than 2,500 Cuddle blankets and distributed them to people across Canada, the United States, England, France, Australia, Africa, Germany, Poland, the Ukraine, Kuwait, Afghanistan, Iraq, and Brazil. In addition to making blankets for cancer patients, she has also made blankets for overseas soldiers as well as for veterans.
Faith has received many honours for her charitable work, including Citizen of the Year from the Kawartha Chamber of Commerce & Tourism in 2014 and the Canadian Living ME to WE Youth In Action Award in 2015. This year, Real Leaders magazine listed Faith as one of their 100 Visionary Leaders Under 30.
In addition to her charitable work, the grade nine student at Thomas A. Stewart Secondary School has also embarked on a modelling and acting career — although Cuddles for Cancer remains her main passion.