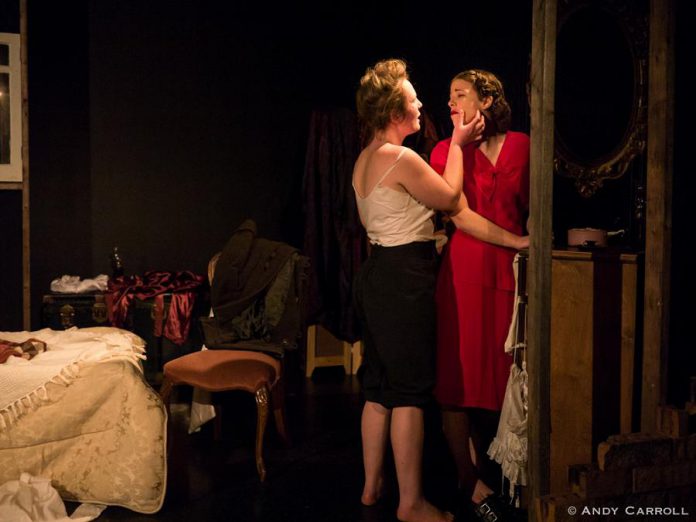 On Thursday, December 8th, Eryn Lidster make her directorial debut with her production of Pendleton King's one-act play Cocaine at The Theatre on King (TTOK). A dark drama, Cocaine features the talents of Lindsay Unterlander and Samantha Mansfield in a gritty performance about passion, survival, desperation and death.
Written by New York playwright Pendleton King, Cocaine was first performed by the influential Providence Players in 1921, three years after King's death. Pendleton King was an eccentric who, despite being very wealthy, resided in the poorest sections of New York. His life amongst New York's impoverished can be seen in the colourful and blunt subject matter of Cocaine.
Despite being written around 1919, the play is so raw and so realistic that it could have been written only a few years ago — proving that little has changed regarding lust, depression, and addiction in the last century.
Cocaine is a snapshot of a desperate love affair between injured boxer Joe (Samantha Mansfield) and her lover Nora (Lindsay Unterlander). With Joe unable to fight due to her injuries, Nora has taken to prostituting herself, but has found little success.
As a result, the couple has no money for food and rent — or the cocaine that they are both hooked on. Losing all hope, the pair contemplates their survival, often coming to extremely dire conclusions.
Cocaine is a bleak script, but there's a touch of exoticness within the connection between Joe and Nora and their desperation. Giving the show a second level of intensity is that Eryn decided to genderbend the role of Joe, thus transforming the two lovers into a lesbian couple living in New York in 1919.
Keeping the dialogue as is, except for a few gender adjustments here and there, this change gives the couple an extra layer of alienation by placing the show in an era where gay people still hid within the shadows of society. It's an interesting change that adds more dynamite to a show that's already explosive.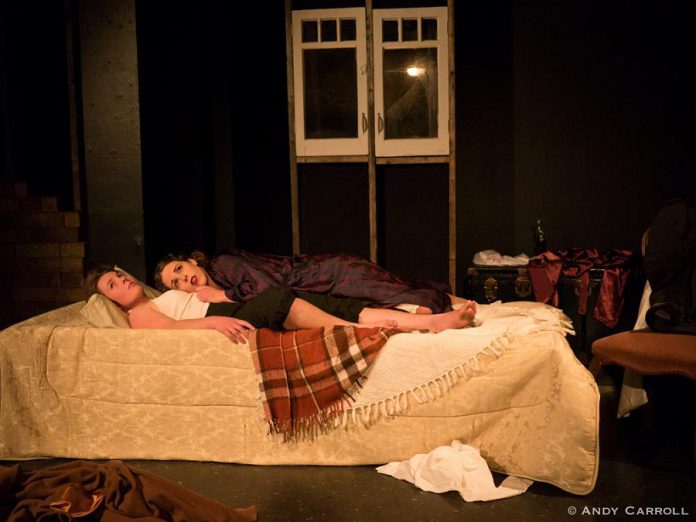 Lindsay Unterlander continues to amaze with her performance as Nora. Although she's been a constant presence in the theatre world since I've been reviewing shows, in 2016 Lindsay has stepped out from behind the scenes performing backup characters and come into the spotlight. She has proved herself to be an extremely versatile actress and a capable leading lady.
The role of Nora is Lindsay's finest performance to date. Poor, hungry, and itching with withdrawal from her lust for cocaine, Nora is a woman madly in love and sees her role as a prostitute as the sacrifice that she must make for Joe. But despite her love for her man, Nora has little left to live for. Lindsay gives an emotional performance as a woman who has hit bottom but can only look further down. Her performance is genuine and extremely real, and makes this show come very much alive. A perfect performance by a wonderful talent. I hope we see more of Lindsay headlining shows in the upcoming year.
As Joe, Samantha Mansfield gives a solid performance for Lindsay to play off of. Although often seeming emotionally removed and solemn, Samantha can go from zero to 50 extremely quickly, and her real energy comes out during moments of conflict and desperation. Samantha makes Joe both powerful and vulnerable at the same time, and although she creates a cold and often intimidating character, moments of tenderness come through when she and Nora are together.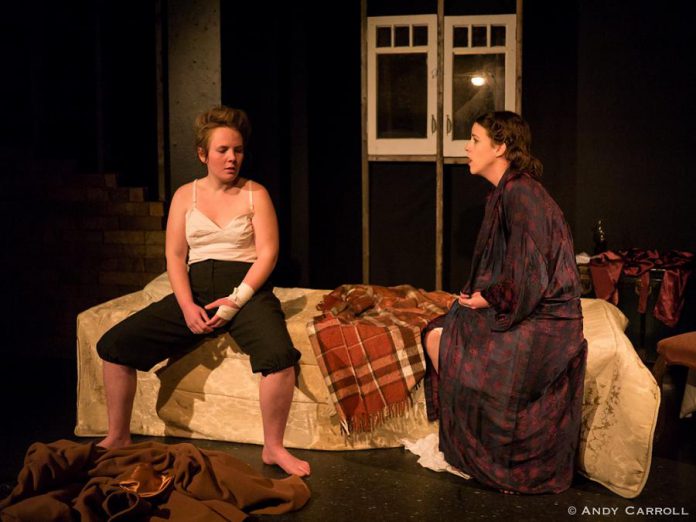 But beyond the drama, the real magic of this performance is the way that the company manages to transform TTOK into a gloomy New York rooming house in 1916. With old beat-up furniture, a half bricked up wall, and some imaginative lighting designed by Eryn with assistance from Ryan Kerr, the set is so bleakly believable that the show eventually seems like an uncomfortable act of voyeurism, with the audience looking in.
Making the experience even more intense is a constant soundscape of horses, trains, cars, and other city night sounds that subtly play in the background throughout the show. It's so subtle that you often forget that it's there, and then a train goes by, and a haunting cackle laughs in the loop, and you hear it all again. This effect works incredibly well, and when I realized the soundscape was playing again I'd often get goosebumps.
Cocaine is an interesting show with fine performances. The script is dramatic and intense and one that needed to be dusted off. Eryn's manipulation of the subtext is a unique one, and works incredibly well. But most of all, it is a fine directorial debut from a talented woman. I look forward to seeing what Eryn produces next.
Cocaine runs from December 8th to 10th at TTOK. Tickets are $10 or pay what you can and the show starts at 8 p.m.