Today is the 190th birthday of Sir Sandford Fleming (1827-1915), the namesake of Fleming College in the Kawarthas, and Google has honoured Fleming's birth with a doodle.
Fleming is best known as the inventor of Universal Standard Time (including time zones), but he also helped engineer much of Canada's national railway and designed Canada's first postage stamp.
Born in Kircaldy in Scotland, Fleming began working for an engineer at age 14, when he learned to design and build harbours and waterworks, and also surveyed for the railway. He moved to Canada in 1845 at the age of 18, and spent his first summer at the Peterborough home of Dr. John Hutchison.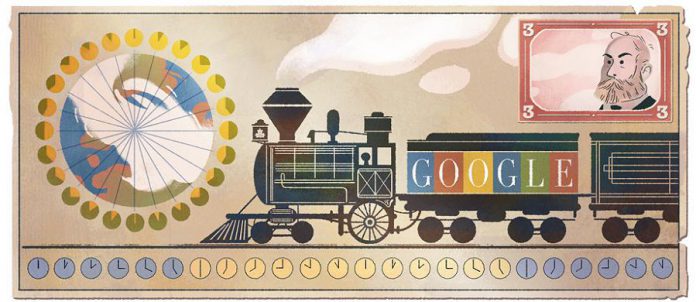 Fleming worked in Peterborough as a surveyor until 1849, when he became a fully qualified engineer. He drew and printed several maps, including the first map of Peterborough.
Beginning in 1863, Fleming led plans for the Intercolonial Railway, which would connect New Brunswick and Nova Scotia to Upper and Lower Canada (Ontario and Quebec). In 1867, he was appointed engineer-in-chief for the railway. Despite objections, he insisted on building railway bridges out of fire-resistant iron and stone instead of less expensive wood.
By 1871, plans were made to extend the railway west to bring British Columbia into the confederation of 1867, and Fleming was offered the chief engineer post on the Canadian Pacific Railway. In 1872, he surveyed a practical route through the Yellowhead Pass across the Rocky Mountains.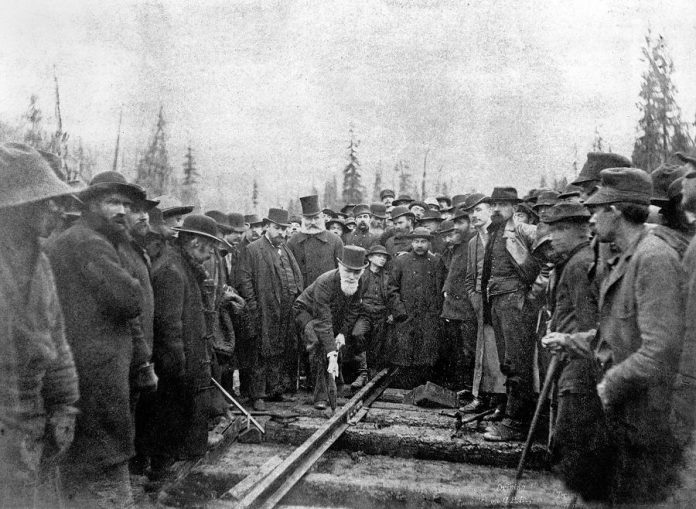 By 1880, 600 miles completed of the railway were completed, but a change of government and privatization of the railway resulted in Fleming's dismissal from the project. However, in 1884 he became a director of the Canadian Pacific Railway and was present when the last spike was driven on November 7, 1885.
Sir Sandford is best known for inventing Universal Standard Time, as a result of issues he identified while working on railway timetables. In standard time, the globe is divided into 24 time zones, each an hour from the next and all a fixed number of hours from the "prime meridian" in Greenwich, England. Standard time was adopted globally in 1884.
VIDEO: Heritage Minutes: Sir Sandford Fleming

Seven facts about Sir Sandford Fleming
In 1849, the 22-year-old Fleming helped found the Royal Canadian Institute in Toronto in 1849, a society dedicated to the "encouragement and general advancement of the Physical Sciences, the Arts and Manufactures", and he designed the society's crest. The institute established the Sandford Fleming Medal and Citation in 1982, which is awarded annually to a Canadian who has made outstanding contributions to the public understanding of science (past winners include David Suzuki, Jay Ingram, Terence Dickinson, and Bob McDonald).
In 1851, at the age of 24, Fleming designed Canada's first postage stamp, known as the "three-pence beaver". Despite tradition calling for using Queen Victoria on stamps, Fleming proposed using the beaver as a symbol of Canada because it was characteristic of Canadian wildlife and was known for its industriousness, building skills, and tenacity.

Fleming designed Canada's first postage stamp, the "Three-Pence Beaver", which helped popularize the beaver as an emblem of Canada (image: Canada Post)

In 1879, Fleming championed the idea of a trans-Canada telegraph and an underwater cable linking Canada with Pacific nations, which ultimately led to a telegraph cable laid across the floor of the Pacific Ocean in 1902, connecting Vancouver Island to New Zealand and Australia.
In 1879, Fleming was appointed chancellor of Queen's College in Kingston, where he helped to establish the (originally Presbyterian) institution as a secular university with strong science and engineering programs. He remained chancellor until his death in 1915 at the age of 88.
In 1895, Fleming proposed a flag for Canada, featuring the Union Jack on a red background with a white seven-pointed star.
In 1897, at the age of 70, Fleming was knighted by Queen Victoria.
Fleming College, a community college of applied arts and technology, was named after Sir Sandford Fleming. It opened in Peterborough in 1967 and has since expanded with campuses in Lindsay, Haliburton, and Cobourg.
Sources: Fleming College, Wikipedia, Maclean's