If any musician still needs validation of the importance of always giving your best when performing live, Josh Fewings of Mayhemingways has a story to share.
In August 2014, Fewings and bandmate Benj Rowland performed at the Peterborough Folk Festival. Unknown to them, Juno Award-winning recording artist Joel Plaskett was in the Nicholls Oval Park crowd, later catching up with the Peterborough musical duo at a festival after-party.
"He dug us," recounts Fewings, noting Plaskett invited him and Rowland to drop by his Dartmouth, Nova Scotia recording studio the next time they were down east. They eventually did just that last year, with Plaskett then catching their act in a neighbouring Halifax pub.
The @MAYHEMINGWAYS @CarletonHalifax . Go see this band. pic.twitter.com/DnL41iqBa3

— Joel Plaskett (@joelplaskett) June 10, 2016
With studio work completed on Solidarity, an album written and recorded with his father Bill, Plaskett looked to touring the new music in 2017. Some 1,200 kilometres distant, Fewings' phone buzzed.
"Joel asked if we were free in March and April," Fewings says. "The only thing we had planned was to do a little tour of Europe, but we only had three or four gigs booked so we cleared our calendar."
"Him asking us (to tour) so out of the blue is mind blowing. He has a really good band (The Emergency) but this tour is about the album with his dad and he wanted a different approach on it. Anytime someone like Joel Plaskett asks you tour, that's a good day."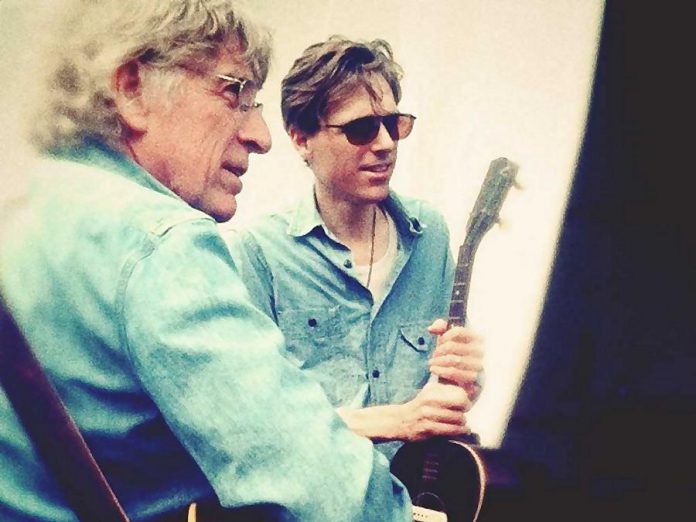 With Solidarity due to be released on February 17th, the 20-stop cross-Canada tour begins on March 15th in Truro, Nova Scotia. So far, the only show in the Kawarthas is on Wednesday, May 3rd at the Academy Theatre in Lindsay (tickets are $34.50 and can be ordered at www.academytheatre.ca or phone 705-324-9111. For all the tour dates, visit joelplaskett.com/tour/
As well as backing up the Plasketts, Mayhemingways will open each show, with lead singer Rowland switching between accordion, banjo, guitar, and tenor guitar (while holding down the bass using foot pedals) and Fewings on drums, percussion, and back-up vocals. This allows the duo to produce a big sound for their mix of originals, traditional tunes, and covers, all with distinct Cajun, blugrass, country, and Celtic influences. They've been described as folk-rock, alt-country, and "fuzz-folk".
"The Mayhemingways are great," Plaskett tells me in a phone interview. "They make a real racket for two guys. And I mean racket in a good way. I thought it would be a neat fit."
VIDEO: "Altantic City" by Bruce Springsteen, performed by Mayhemingways

The new record and tour with his dad Bill is a new direction for Plaskett.
"It's strange for me to not bring my band on the road with me — it's a huge part of what I've done," Plaskett explains. "But I wanted this record to be about my father and me. If I have the band there, the expectations are for the show to end up in a big rockfest. With my dad, that's not the end game. I want to be able to control the dynamics, with a more acoustic presentation. I pick the points where the electricity is there."
And the 40-year-old Plaskett has generated a lot of electricity over the last 24 years as a singer, songwriter, and multi-instrumentalist. His initial foray into the music business saw him serve as lead singer and guitarist for Halifax-based Thrush Hermit and, in the late 1990s, drummer for Neusiland. After both bands broke up, that's when things really fell into place for the Lunenburg native.
Fronting The Emergency, Plaskett earned a Juno Award nomination in 2002 as Best New Artist — a nod earned via critical acclaim for the trio's debut album Down At The Khyber. Follow-up album Truthfully, Truthfully brought commercial success the trio's way.
All the while, Plaskett kept hard at it as a solo artist as well, recording four albums in total, the latest being 2015's The Park Avenue Sobriety Test. And the plaudits kept coming his way: five more Juno Award nominations and a win in 2010 for Adult Alternative Album of the Year for Three, as well as numerous nominations and wins at the East Coast Music Awards.
VIDEO: Bill & Joel Plaskett – Solidarity Album Trailer

In 2016, a project that been percolating for some time finally got his full attention.
"My dad has been an inspiration but also someone I learned from when I was younger," Plaskeet says. "I'd been wanting for awhile to document what he does and sort of collaborate with him."
"Since I've become a parent, I feel the clock ticking a little bit. Becoming a father myself, I realize the connection I have with my dad is powerful. He's still very able-bodied, but he's in his seventies now and neither of us is getting any younger. So it was 'Let's make a record together.' It's something I'm really lucky to be able to do. I'm hoping this may be the first of several records we do."
Describing his father as "a good singer and guitar player in his own right," Plaskett says the album features songs written by both himself and his dad.
"It's definitely a folkier side of what I do. My dad and I share a love of folk music; English stuff from the 1960s and 1970s. There are influences that we share. It's folky in its instrumentation but it's also got a little political undercurrent, social commentary, stuff like that. We recorded the album during the run-up to the American election. Not that we were writing about that, but that was sort of the backdrop."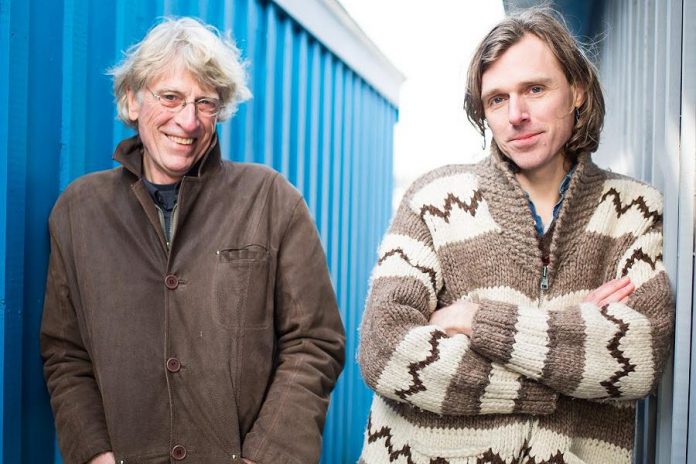 "The song Solidarity isn't a political song per se but, to me, the title and what it represents sort of ties in to my and my dad's story. The verses are little vignettes from our lives. The older I get, the more my own politics creep into my writing. At the same time, it's not all about that. There are love songs on the record too."
While touring is nothing new for Plaskett, touring with his dad is — and that has both father and son excited for what lies ahead.
"My dad and I playing music together is something real," he says. "I've had people tweeting me that 'I bought tickets for me and my mom' or 'for me and my dad'. My 20-year-old self probably would have thought that's not very punk rock but, where I am in my life now, it makes me happy to hear that."
Not lost on Plaskett is how fortunate he has been to prosper in a business where fame is often fleeting at best.
"I don't have a back-up plan. I think that's why I'm still playing, to be honest. I don't have an education to fall back on. My education is basically my experience playing music and writing songs, and learning how to perform them live and putting on a strong show. The fact that I'm able to carve out a living is really a blessing. To be able to include my dad in that is even better."
VIDEO: "Hunter Street Blues" – Mayhemingways

On January 16th, the Plasketts will welcome Fewings and Rowland back to their Nova Scotia studio where they'll rehearse for the tour. For Fewings, there's a sense that "a cosmic alignment is happening" in terms of Mayhemingways' good fortune.
"I like to think it's been pretty well earned from playing as much as we can since we got together," says Fewings, adding, "Even if this hadn't come about, we would still feel very good about what we've done."
Ahead for the duo, prior to the Plaskett tour, is a February trip to Alberta to record tracks for a new album — a follow-up to their 2016 critically acclaimed debut album Hunter Street Blues.
Meanwhile, for Plaskett, post-tour will see much more of the same: writing and recording with the addition of exploring "something more conceptual" with his friend and songwriter Shotgun Jimmy. But the tour with his dad, he says, is currently at the centre of his universe.
"I love playing gigs," he says. "It makes me feel more connected to people. It makes me feel like I'm part of something. There's a shared energy. It feeds my ego too — don't get me wrong, but it has a lot to do with not feeling so alone in the world."
Reminded that Lindsay's Academy Theatre, where he's played before and will again on May 3rd, lays claim to a resident ghost, Plaskett isn't concerned.
"I heard that. I sort of believe in that stuff, so I'm ready. Bring it on."
That's a sentiment no doubt shared by many who are anxious to experience his new tour with his dad Bill and Mayhemingways.