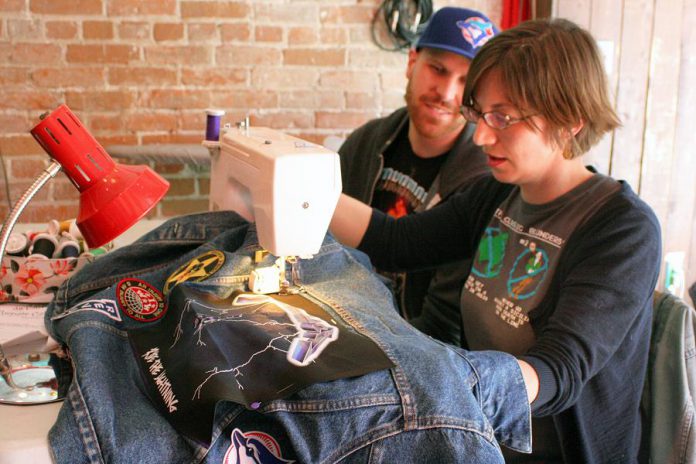 You've heard of fast food, but have you heard of fast fashion? We all know how unhealthy fast food is, but did you know that the fashion industry has high costs for the planet and, yes, for your health too.
When we think about reducing our ecological impact on the earth, we may not think about the shirt on our back, but the fashion industry is complex involving design, production, textiles, shipping, retail, and disposal — do you really know what you're wearing?
When considering the footprint that your t-shirt leaves on the earth, you might initially think about the pesticides used in farming the cotton, or the chemical dyes used to offer it in every shade of the rainbow.
The amount of natural resources needed to farm, harvest, and process your clothing really add up.
Environmental news source, EcoWatch reports that it takes more than 5,000 gallons of water to manufacture just one t-shirt and pair of jeans due to agricultural practices, irrigation, and the water requirements for cotton plants.
And, due to global markets, it is likely that your outfit was made overseas, so be sure to add on the environmental cost of shipping it across the ocean via freight container fueled by carbon-heavy fossil fuels.
Beyond the waste, pollutants, and toxins produced, today's fashion industry has some lesser-known impacts that are build right into marketing plans and business models that have changed the way we shop, dress, and consume.
The clothing retail giants are constantly designing new looks and featuring "must have" styles that go from the catwalk to to the store fronts at a rate that makes trends quickly fall out of season — hence the term "fast fashion".
Retailers are unveiling new lines of clothing at unprecedented rates, with shipments of new styles arriving at stores daily. Some chains have gone from releasing the typical "four seasons" of clothing to over 50, creating very high demand for the newest trends. Fast fashion wants you to see today's trendy cardigan as tomorrow's ugly sweater.

In North America, consumers purchase five times as much clothing as in the 1980s. According to popular second hand retailer Value Village, 85 percent of garments purchased end up in landfill each year — that's 10.5 million tons of clothing!
Isn't it more fitting for out-of-date accessories and unwanted apparel to find a new home rather than be tossed in the garbage? Donating items that are no longer loved is a solution that gives clothing another life in someone else's wardrobe.
Unfortunately, today's fast fashion clothing is actually becoming disposable as garments are generated on a business model of high volume production / low quality products. Poor clothing construction resulting from quick turnarounds makes today's clothing wearable once or twice and only able to hold up to a few washes.
So unwanted used items that would normally be suitable as donations are just not holding up. Split seams and broken zippers that render clothing unwearable need to be repaired or they get tossed in the garbage.
You can take damaged clothing to a repair service. And, if you want to learn how to fix that tear in your jeans, Repair Café Peterborough can help! Volunteer fixers can help you repair an item that can be worn again by you, or donated for someone else to wear.
Repair Café Peterborough provides tools, materials, and volunteer fixers to help you make repairs to clothing, jewelry, and even to appliances, furniture, and pottery. They meet monthly with their next fix-it gathering on Saturday, February 11th from 3 to 6 p.m. at The Spill (414 George St. N., Peterborough).

Keeping unwanted items out of landfill means avoiding fast fashion retailers. Purchasing from local makers and small business retailers goes a long way to keep your money within the local economy and the quality control, close to home.
If you are bored with clothes that no longer inspire you, why not host a clothing swap? Instead of spending big bucks on new duds, trade up fashions with friends to reinvigorate your closet with items that are recycled and free.
Perhaps the best way to keep your clothing carbon footprint down is to resist the urge to wear the latest trends. Purchase less, buy second-hand, and invest in practical, well-made pieces where style and quality will stand up to the test of time.