Young students at St. John Catholic Elementary School in Peterborough have started a project to help raise funds for Habitat for Humanity thr
Led by their teacher Kim Meekin, the Senior Kindergarten and Grade 1 students have been busy painting more than 150 rocks with bright, smiling sunshine images, after being inspired to perform a 'random act of kindness' as part of the religion class.
"After coming up with different random acts of kindness within our classroom, we were inspired to extend this to our community and beyond", Mrs. Meekin explains. "Everyone in the class agreed that having a place to live was very important. This is why we chose to support Habitat for Humanity as the organization helps local families who are in need of decent and affordable housing."
During March Break, students will be placing the rocks around the community at various locations, including churches, arenas, parks, and other public venues. Students hope to continue running the project until the end of the school year.
The purpose of the Spread the Sunshine project is to encourage people to donate to Habitat for Humanity, a non-profit organization that brings volunteers and community partners together to build affordable housing and promote home ownership as a way to break the cycle of poverty.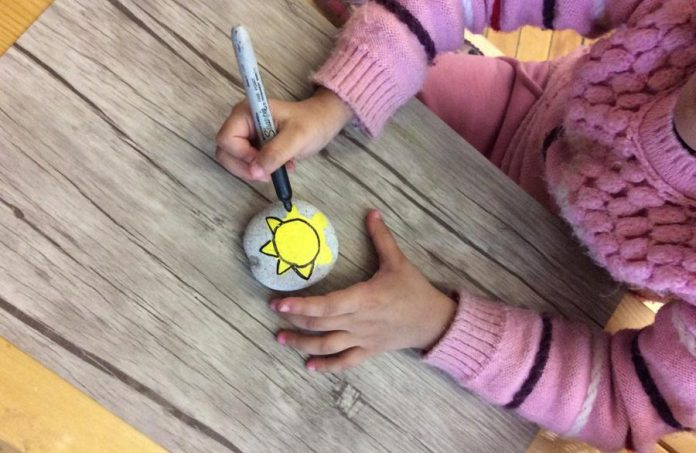 Small rocks will serve to create interest and stir curiosity, while larger rocks will include special instructions to go to the Spread the Sunshine Project website at spread-the-sunshine-project.weebly.com and make a donation to Habitat for Humanity.
The donor is then encouraged to pass the rock along to someone else to increase awareness and to inspire an act of kindness in someone new. The goal of Spread the Sunshine is to see how far the rocks and go and how much money can be raised for Habitat for Humanity.
Proceeds from Spread the Sunshine will go towards Habitat for Humanity's 2017 build projects, including the construction of a single detached home in Peterborough this spring.
"The students are excited to see how far the rocks will travel and how much money we can raise," Mrs. Meekin says.
To learn more about the Spread the Sunshine project, visit spread-the-sunshine-project.weebly.com, which includes a direct link to make a donation to Habitat for Humanity.
Donors can leave the message "spread the sunshine project" and include the location where the rock was found, which will help Mrs. Meekin's students track the progress of the rocks.
All photos courtesy of Kim Meekin.