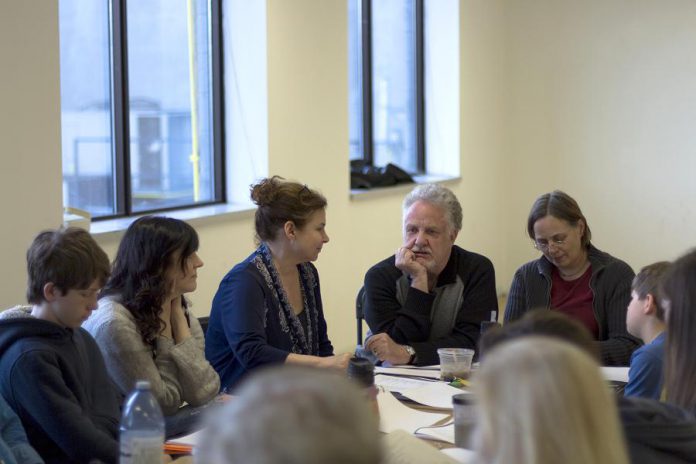 In 1992, theatre producer Randy Read appeared in a professional production of Thornton Wilder's Our Town in the role of Constable Warren.
"Every single night before I went on stage, I got this inner feeling of doing something important and bringing something of real value to the audience," Randy recalls.
"More than any other time in my career I felt that nobody had big roles and nobody had small roles. We were all part of this ensemble. This group was bringing something simple, yet profound to the audience. And I would be filled with this extreme emotion of having taken people on a journey that had some relevance and importance. You don't feel that all the time. "
Now, 25 years later, Randy is about to take local audiences back to Grover's Corners when New Stages Theatre Company presents Our Town at the Market Hall in downtown Peterborough from April 28th to May 6th.
Written in 1938 by American playwright and novelist Thornton Wilder, Our Town has often been called one of the greatest American plays ever written (it won the Pulitzer Prize for Drama in 1938). The play examines the changing lives of two families, the Webbs and Gibbs, and the fictional small town of Grover's Corners in 1901, 1904, and 1913.
Our Town is a metatheatrical production, breaking the fourth wall. A character called "The Stage Manager" presents the play to the audience, describing daily life in the small town, introducing scenes, and even summoning and dismissing other characters. In addition, there are virtually no props or sets.
"The first act is about familial love, the second act is about romantic love, and the third act is about spiritual love," Randy explains. "It's a reminder to all of us about how extraordinary it is to be a human being, and how extraordinary the little things we take for granted every day in our lives really are.
"For me, it's such a celebration of humanity and how we grow and how we don't grow. I mean, the First World War was the war to end wars, but look what has happened since."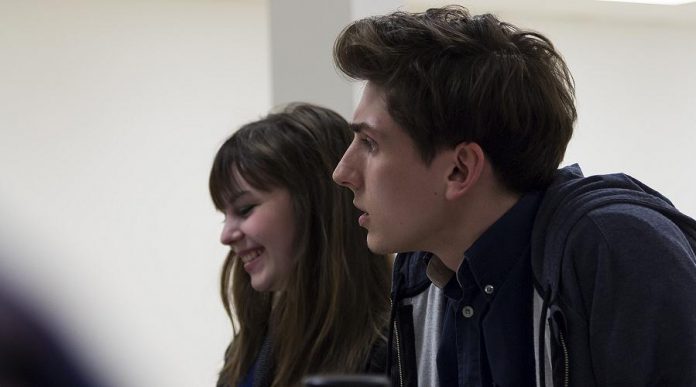 Our Town will also be Randy's return to the stage after a long absence, where he will be playing the key role of The Stage Manager. Although he was set to originally co-direct the show, Randy has passed the director role to local favourite Linda Kash.
"Originally I was going to direct the show and play the stage manager, and I brought Linda Kash in to direct the scenes that I wasn't in," Randy says. "But I got very sick with pneumonia this winter, so I asked Linda at that point if she'd take over as the full-time director, and I'd just be an actor.
"Although I'm better now, I'm glad I made that decision. It allows me to just concentrate on my role as an actor, and it also is better for the rest of the cast because they hear one voice instead of two.
"Linda is very wonderfully specific about what she wants. It's wonderful as an actor to have a director who is not only so specific, but also articulate what she wants. I'm really thrilled that she agreed to do it."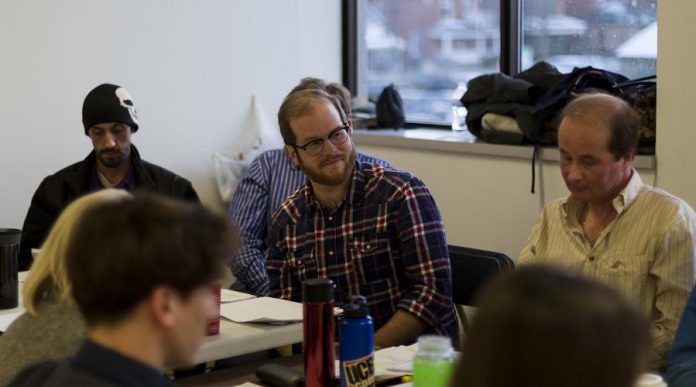 Although New Stages' productions have traditionally had very compact casts, Our Town has a large cast of 19 performers. In the starring role of George Gibbs is actor Matthew Finlan, who just finished performing the same role in the Toronto production of Our Town at Buddies in Bad Times Theatre.
Playing opposite Finlan is Bethany Heemskerk in the role of Emily Webb. The rest of the world of Grover's Corners is populated with many of Peterborough's most recognized performers including Allison McIllwain, Tom Quinn, Megan Murphy, Andrew Root, Luke Foster, Patricia Maitland, and Wyatt Lamoureux.
"This will be very different than what New Stages normally does because it's more of a community effort, and the majority of the cast are not professionals," Randy says. "We cast more with an eye to people being really right for the part — people who had a sort of realness about them.
"Sometimes when people do a lot of theatre, they can develop a sort of superficiality about them. We weren't looking for that. Even if someone hadn't acted before, if there was something about them that was genuine to bring to the table, we were more interested in that."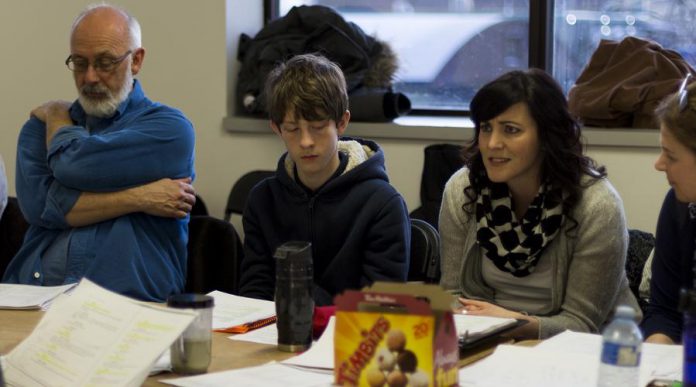 Stating that Our Town has been on his bucket list of shows to do for some time, Randy refers to growing up in nearby Mount Pleasant as inspiration.
"Part of what drew me to this play is that I grew up in a village of 150 people," Randy explains. "These people had no guile. Everybody knew everything about each other. You couldn't put on any airs in that village. So you couldn't pretend to be anything you weren't.
"That is interesting to me because, as Jane Jacobs once said, the whole world is a bunch of Our Towns. Even with us individually, we tend to deal with the same people from one day to the next. Those people are our Our Towns.
"I want to make people realize that so much is changing, our world is changing constantly. Everywhere we go people are tuned into electronical devices. Nobody talks to each other. For me, this play is more relevant now than ever, as a reminder of the importance of the pure humanity we have the potential to lose if electronics and cell phones take over our lives.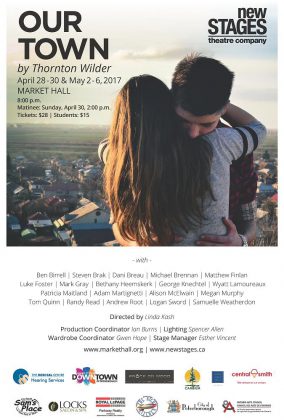 "My husband Steve (Ross) once said to me 'Everybody should see Our Town once every ten years'. It reminds them to live their lives fully, and how fully they are already living them to some extent. It may not be edgy, but it's an extremely powerful play. This show isn't really about saying 'Weren't things nice and simpler?' We say things under the surface, in a way that is not preaching."
With a cast and production team of some of Peterborough's favourite performers in a classic drama that has endured with audiences for decades, expectations for Our Town are high. This show could potentially be one of the best that Peterborough will see this year.
Our Town runs at Market Hall Performing Arts Centre (140 Charlotte St., Peterborough) from Friday, April 28th to Saturday, May 6th at 8 p.m., except for a 2 p.m. matinee on Sunday, April 30th (there is no performance on Monday, May 1st).
Tickets are $28 general admission and $15 for students or artsworkers, and can be purchased at the Market Hall Box Office, by calling 705-749-1146, or online at www.markethall.org. Tickets are also available (cash only) at Moondance (425 George St. N., Peterborough, 705-742-9425).