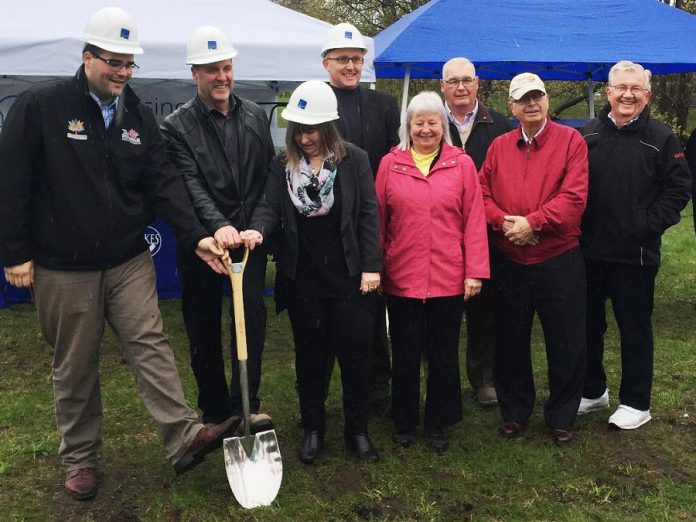 The City of Kawartha Lakes held a ground-breaking ceremony today (May 1) for a new affordable housing project in Lindsay.
"Affordable housing must be the cornerstone of any poverty reduction plan," said Mayor Andy Letham. "This project is one of the ways that, together with our federal and provincial partners, we're executing a housing strategy to support our residents. We recognize that housing stability benefits our whole community."
The new two-storey building, on Lindsay Street north at the corner of Queen Street, will consist of 24 one-bedroom apartments to be managed by Kawartha Lakes-Haliburton Housing Corporation (KLH Housing Corp), a local housing corporation and non-profit housing provider.
The $8 million project is supported by all levels of government and is aimed at ending long-term homelessness. The housing will accommodate some of the most vulnerable homeless individuals in the community. Occupancy is expected by July 2018.
Partnerships with support service agencies will provide on-site support for tenants, with programming and service space located within the building. The building will also house the City of Kawartha Lakes Human Services offices (currently located at 322 Kent Street in Lindsay).
In March 2016, councils of both the City of Kawartha Lakes and the County of Haliburton approved participation in the 20,000 Homes National Campaign and committed to house 24 vulnerable homeless individuals by July 2018. With the help of more than 40 volunteers, the city's Housing Help division identified 136 people as experiencing homelessness within the region.
"Unaffordable and poor quality housing is directly connected to poor health and well-being," said Hope Lee, Manager of Housing for the City of Kawartha Lakes. "This significant investment in the quality and quantity of safe, affordable housing in Kawartha Lakes creates a foundation upon which those living in poverty and facing homelessness can build to achieve good health, well-being and opportunity."
More than 1,200 residents of the City of Kawartha Lakes and County of Haliburton are waiting for financially assisted housing, 348 of whom identify with homelessness.
In addition to the new 24-unit building in Lindsay, KLH Housing Corp is working on creating another 40 affordable housing units, including 12 one-bedroom units for for seniors and those with physical disabilities at 57 Parkside Street in Minden, 12 three-bedroom family townhouses at 5 Bond Street East in Lindsay;, and a 16-unit addition to 48 St. Paul Street in Lindsay.