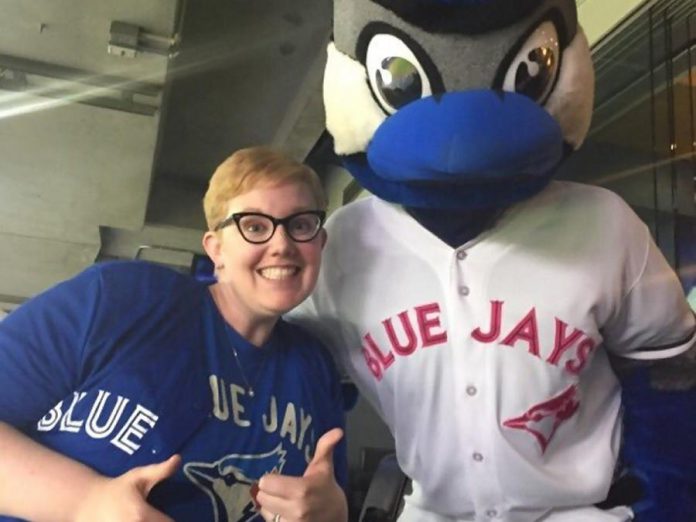 Katherine Evans Davidson from Lindsay has been selected as the 2017 Honorary Bat Girl for the Toronto Blue Jays.
Davidson, who has stage four breast cancer, is one of 30 winners of Major League Baseball's 2017 Honorary Bat Girl contest announced on Thursday (May 4).
Davidson's husband Keith nominated her for the Blue Jays' Honorary Bat Girl with the following entry:
Six years ago, my wife Katie was diagnosed with breast cancer at the age of 26. After five surgeries and six rounds of chemo, we thought it was over. We bought a house and had plans of starting a family. We were engaged, with no solid date set for the wedding, when we got the news that my father had been diagnosed with stage 4 lung cancer. We scrambled to put a wedding together in 3 months in order to have my dad at our wedding. My dad died in July; ten weeks before our big day. As we mourned, we struggled to enjoy the wedding planning process. While dress shopping, Katie started having some symptoms that her oncologist wanted to explore further. Nine days before our wedding, we received a phone call explaining that Katie's cancer was back, but this time it was terminal. It had spread to her bones, from head to toe. We were devastated. Gone were the hopes of starting a family. Gone were the dreams of living a "normal" life. Gone were Katie's career aspirations and goals. We spent our honeymoon at the cancer center. Since her first diagnosis, Katie has done as much as she could to help others. She writes a blog to help validate other women's breast cancer experiences and has spoken at countless events telling her story and promoting early detection. She advocates that breast cancer doesn't discriminate against age and has raised over $10,000 for cancer research. She has travelled to developing countries like India to volunteer in the hopes of paying it forward. Katie has been a Toronto Blue Jays fan since she was a little girl and despite being in treatment, she attended The Blue Jays Home Opener last year. Katie grew up idolizing John Olerud and played first base her whole baseball career. Pat Borders and Joe Carter were heroes, Roberto Alomar was a crush. Now Jose Bautista and Kevin Pillar are her heroes and Josh Donaldson is the crush. Breast cancer has taken so much from the woman I love; it would be amazing if I could help her win The Honorary Bat Girl Contest.
A long-time fan, Davidson will have the opportunity to represent the Blue Jays, receive pink merchandise, and will be recognized during the pregame ceremonies on Mother's Day, when the Blue Jays take on the Seattle Mariners at the Rogers Centre in Toronto.
#TDTuesday reminds me how much a @BlueJays game brings us together to have #OurMoment. #FourCouples #EightJaysFans pic.twitter.com/sq9vMhKMUR

— Katie Evans Davidson (@LovlyKatieLumps) April 26, 2016
As her husband's nomination relates, despite facing a terminal disease, Davidson is very open about her breast cancer and supports others, all the while maintaining a sense of humour and positivity both on her Twitter account @LovlyKatieLumps and her blog at lovelykatielumps.blogspot.ca.
Davidson shares photos of herself undergoing treatment — always with a smile on her face — and often uses the hashtag #LifeOfAFourthStager to tag her tweets.
The Honorary Bat Girl Contest recognizes fans who have been affected by breast cancer and have demonstrated a commitment to battling the disease. One winner was selected for each of Major League Baseball club by a panel of guest judges (including Brenda Song, star of the TV series Pure Genius and Uzo Aduba, star of the popular Netflix series Orange is the New Black, both of whom are Stand Up To Cancer ambassadors) and an online public vote at HonoraryBatGirl.com.
Major League Baseball introduced the Honorary Bat Girl program in 2009 to raise additional awareness and support for the annual "Going to Bat Against Breast Cancer" initiative celebrated on Mother's Day.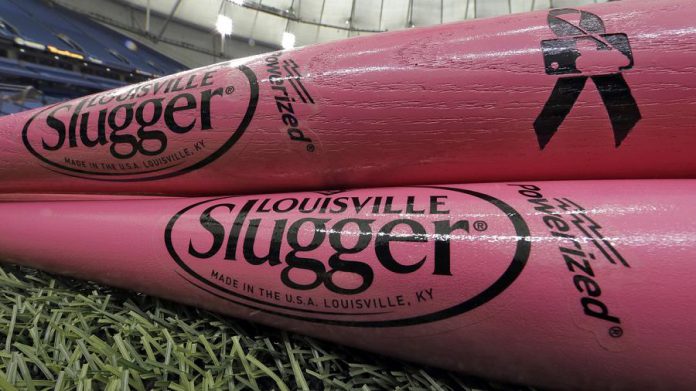 Along with the 2017 Honorary Bat Girl winners, Major League Baseball also announced that pink bats will be swung over a full Mother's Day weekend for the first time. Players will have the opportunity to use pink bats on both Saturday, May 13 and Sunday, May 14 (Mothers Day). Louisville Slugger will donate proceeds from the sale of their pink bats, which will be stamped with the MLB breast cancer awareness logo, to Susan G. Komen and Stand Up To Cancer, as part of an overall fundraising effort that continues well beyond that weekend.
@xeni My cancer center hat. #LifeOfAFourthStager pic.twitter.com/bCFs5v50Xs

— Katie Evans Davidson (@LovlyKatieLumps) April 14, 2017
Players and on-field personnel will also wear the symbolic pink ribbon on their uniform along with pink wristbands. Players will wear specially designed uniforms that incorporate pink into each club's regular logo as well as caps highlighted by a graphite crown and pink visor and options from two pairs of pink-infused socks. Major League Baseball will also be donating its licensed uniform royalties to Susan G. Komen and Stand Up To Cancer.
Authenticated game-used Louisville Slugger pink bats and other pink items from Mother's Day Weekend games will be auctioned exclusively on auctions.mlb.comn to benefit the fight against breast cancer.
For more information about the Honorary Bat Girl contest and to see the stories of all 30 winners, visit HonoraryBatGirl.com.