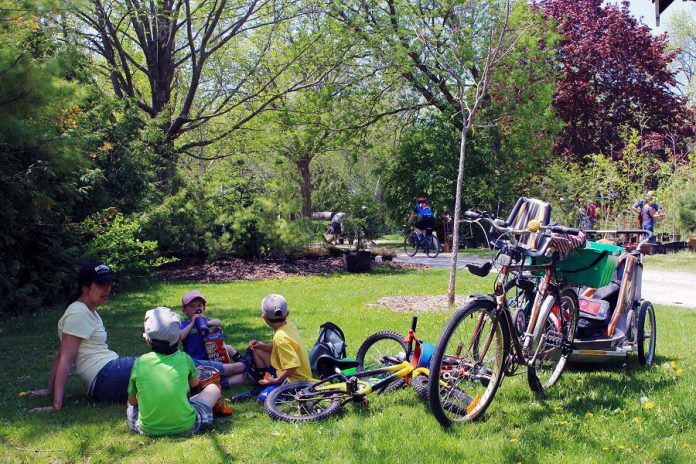 School is out at the end of this week! It's time to pack away the laptops, work sheets, and calculators to make way for summer camp, beach trips, and camping.
Many of us maximize our outdoor time in the summer months to enjoy the sunshine and the beautiful weather that only comes for a few short months here in Ontario. The time we spend outdoors over the summer is more important to our health and wellbeing than we may know.
According to a new and growing body of research, exposure to greenspace, nature, and the outdoors is essential for healthy childhood development and is beneficial for physical and emotional health for all ages.
With the kids out of school and some vacation time booked, along with favourable seasonal weather, summer gives us the opportunity to toss the electronic devices aside and to maximize the time we have outside connecting with nature.
Biodiversity fuels our brains
We know that clean air, water, and soil are critical to maintaining our overall health and well-being and that it is important to conserve biodiversity, but did you know that it is also important for our brain health?
Research tells us that when children play in areas with a diverse array of plant life, they experience nature in ways that support creativity and problem solving while enhancing their overall cognitive abilities — biodiversity isn't just beneficial for wildlife, it's good for us, too!
Climbing a tree and playing tag in the garden builds brainpower in an outdoor playground.
Nature takes us places
Living in the Peterborough-area, we have access to many naturalized outdoor environments and access to green places where we can easily engage with nature that is close to home and work.
There are more than 80 kilometres of trails within the City of Peterborough showcasing tree-lined thoroughfares to work, walk the dog, and for an after dinner stroll. Following our inner-city trails will lead you to Jackson Park, Nicol's Oval, Millennium Park, GreenUP Ecology Park, and more.
Beyond the city, trails extend to Lakefield, Hastings, and Omemee with beautiful views of the countryside and excellent opportunities for wildlife sightings.
Being outdoors makes us wild for wildlife
Wildlife sightings are exciting, even in your own backyard. From a very young age, children are especially curious of the critters and creatures that they see around their homes.
From an American toad in the garden to a Pileated Woodpecker along the Trans Canada Trail, we can find wonder in observing nature around us. Learning about what you see and seeking out new species in parks and wild places can be an intriguing and satisfying experience; you'll be surprised what you see when you start actively looking for bugs or birds, turtles or frogs.
This is good for wildlife, too! Your interest in wildlife builds understanding of the natural world and for conservation of species and greenspaces.
A dose of vitamin G and physical activity
When we're surrounded by green — getting a healthy dose of vitamin G — naturally gets us moving; if we incorporate physical activity into our lives, we live longer, healthier lives, are more productive, and are more likely to avoid illness and injury.
According to the Peterborough Active Transportation Indicators Report, each hour of moderate activity per week is associated with a four to nine per cent reduction in the risk of death from all causes. Getting outside for an hour to hike or hopping on the bike a few times each week has a direct link to your health.
For teens, getting out for a canoe paddle or bike ride is especially important; only four per cent of youth in Canada aged 12 to 18 meet recommended physical activity guidelines. Engaging in fun activities in the outdoors can be a lifesaver!
Happier outside
Exposure to nature, beautiful landscapes, and scenic views can do a lot to lift the spirits. This is good news for our mental health and there is scientific research to prove it.
Being active out-of-doors transports elevated levels of fresh oxygen to our brains making us more alert and elevating our mood. To improve emotions even more, we can invite family and friends along or take the kids' summer play dates outside; studies show that we are happier and healthier when we come together with our community networks, friends, and when we build common interests together.
There is a clear link between nature and positive human health. Many studies show that we benefit socially and psychologically from visits to parks, forests, and gardens and that those with less access to greenspace report higher instances of poor overall health.
Infusing more nature into your summer is simple. Consider a green vacation; book a cabin or a campsite instead of a hotel, enjoy a stay-cation in the Kawarthas with a canoe or hiking trip, or plan an outdoor adventure at one of the nearby conservation areas or provincial parks. Consider nature-based summer camps for your children that incorporate lots of outdoor play.
Instead of an hour of screen time try incorporating the old adage, "Go outside and play!" back into the everyday.
To access information about GreenUP's nature-based summer programs, community events, and children's day camps, visit www.greenup.on.ca.