There's no denying that the Kawarthas offers a bounty of opportunities to immerse yourself in public art and history and, with summer finally here, now is the time to explore what our own backyard has to offer.
We've selected two extraordinary experiences worth adding to your Kawarthas bucket list.
---
ZimArt's outdoor gallery overlooking Rice Lake showcases diversity of Zimbabwean artwork
As you travel into the heart of the Kawarthas, near the north shores of Rice Lake, you typically don't expect to stumble upon a five-acre outdoor gallery featuring Zimbabwean stone sculptures basking in the natural light.
This is not your typical gallery.
ZimArt's Rice Lake Gallery (855 2nd line, Bailieboro, 705-939-6144), 15 minutes south of Peterborough, is home to 300 hand-carved Zimbabwean stone sculptures, the most comprehensive collection in Canada, and represents over 50 Zimbabwean sculptors.
ZimArt has been curating Shona sculpture exhibitions in an outdoor setting for 18 years.
"Showing sculpture in an outdoor setting is the most beautiful way to see the work," says ZimArt owner and curator Fran Fearnley. "It's how I see the sculptures when I travel to Zimbabwe.
"Being outside really does make the experience much more appealing than being in a traditional gallery setting with white walls and artificial light."
The natural setting not only shows the sculpture to its best advantage, but also allows for a very instinctive response to the work. Yes, touching is allowed.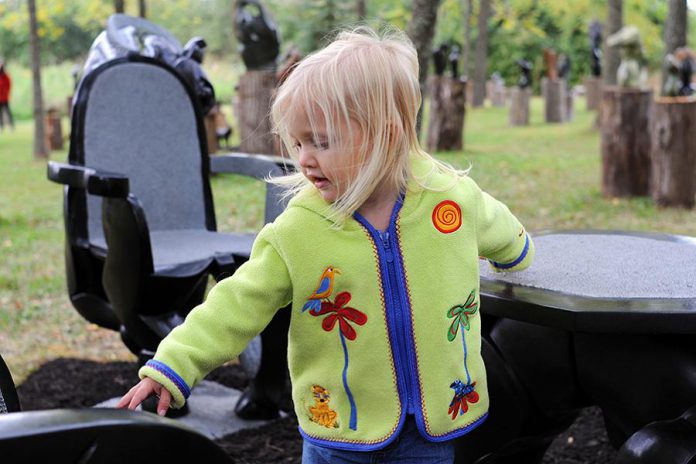 Fearnley notes the gallery is the perfect place to introduce young people to art, where they are free to explore the scenic grounds, feel the sculptures on display, and immerse themselves in the beauty and emotional depth of the art.
"Children love that it's okay to touch the work," Fearnley says. "The idea is for them to feel the texture of the stone and the heat on a hot day. It really opens up all the senses to respond."
Eclectic works of art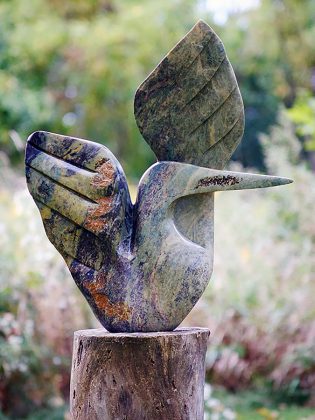 All the sculptures are hand carved and procured directly from Zimbabwean artists during Fearnley's annual visits to this Southern African country, where she discovers the work of new artists.
The works range from pieces small enough to fit in your hand to complex pieces several metres high.
"I start with artists I've been representing over the years and then I look for new interesting artists who do work that complements the other pieces I have at the gallery," says Fearnley, who fell in love with the Shona sculpture while volunteering in Africa in the late 1990s.
"The gallery is a range of subject matter and treatment, and I kind of make it as eclectic as possible.
"Some of the work is completely abstract and some is totally representational, and everywhere in between."
Over the years, ZimArt has evolved from a small collection of Shona sculpture to a seasonal art destination which has attracted thousands of visitors from across Canada and around the world.
All gallery pieces are for sale.
Zimbabwen artist on site
Each year, an artist from Zimbabwe travels to Canada for the summer season as the artist-in-residence. This year's artist-in-residence is Rufaro Ngoma, who will be on site during the exhibition to talk about his work and give demonstrations.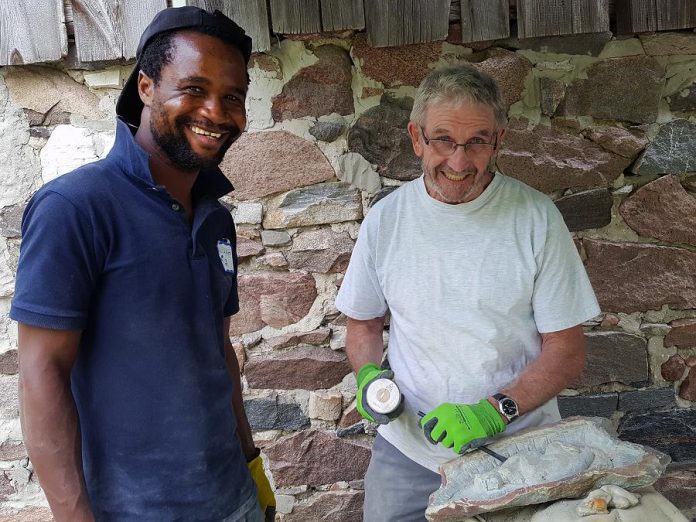 It is enormously appealing for visitors who can see a work in progress, handle the tools and the raw stone, and gain firsthand knowledge of how Shona sculpture is created — a skill that is passed down through the generations in Zimbabwe.
"There's a spiritual quality to the work and it really moves people," says Fearnley. "The most rewarding aspect of the business comes from the appreciation visitors have for the work."
Like all visiting artists, Rufaro is giving sculpting workshops throughout the summer. To find out more, visit www.zimart.ca/workshops.html.
ZimArt annual exhibition this summer
ZimArt's 18th annual exhibition runs from Saturday, August 5th to Sunday, September 3rd, with over 300 stone sculptures from Zimbabwe on display.
The public opening of the exhibition is on August 5th from 3 to 6 p.m. with live Zimbabwean music by Nhapatipi.
The exhibition continues until September 3rd from 11 a.m. to 6 p.m. daily, with a closing party on September 3rd from 2 to 5 p.m., also featuring live Zimbabwean music by Nhapatipi. Admission is free.
Read more about the exhibition at www.zimart.ca/rls.html.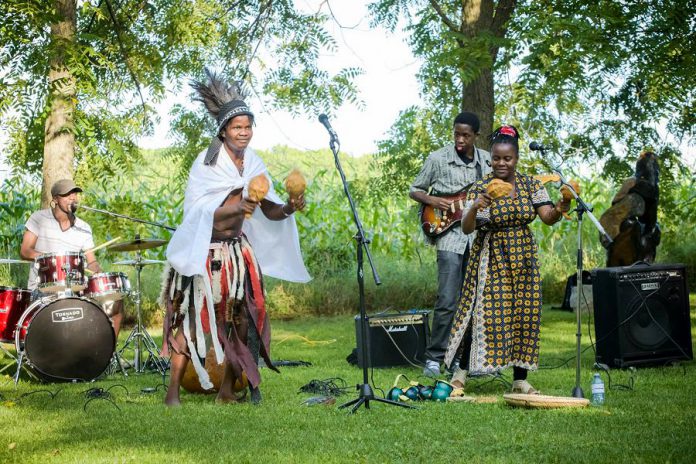 Helping the children of Zimbabwe
While admission to the Rice Lake Gallery is free, donations are always welcome.
Funds raised go to a ZimKids Community Support, a Canadian not-for-profit supporting grassroots projects in Zimbabwe. The organization is currently building a rural primary school. For more information, visit www.zimkids.ca.
ZimArt's Rice Lake Gallery is open daily from 11 a.m. to 6 p.m. until Thanksgiving, with free parking and picnic facilities.
For more information on special events, sculpting workshops, and exhibitions, visit www.zimart.ca or contact Fran Fearnley directly at 705-939-6144 to arrange a curator's talk and a tour for yourself or your group. You can also follow ZimArt on Facebook and Twitter.
Historic Hutchison House tour offers unique glimpse into Peterborough's past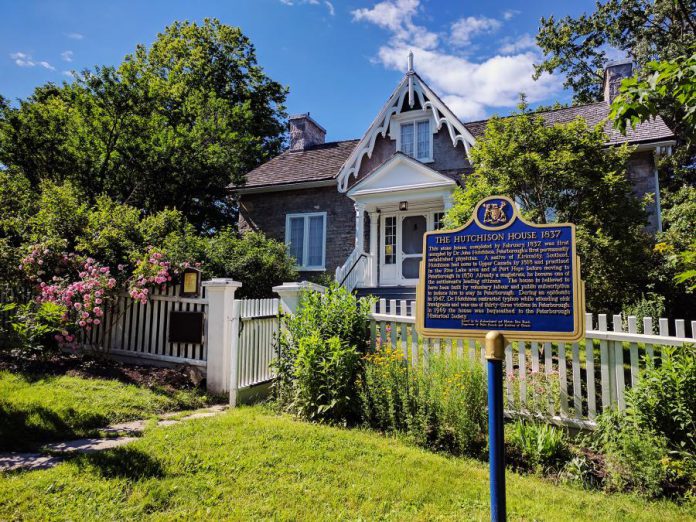 Have you ever wondered how people lived 180 years ago?
If you're a history buff and enjoy browsing the dwellings of yesteryear, there will be plenty to set your eyes on at Hutchison House Living Museum (270 Brock Street, Peterborough, 705-743-9710), a historical residence that offers a glimpse of life in Ontario in the 1800s.
Located in downtown Peterborough, the limestone structure was built in 1837 for Dr. John Hutchison, the city's first resident physician, and his family, by citizen volunteers to entice him to stay in Peterborough.
Dr. Hutchison moved from Scotland to Upper Canada in 1818 and was a doctor in the Peterborough area from 1830 until his death in 1847.
A walk through history
Guided by a costumed interpreter, the museum tour sheds light on how the Hutchison family lived as well as other prominent people in the early community who resided there — one being Sir Sandford Fleming, a Scottish-born engineer and Dr. Hutchison's younger cousin.
Fleming is known for designing Canada's first stamp, as co-founder of the Royal Canadian Institute and surveyor of railways spanning the country, and — most notably — for inventing the concept of worldwide standard time.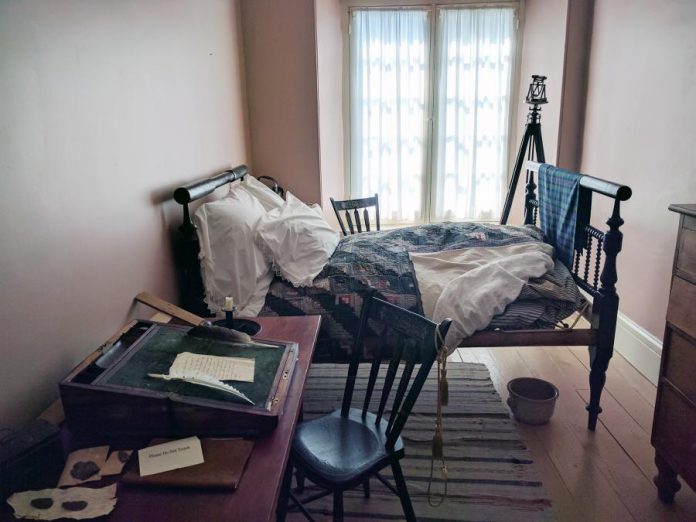 One of the bedrooms is dedicated to Fleming, who was a resident in the house when he came to Canada in 1845 at 18 years old.
In 1851, the house was sold to James Harvey, a prominent local merchant and remained in the Harvey/Connal family until 1969, when it was bequeathed to the Peterborough Historical Society.
The house was restored to the mid-1800s period and opened as Hutchison House Living Museum in 1978. While the house has been remodeled, it still boasts original details throughout.
"The house itself has a sensitivity and charm to it," says museum curator Gale Fewings. "It welcomes you."
As of June, the museum is open Tuesday through Sunday and offers local and regional visitors an opportunity to take a step back in time.
The house features the Doctor's study with medical instruments, books and furnishings, Fleming's room (with one of his original maps of Peterborough, his sextant, and other surveying tools), an early Victorian parlour, historic open hearth kitchen with period cooking utensils, a child's bedroom with toys from the 1880s, and period gardens, including a cooking and medicinal herb garden.
"When you hear the stories, even if you think you're not interested in history, there is something that will spark your imagination," says Fewings.
Unique day away from the classroom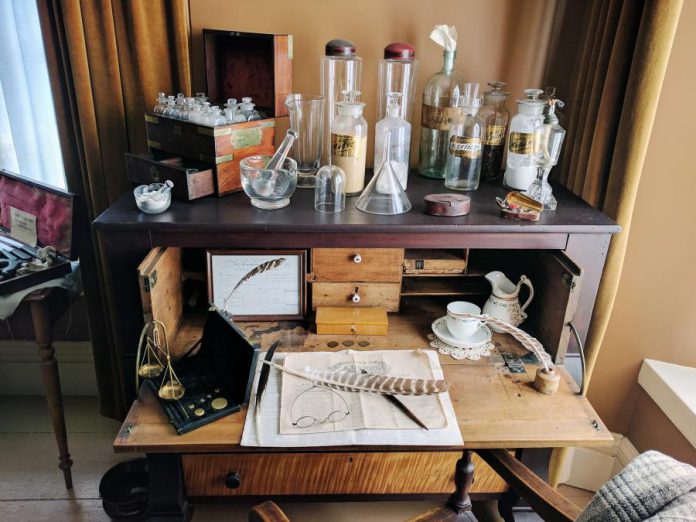 Through school programs, Hutchison House offers local educators and students an interactive and memorable field trip experience.
The programs are geared to pique the interest of children and encourage them to pursue a deeper understanding of the people that have shaped Peterborough.
Through the guided tours, students can connect with people of earlier times by getting up close and personal with artifacts, diaries and letters.
"History is not as focused as it once was in schools," says Fewings. "The good news is we have some teachers that often return with their classes, because they like the programs we offer here and the historical stories we tell."
Fewings notes that because students generally seem to be losing their grasp of traditional history and cultural heritage, with less time being devoted to the subject in schools, it's extremely critical to maintain smaller, cultural institutions like Hutchison House.
"We have to keep these small little places of history alive. I think the personal interaction of what we do is very important and special, and that's what you're going to get when you go a living history site. You learn a little about where you live and where you came from."
Scottish tea party
Fancy a cuppa? During July and August, one of the museum's biggest attractions is its Scottish tea. Last year, the event drew close to 2,000 guests for Scottish tea alone.
After learning a thing or two about the history of the Hutchison House, visitors can make afternoon tea a memorable affair on the terrace near the garden (a hidden gem) or in the historic kitchen, while indulging in delicious homemade scones and oatcakes, with a choice of jam and whipped cream. Tea is served by young volunteers dressed in period clothing.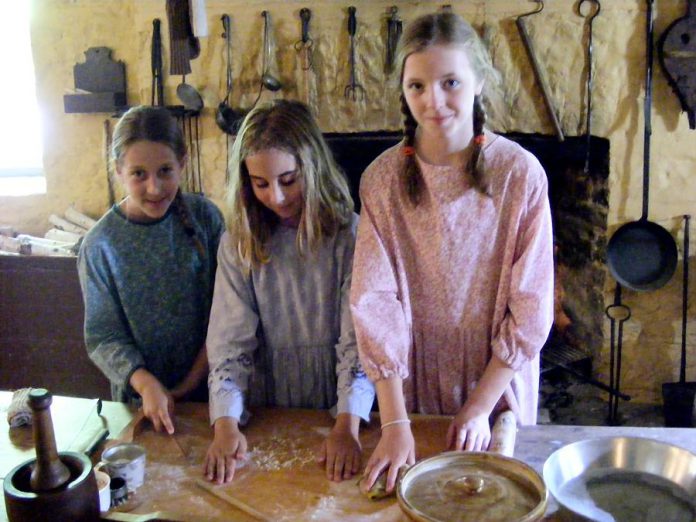 Scottish tea is served daily (except Monday) starting on July 4th until September 3rd. Scottish Tea is $10 for adults and youth over 10, $5 for youth six to 10, and free for children five and under. The cost for tea also includes admission for a Hutchison House tour.
The museum also hosts monthly heritage lunches during the winter and events year round open to the community.
For more information on museum hours, calendar of events and prices, visit the Hutchison House Museum website at www.hutchisonhouse.ca. You can also follow them on Facebook and Twitter.