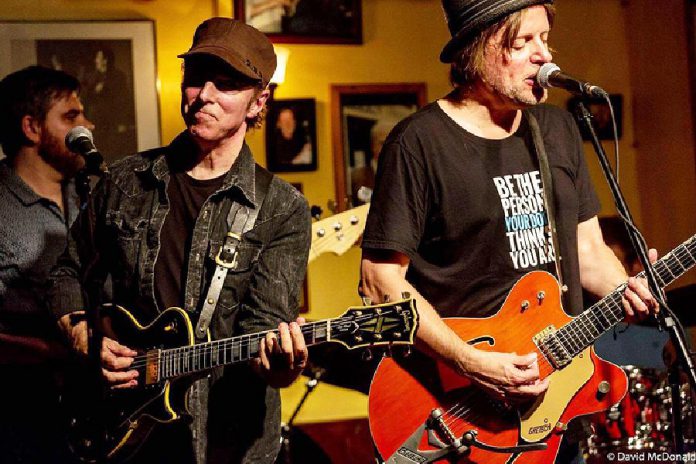 After wolfing down the meal, Stephen Stanley is savouring the dessert.
"I didn't really appreciate it in the moment … it was a blur," says Stanley of co-founding and performing with The Lowest of the Low, one of the most influential bands on the Canadian alternative rock landscape in the early to mid 1990s.
"That was a wide-eyed adventure. We didn't expect anything was going to happen. Having been in Lowest of the Low and several bands before and after that, I do know when something feels good and something feels like 'I'm not sure about this.' This one I feel 100 percent sure about."
VIDEO: "Birthday Clown" – Stephen Stanley Band

"This one" is The Stephen Stanley Band which, along with Lindsay-based The Kents, will take to Del Crary Park's Fred Anderson Stage on Wednesday, July 19th as the 31st season of Peterborough Musicfest continues with a double shot of rock.
Backed by guitarist Chris Bennett, bassist Chris Rellinger [Editor's note: Chris is Paul's nephew], and drummer Gregor Beresford, and joined by multi-instrumentalist Chris Brown, Stanley's recharged creativity will be fully evident in his actions and his words. Simply put, he's in a happy place and enjoying every minute of it.
"Lowest of the Low wasn't really a vehicle for me to grow as a songwriter," says Stanley of his previous musical life which produced four studio albums, including 1991 debut Shakespeare My Butt — still one of the best-selling independent releases in Canadian recorded music history.
"It was a real on-again, off-again relationship. We started the band in about 1990. The first round was 1990 to 1995. The second round was 2000 to 2007. Some time around 2010 we got back together for what would be a really cool 20th anniversary tour. Then the wheels kind of fell off for me. It was a good run, for sure, and I enjoyed all the time I was there — but it's over."
Not so with his new musical venture.
"There's something about this group of four people getting together and being so in tune with the songs and so supportive of each other. It's something I've not experienced in a long time. That part of it is just mind-blowing to me. Being in a band at this stage of life is a tough venture but the pure part of arranging and playing live has been spectacular."
VIDEO: Stephen Stanley Band 2016 Indiegogo Campaign Video

What has Stanley most excited is the scheduled fall release of the band's debut album, tentatively titled Jimmy And The Moon. Produced by bandmate Brown at his Post Office Studio on Wolfe Island near Kingston — "I trust him implicitly" — its 11 tracks will be provide clear evidence of Stanley's continued growth as a songwriter.
"Songwriting is not an easy thing, but it's a thing I love doing. I don't have the discipline; you know, 'this is my two hours a day that I write'. When I'm moved to write, I write like mad.
"Most of the time it comes from a lyrical place first. I need to have some sort of the idea mulling around in my head that I have to get out. Once something starts to roll, it's just a completely joyous experience. Then I'm like a dog with a bone."
VIDEO: "The Same Old Joint" – Stephen Stanley Band

But make no mistake. As satisfying as the album's release will be, it's the dynamic of the band that's making this go-round nothing short of pure bliss for Stanley.
"This is a pretty heavy group of musicians. That's a pinch-yourself moment for me. They all respect my songwriting, which is amazing, and we all get along great. To have that calibre of players around you makes you work harder, dig a little deeper. I'm having the best time of my life. Whatever happens, happens. We'll keep playing and keep developing because we love playing together."
The Kents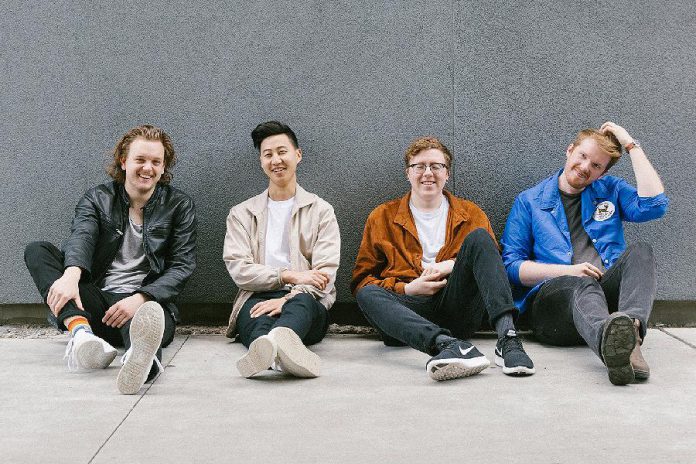 For The Kents — Warren Frank (vocals), Freddy Kwon (guitar), Luke Shauf (bass) and Tanner Paré (drums) — a high school guitar class provided the springboard for good things to come (Paré, from Peterborough, joined the band in 2016 to replace original drummer Nathan Truax).
In June 2016, with the release of debut five-track EP Waking and the single "The Stakes", the Lindsay-based quartet found itself in demand; a heavier workload aided by "The Stakes" being featured on Apple Music's 2016 Rising Stars and Spotify's Best of 2016 Viral Hits.
"The response has been very humbling," says Frank in a November 2016 interview with Jenna Melanson of Canadian Beats Media at www.canadianbeats.ca.
"As this was our debut release, we weren't too sure what to expect when it came to response, but we've been really taken by how many people have gone out of their way to talk to us about it. Whether it be through social media or talking to us after a show, we've been lucky to get to hear from a lot of people about it and we're very thankful for that."
VIDEO: "The Stakes" – The Kents

Produced by Derek Hoffman at Fox Sounds in Toronto, Waking, according to The Kents' Facebook page, "encapsulates lyrical explorations of family, loss and separation from the comfort of adolescence with a hook-hungry, pop filter that controls the chaos."
"We were comfortable working with him (Hoffman) from the beginning," Frank says. "He truly helped us achieve the EP we hoped to create.
"His creativity, paired with his technical and musical skills, makes him a serious threat. He also went for burritos with us. We can't overstate how much we like that."
The Kents no doubt also like sharing the stage with Canadian music heavyweights and have done so with the likes of The Trews, The Strumbellas, and Hollerado. As for music industry watchers, critical acclaim has followed, including praise as "one of Canada's best young guitar-based bands" by FYI Music.
VIDEO: The Kents – "Something About Her"

Still, according to Frank, all four members know where their bread is buttered and are grateful.
"We wouldn't have progressed as a band at all if it weren't for the encouragement that people have given us over the years," he says.
"Coming out to our shows and sharing our earliest versions of our songs, the belief they had in us helped us believe in ourselves. To anyone who has just discovered us recently, we hope we get to meet you. New stuff is on the way."
Ahead for the Kents is a busy performance schedule, including a turn at the Wolfe Island Music Festival on August 11th and, on September 22nd, a homecoming gig at the Lindsay Exhibition.
The Stephen Stanley Band and The Kents appearance at Musicfest is sponsored by Oldies 96.7.
Peterborough Musicfest is presenting 17 free-admission concerts featuring a total of 22 acts during its 31st season — each staged every Wednesday and Saturday night until August 26th.
Overseen by general manager Tracey Randall and staff, a board of directors, and numerous volunteers, Peterborough Musicfest's stated mission is to "provide diverse, affordable live music to enrich cultural and economic prosperity in our community."
For more information on this concert and/or the 2017 season, visit www.ptbomusicfest.ca or phone the Peterborough Musicfest office at 705-755-1111.