On Thursday, August 3, 2017 from 4 to 9 p.m., the main street of Millbrook will close and over 1,000 women will take over. The 13th annual Millbrook Ladies' Night is almost here.
Bonnie McQuarrie of Bethany Hills Interiors (12 King St E, Millbrook, 705-932-1600) remembers the first Millbrook Ladies' Night 13 years ago. She had been to a ladies' night in Port Perry and thought that Millbrook, with its beautiful historic downtown and vibrant community spirit, should have a ladies' night of its own.
She and Cathy Bond, former owner of the Millbrook Times, spearheaded the event, drawing over 200 people that first year. "It was a first attempt," she admits. But the idea would grow.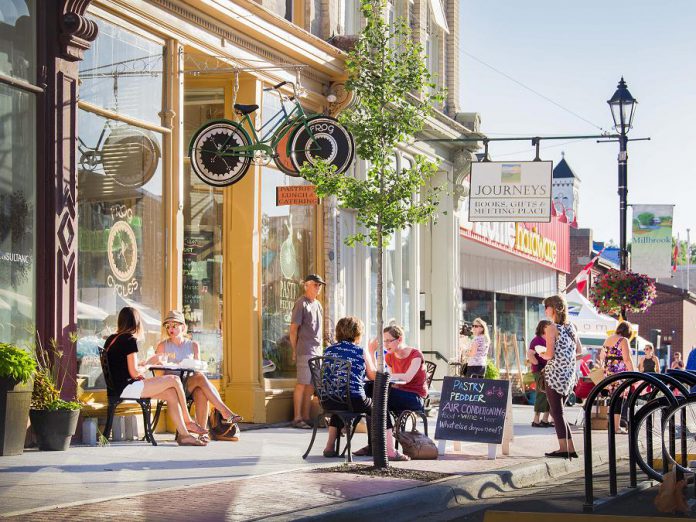 Now Millbrook Ladies' Night draws big crowds to Millbrook's main street every year. The town is beautifully decorated for the event with fresh flowers, and a variety of entertainment and vendors are planned to give women an evening where they can relax and enjoy themselves. Bonnie says that this is what is at the heart of the event.
"People are treated really well. The women feel spoiled and taken care of because we make it so beautiful."
Ready to be spoiled? Here are seven reasons why you should head to downtown Millbrook on Thursday, August 3rd.
1. The shopping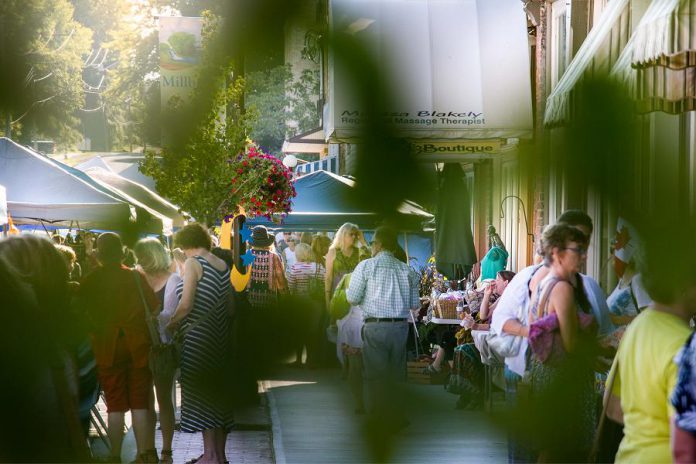 Downtown Millbrook is a great place to shop. You can find gifts, antiques, fabrics, hardware needs, linens, chocolate, ice cream, quilts, fashions, and more.
Bonnie says that Ladies' Night shopping is like no other night of the year.
"The shops really get involved and try to do special things."
In addition to Millbrook's regular shops, there will be around 60 vendors. These will include artisans like Babar Too Co. Skincare and TTLG Creations, who create handmade purses and wallets. There will also be vendors of popular brands like Tupperware and Lipsense.
2. A cameo by a renowned theatre group
Millbrook's 4th Line Theatre has a reputation for world-class theatre in an idyllic country setting.
They will kick off Millbrook Ladies' Night with a bang — an excerpt, including a song, from their August production of Robert Winslow's The History of Drinking in Cavan.
You might want to head to the wine and beer garden after this one!
3. Music that will make you want to twist and shout
Rick and Gailie will be performing from 4 to 6 p.m. and from 7 to 9 p.m., and you won't want to miss it.
Rick and Gailie Young are well known for their covers of British Invasion era music, especially The Beatles.
Rick performs on vocals and guitar with Gailie on back-up vocals, keys, and percussion. They will be joined for their Millbrook performances by Alan Black on vocals, drums, and harp, and Richard Simpkins on vocals and bass.
VIDEO: "Taxman" performed by Rick and Gailie and friends

4. A surprise dance performance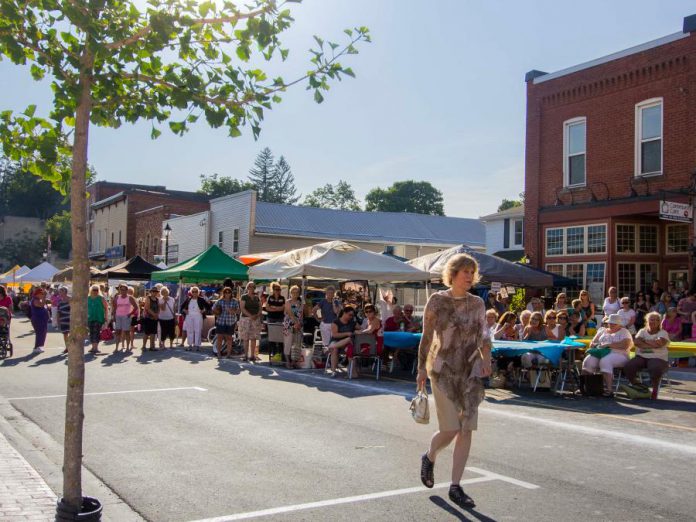 Move N' Grooove Dance Studio is planning a special surprise for this year's ladies' night — and that's all I'm allowed to say on the matter.
The instructors at Move N' Grooove teach a variety of dance styles to students aged two to adult.
5. Delicious food options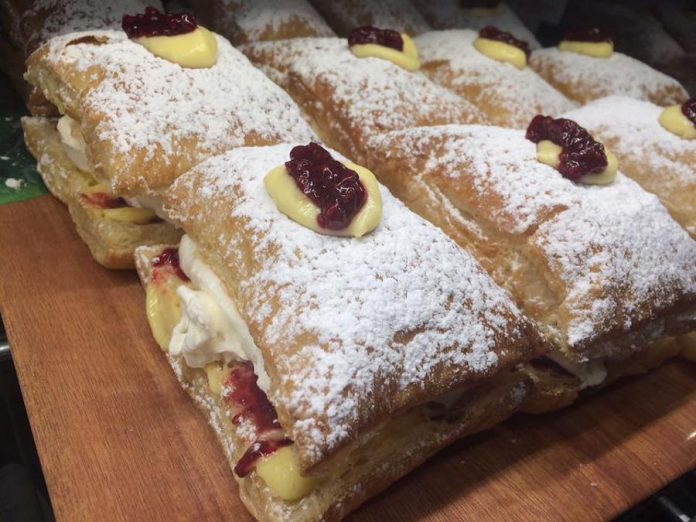 You don't have to leave the main street to get incredible desserts and dinner from The Pastry Peddler (17 King St. E., 705-932-7333), grill favourites from Madison's Place (38 King St. E., 705-932-5775), roast beef on a bun from the Millbrook Legion Branch 402 (9 King St. E., 705-932-2837). or Kawartha Dairy ice cream from Millbrook Valley Chocolate (32 King St. E., 705-932-0110) — but there are many more food options at Ladies' Night.
Kate deKlerck from The Quilter's Bolt says that a quick stroll around the corner could lead you to discover something delicious, like one of her favourites, Bewdley Pizza (13 Tupper St., 705-932-3220).
"Their panzerrottis are unbelievable," Kate says.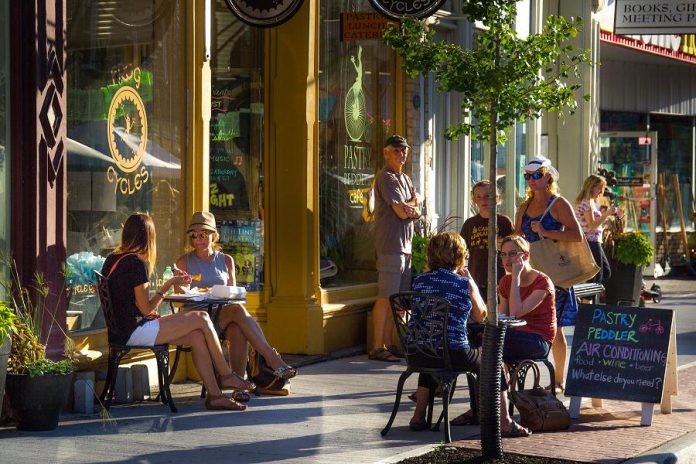 You could also head to Subway (13 Tupper St., 705-932-0011) for a quick sandwich, or try the top notch Fish and Chips from Jule's Kitchen (11 Tupper St., 705-932-3663).
Primal Cuts will also be set up on the street with their own Ladies' Night menu.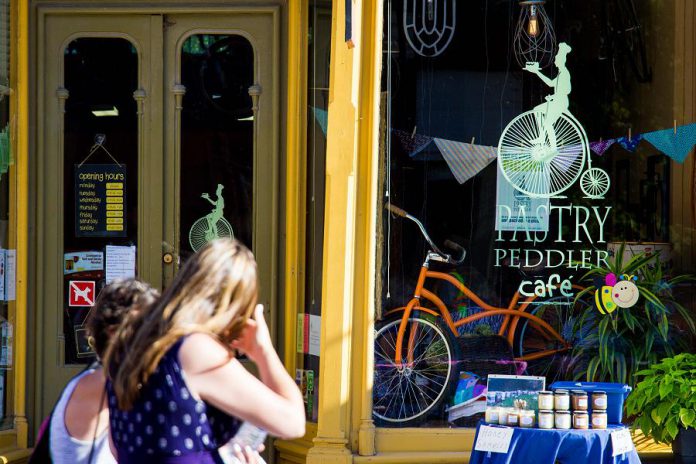 6. The chance to learn how to kick butt
Have you always wanted to know how to defend yourself?
Sun DoJo will be demonstrating women's self-defence techniques from 6:30 to 7 p.m.
Get ready to get inspired, and maybe pick up a few moves of your own.
7. Great prizes to be won
Every time you make a purchase from a Millbrook shop during Ladies' Night, you will get a ballot to win the Diva Basket, which is packed with prizes!
The basket includes gift certificates from downtown shops, Millbrook Valley chocolate, and some other exciting items.
The draw takes place right before 9 p.m., when Ladies' Night ends and the wait begins for next year.