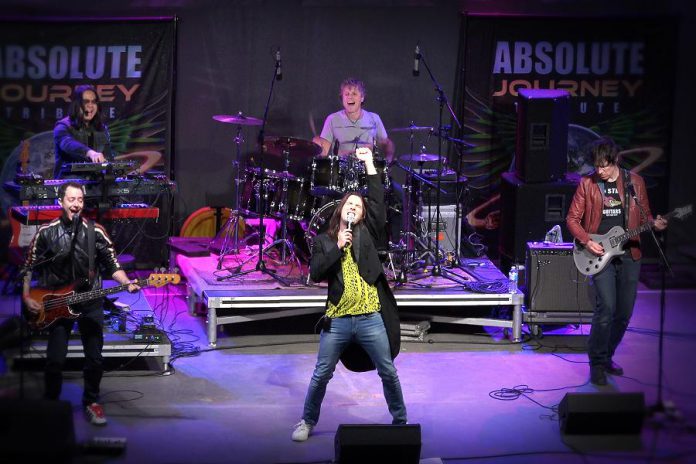 Rule number one of forming a successful tribute band: pay homage to a band that millions still love. Yes, talent is important, showmanship perhaps even more so, but at the end of the day it's all about the hits and the memories associated with them.
With worldwide album sales totaling more than 90 million, Journey is one of the most successful and enduring rock bands in recorded music history.
Reborn in 2007 with new lead singer Arnel Pineda front and centre, the quintet is alive and well and winning new fans while bringing longtime followers along for the ride.
And that is just perfect in Riccardo Curzi's world.
On Saturday, July 22 at Del Crary Park, Peterborough Musicfest will welcome Curzi's band Absolute Journey as it recreates, note for note, the still hugely popular sound of the 1973-formed San Francisco band.
Expect to hear most all of the 18 Top 40 singles that Journey released, including signature hits "Don't Stop Believin'", "Any Way You Want It", "Hold On", "Open Arms", and "Faithfully" — to name but a few.
VIDEO: "Any Way You Want It" performed by Absolute Journey

"People like to reminisce; reminiscing is not just hearing but also seeing," says Curzi in a May 2017 interview with www.bsliverocks.com — a reference to his resemblance to former longtime Journey lead vocalist Steve Perry, both vocally and physically, and the multimedia component of Absolute Journey's stage show.
"Obviously, first and foremost, you try to stress that the music is the main thing. Everything else is embellishment. You need to have the backbone of the music. It needs to be faithful (to the original) and it needs to be emotional."
A native of Italy, Curzi arrived in Canada in 2010 and formed Absolutely Journey four years later. The band's current lineup is comprised of Tristan Avakian (guitar), Kevin Saulnier (bass), Peter Tong (keyboards), and Jeff Salem (drums).
"I love '70s and '80s music," Curzi says.
"Lots of people want Journey but there were no bands doing it extremely faithful to the original. That was missing. I think we scored."
VIDEO: "Faithfully" performed by Absolute Journey

The evidence bears that out. Absolute Journey has been increasingly busy, playing numerous dates on both sides of the border. In August, the band is scheduled for eight gigs, including a performance in St-Joseph-de-Beauce, Quebec where it will open for Styx.
As for his favourite Journey song to sing, Curzi is quick to respond.
"There are a lot of big hits but I have a preference for Mother, Father (from the 1981 album Escape). As a musician, I appreciate it because it's more elaborate. But Don't Stop Believin' is a generational anthem. It's always the song where the crowd interacts the most with us. People come to the front and they jump and they sing. It's a song of the people, really."
While Absolute Journey's touring schedule is keeping Curzi et al pretty busy, he says plans are in the works for the staging of another tribute act, Absolute Def Leppard.
VIDEO: "Hold On" performed by Absolute Journey

Absolute Journey's Musicfest appearance is sponsored by C&T Tool and Machine, Griffin's Greenhouses and Holiday Inn Peterborough-Waterfront.
Peterborough Musicfest is presenting 17 free-admission concerts featuring a total of 22 acts during its 31st season — each staged every Wednesday and Saturday night until August 26th.
Overseen by general manager Tracey Randall and staff, a board of directors, and numerous volunteers, Peterborough Musicfest's stated mission is to "provide diverse, affordable live music to enrich cultural and economic prosperity in our community."
For more information on this concert and/or the 2017 season, visit www.ptbomusicfest.ca or phone the Peterborough Musicfest office at 705-755-1111.