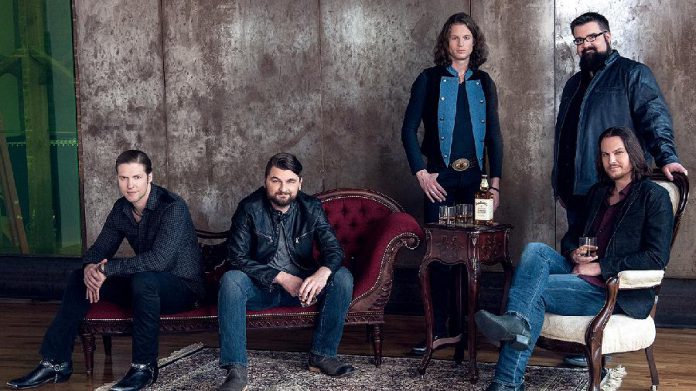 In the early 1970s, the British sketch comedy TV series Monty Python's Flying Circus promised viewers "something completely different" and then, to the delight of its fans, delivered on that promise.
Over the past five years, doing "something completely different" — performing and recording a cappella country music — has been the key to success for Home Free, the Minnesota-born quintet which will return to Del Crary Park's Fred Anderson Stage on Wednesday, July 26th as the free Peterborough Musicfest concert season continues.
Founded in 2000 by Chris Rupp, Home Free initially performed music covering a wide variety of genres, country being just one among them. With a series of independent album releases to its credit, Rupp et al auditioned three times for NBC TV's The Sing-Off and three times came up short.
Enter lead tenor Austin Brown and bass singer Tim Foust and yet another shot at The Sing-Off. Performing country music exclusively, Home Free was accepted and won the show's fourth season, earning $100,000 and a recording contract with Sony.
"When Tim and I joined, the group moved in the country direction and found that audiences responded well to it," says Brown in a November 2016 interview with Kevin Wierzbicki of www.axs.com.
"Modern country music takes elements of other genres and we enjoy blending all those elements together like we do with our voices. We enjoy singing in a variety of styles. We have a lot of fun doing it. It has become our identity. No one is doing what we're doing. We're the lone (a cappella country) group out there."
VIDEO: "I Like The Sound of That" by Rascal Flatts performed by Home Free

The evidence points to the enduring wisdom of that decision.
The group's 2014 album Crazy Life — the first featuring Brown and Rupp — peaked at number eight on the Billboard country chart. Full Of Cheer, released the same year, attained the number 12 spot before 2015's Country Evolution lifted Home Free to lofty number four status.
The group returns to Peterborough — having performed at Peterborough Musicfest in August 2015 — basking in the success of late 2016 release Full Of (Even More) Cheer, which climbed to number two.
"We do songs that we enjoy as well as what our fans like," says Brown. "We try to cover some of the popular songs. If they (music fans) come across it on YouTube and see that Home Free does it, it gets more people coming to the show. We also write and record our own music."
VIDEO: "Ring of Fire" by Johnny Cash performed by Home Free with Avi Kaplan

Having undergone a number of personnel changes since the group began as basically a hobby, Home Free is now enjoying stability with Brown and Foust joined by Rob Lundquist (tenor harmony), Adam Chance (baritone harmony) and founder Chris Rupp's brother Adam, a beat boxer who provides percussion sounds with just his mouth and vocal chords.
Chris departed Home Free last year in pursuit of a solo career, opening a spot for Chance.
With their voices their only instrument, great care is taken to keep them in optimum condition.
"Hydrating always helps; plenty of water, hot teas and coffee," says Brown of Home Free's pre-show routine. "We always take the time to warm up before performing."
Home Free is nearing 100 million views on YouTube, has guested on Kenny Rogers' latest Christmas album, and has attained the ultimate dream of any bonafide country music act: performing on Nashville's Grand Ole Opry stage.
"The feeling you get standing on the Opry stage is so unlike any other," marvels Brown. "We were overwhelmed by the audience's response and so honoured to be among country royalty."
Ahead for Home Free is a new studio album, scheduled for release late this year, and a hectic performance schedule that includes a major U.S. tour in the fall.
VIDEO: CMA 2014 Single of the Year Nominee Mash-Up – Home Free

For its Musicfest appearance, sponsored by Ashburnham Realty, Home Free will serve up equal helpings of original songs and covers of popular songs.
Peterborough Musicfest is presenting 17 free-admission concerts featuring a total of 22 acts during its 31st season — each staged every Wednesday and Saturday night until August 26th.
Overseen by general manager Tracey Randall and staff, a board of directors, and numerous volunteers, Peterborough Musicfest's stated mission is to "provide diverse, affordable live music to enrich cultural and economic prosperity in our community."
For more information on this concert and/or the 2017 season, visit www.ptbomusicfest.ca or phone the Peterborough Musicfest office at 705-755-1111.