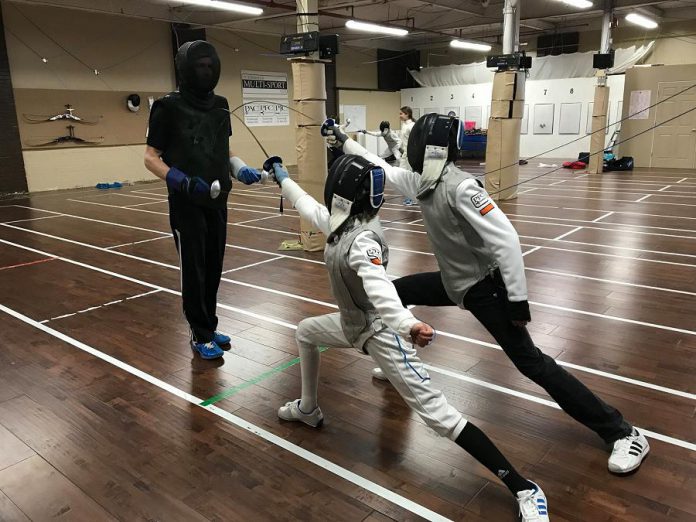 While watching Arya Stark and Brienne of Tarth spar in the snowy Winterfell courtyard in Game of Thrones, or the fierce Ragnar wielding sword and shield in the series Vikings, I often found myself imagining what it would feel like to step into the boots of a bold swashbuckler and head into battle, longsword in hand.
As luck should have it, the same week Game of Thrones season 7 ended, I was offered an opportunity to take a stab at both longsword fighting and fencing with a private lesson at Peterborough Multi-Sport Club (275 Rink Street, Unit 14, Peterborough, 705-775-5095), a sports facility that specializes in fencing, archery, jiu jitsu and, most recently, German longsword.
I was ready to unleash my inner warrior.
The fine points of fencing
After a quick tour of the facility by hospitable owners Scott Nichols and Michelle Curran and a briefing on the club's history and new afterschool program, I was whisked away by Curran to get geared up in official fencing garb — the all-important wire mesh mask, glove, padded jacket, a protective 'plastron' that covers the torso, a mandatory chest guard, and a light, thin sword (also known as a foil).
At first, you're able to borrow club gear, but if you decide to take it up more seriously, you'll want your own kit.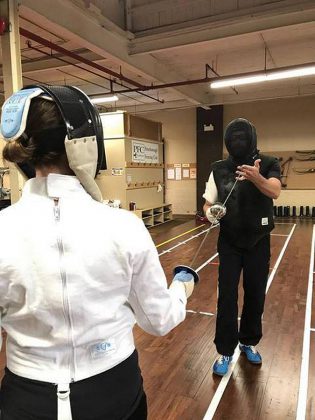 I begin with a warm up doing laps, jumps, and lunges across the gym for about 10 minutes until it is time to learn a few sword-wielding techniques from Nichols, the club's Head Coach.
We face each other and tip our swords to the ground in salute.
He starts by explaining the basic commands, moves, and positions while fencing — a subtle sport that emphasizes etiquette and technique.
We have a friendly bout on a rectangular strip, using the tip of our sword to touch our opponent's vest, or to block the sword, all while doing sort of a sliding scurry.
My feet never leave the ground but scoot forward or backward, with my left foot back and my right foot in front.
"It's a mental game," explains Curran, the club's Assistant Coach. "One that demands quickness and a decisive strategy."
"It's not so much of reacting to what your opponent is doing, but trying to strategize and plan out moves ahead of time, hoping to draw your opponent in so that you can have them attacking you where you want them, and being ready with the proper distance and defense to outwit them."
Having previous athletic experience certainly gives you a leg up, but it's not a requirement to get started in fencing.
"You can do well even if you're not an athlete," Nichols says. "Anyone who is committed to fencing can learn the footwork and the positions.
"It's always been a sport that appeals to people who don't thrive in team sports. It's for those who like intellectual sports."
Curran says people don't realize how great of a workout fencing is, and practice can offer much more than the monotony of going to the gym after work.
"You can go to the gym and get a good workout, or you can come to the club and get the same benefits by playing with swords," Curran laughs.
Medieval swordplay
After a half hour of dueling, Nichols and I move on to German longsword fighting, a revival of a once-forgotten ancient European martial art with timed bouts and complex rules. The biggest differences between the longsword and fencing are the practical uses behind the sword.
While fencing is considered a sport, Nichols says, longsword focuses more on historical context. All of the techniques used at their practices are based on historical European martial arts and are supported by strength, speed, and assertive execution.
The sport is picking up momentum in Peterborough. Over the years, the club has invited Ottawa swordplay instructor Craig Shackleton, who has been researching and training in medieval European combat since 1997, to teach youth and adult sessions.
VIDEO: Medieval swordplay coming to Peterborough Multi-Sport Club

I turn off the fencing part of my brain and get ready to spar like I see in the films. This time around, we use heavy steel swords that requires the use of two hands while I get a lesson in basic longsword techniques.
"Longsword fighting is a contact sport," says Nichols. "Your objective is to hit your opponent."
He shows me some basic moves. I start with some defensive blocks, and after getting those down, I block several of his attacks in a row.
"Skill and technique decide the outcome here, rather than strength and size."
Nichols adds the key to the art is landing a blow while preventing an opponent's counterstroke.
Arya would be proud.
Peterborough Multi-Sport Club is offering an open house and a longsword workshop on Sunday, October 1 at 12:30 p.m. and 1:30 p.m. The cost of the workshop is $20.
If you're interested in attending, contact the club by phone at 705-775-5095 or email at info@peterboroughmultisport.com to register.
Unique sports gaining popularity
With the already saturated sports market in Peterborough, it can be hard for any minor sport to fight for breathing space and survival amongst all the new and different programs available.
Nichols says that seems to be changing. Fencing and medieval combat are still quite niche, but rapidly experiencing a resurgence, more so with the release of each Game of Thrones season or a Star Wars blockbuster.
That's great news for hardcore sword enthusiasts.
After-school athletic program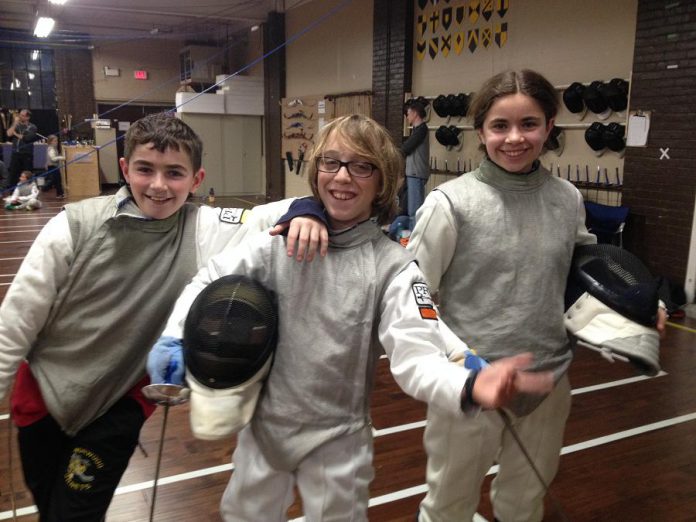 Starting this month, Peterborough Multi-Sport Club is offering an after-school athletic program for kids in Grade 1 to Grade 8 in fencing, longsword, jiu jitsu, archery, and circus arts to help them improve their fitness and connect them with sports they might not otherwise get a chance to try.
Nichols says the after-school program encourages a team environment, but mainly individual achievement in a supportive environment.
"If kids don't love a common sport that is offered to them at school, they sometimes don't see themselves as athletes. Giving them an opportunity to experience different activities might give them the confidence they need to pursue a sport."
The program will run from 3 p.m. to 5 p.m., Monday to Friday, and will offer a different sport each day of the week. Pick-up from local schools is available as well as extended pick-up times after 5 p.m. to suit busy family schedules.
Call Peterborough Multi-Sport Club at 705-775-5095 for more details and to reserve a spot.
For all program information, times and fees, visit the Peterborough Multi-Sport Club website at peterboroughmultisport.com. You can also follow them on Facebook.
VIDEO: Peterborough Multi-Sport Club