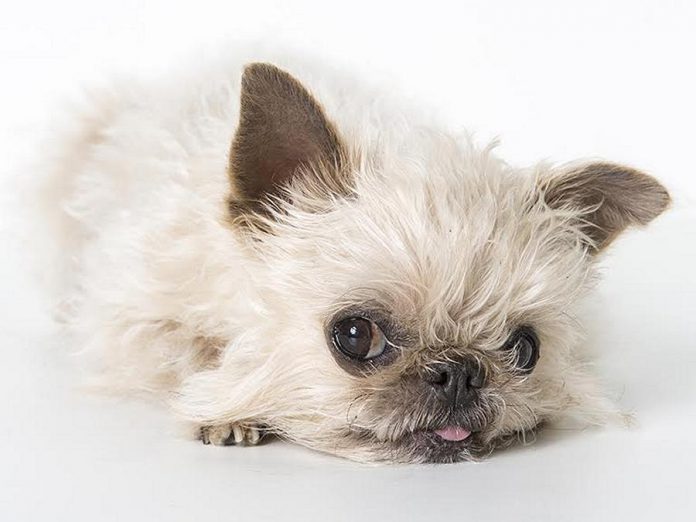 Instagram star Owen the Griff is heading to New York City where his humans will attend PetCon, billed as "the first and only event to bring together the world's most influential pets."
The extremely cute little dog, who has more than 36,400 followers on Instagram, is owned by Lisa Besseling and Marlon Hazlewood of Lakefield.
More than 30 celebrity pets and influencers who will be in attendance at PetCon, which takes place on November 18 and 19th. You may be wondering why there's a social media conference for pets, but many pet-related accounts have millions of followers and social media influencing is big business.
Some of the most popular accounts on Instagram collect images of pets from around the world, while others feature specific pets. For instance, @cats_of_instagram has 8.4 million followers, @dogsofinstagram has four million followers, while @tunameltsmyheart (a Chiweenie — a mix of Chihuahua and Dachshund) has 1.9 million followers.
With 36,400 followers, @owenthegriff isn't yet in the millions, but Owen's growing online popularity is undeniable and he is much beloved by his fans.
The 10-year-old five-pound Brussels Griffon (a breed of toy dog named for its city of origin in Belgium) is the shop dog at Stony Lake Furniture Co., located in Lakefield, Ontario, near Stony Lake. Even before Owen became an Instagram celebrity, he was already stealing the hearts of family and friends and visitors to the store.
Lisa is the owner and designer at Stony Lake Furniture Co. and her husband Marlon is a photographer — and one half of the creative genius behind Owen's great photo shoots, part of the reason behind Owen's popularity on Instagram.
"I wanted a place to post Owen's photos and not be filling my own social accounts with all of Owen's photos," says Lisa, explaining why she originally created an Instagram account for Owen. "It was a place where friends could see Owen online."
At first, Owen gained about 1,500 followers on Instagram, which is not unusual for the average pet account. But then he was featured on the aforementioned Dogs of Instagram account.
"Overnight my phone buzzed with crazy updates, and he was at 3,000 followers," Lisa recalls. "Once he reached 10,000 followers, the growth to the current level of 36,400 followers was pretty fast."
So, aside from being adorably cute, why is Owen so popular? It may be because he has some personality quirks that regularly delight his Instagram followers.
For example, Owen often walks backwards through doorways. He wasn't trained to do this, according to Lisa.
"We think that maybe it's the way the light hits the floor sometimes," she says. "It's the same way that a child would go downstairs backwards — he backs up through the door."
Owen also barks like a chicken (he will be sporting his chicken hat while in New York City).
Breakfast with Owen and his human dad Marlon has also become a regular and popular feature with the fans. Owen eats fruit and also really loves his human dad, so their Instagram videos of eating breakfast together are a big hit.
Lisa says Owen's fans also feel directly connected to him.
"Owen's fans really engage with him on Instagram," she explains. "We have people saying they wait for his posts each day. If we miss a post, they message us and ask if he is okay."
Owen's most popular Instagram video — where he tries to avoid stepping in snow — has so far racked up more than one million views.
So what prompted Lisa and Marlon decided to go to PetCon in New York City and take Owen with them?
"Recently we travelled to Burlington to attend a meetup for other griff owners," Lisa says. "These are people we only knew online, but I would trust Owen with them — I see how they care for their own griffs.
"So when the opportunity arose to attend PetCon we decided to go for it. We'll be meeting up with other griff owners that we have met online, and our hotel is even nearby to one."
Owen's calendar is already getting full for the weekend at PetCon, with so many of his fans really wanting to meet him.
We ask Lisa whether she will be ready if she gets a call from The Ellen DeGeneres Show.
"Well, we have his pet carrier ready to go," she laughs.
This will be Owen's first flight and he'll be travelling in the cabin along with his human parents.
While social media influencing — including pet-related accounts — can be financially lucrative, Lisa says they never intended Owen's Instagram account to be a commercial venture.
They are mainly attending PetCon to learn more about social media influencing and to make connections with others.
"And if we can leverage Owen's account to do good work and bring people joy, that's a good thing."