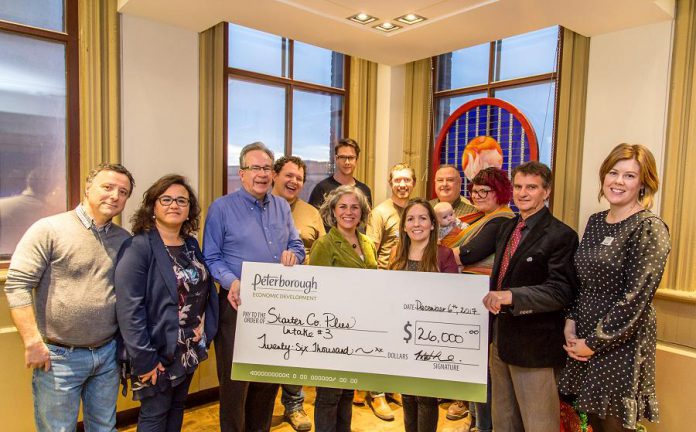 As board game enthusiasts, Dylan and Connor Reinhart have seen the dice tumble in their favour more than a few times, but rarely has going for it led to such a windfall.
On Wednesday (December 6) at the Market Hall Performing Arts Centre, the brothers' business, The Boardwalk Board Game Lounge, was revealed as one of seven grant recipients from the third intake of the Starter Company Plus program offered by the Peterborough and the Kawarthas Business Advisory Centre.
Funded by the Government of Ontario, the five-week program supports entrepreneurs starting a business or expanding an existing venture that has been in operation for five years or less. Participants attend a series of workshops that lead to the creation of a business plan and the making of a pitch for a share of $26,000 in grant money.
Since the program's inception back in March, 45 small business owners have gone through the program, with 21 of them receiving a share of more than $75,000 in funding.
Along with the Reinhart brothers, Wednesday's celebration also revealed the following as grant recipients:
Mariem Idrissi and Hassan Moussaid of Argania Natural Health Care, which provides holistic and naturopathic health services at a clinic in downtown Peterborough.
Mike Rodin of CaptureCo. 3D in Peterborough, which provides professional real estate photography, virtual tours, 3D scans and floor schematics for clients such as Century 21, RE/MAX, Royal LePage and The Property Guys.
Jennifer Wight of Emily Mae's Cookies & Sweets in Peterborough, which produces custom sugar cookies decorated and personalized as unique gifts.
Jennifer Avis and Stephanie Hayes of Hello, Baby! In Peterborough, a full-circle doula service that supports growing families via education and care through fertility, pregnancy, birth and life with baby.
Gordon Kirkham of Kanda Lightweight Canoes in Selwyn Township, which designs and produces lightweight canoes for recreational use.
Annie Scherz of reVerra Glass in Peterborough, which creates custom jewelry pieces made from recycled glass.
"It was an incredible experience," raves Dylan Reinhart at the Market Hall announcement, which also showcased the businesses of the receipients.
"We're really grateful, not only for the classes and the way it forced us to write a business plan and think through every piece of our business, but also for the mentorship provided by the Business Advisory Centre. We did business plans through Win This Space and Bear's Lair but this one, because of that mentorship, really tightened things up for us."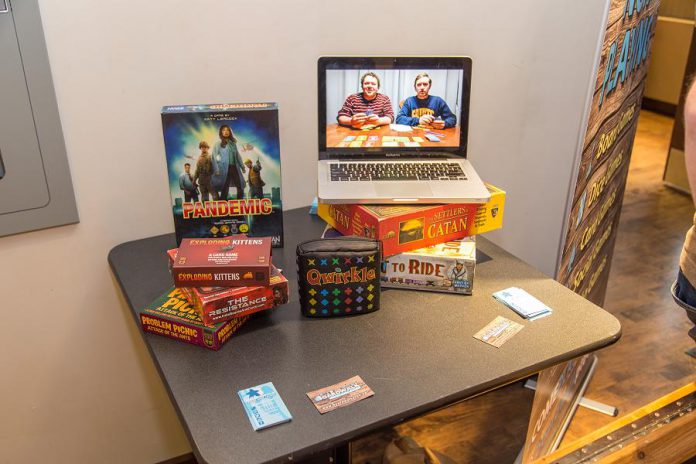 The brothers' business, he explains, sees them partner with local businesses to stage board game events for employees and/or customers. Their entry in the inaugural Win This Space competition gave them "the kick in the pants to get started." Now they're actively seeking out "a forever home" so they can host board game events — they boast a collection of more than 200 games mdash; as well as continue to take the show on the road.
"I think people are looking for that opportunity to disconnect," Rienhart says. "To put down their phone and have the kind of nostalgic old-school experience they remember from the cottage when it was too rainy to go outside, or from sitting around the table with their family playing Monopoly."
Gordon Kirkham of Kanda Lightweight Canoes, he applied for Starter Company Plus "not really sure what I was going to get out of it. Now I can't say enough good things about it. (Program co-ordinator) Madeleine Hurrell and her crew were always available for consultation. I completely took advantage of that."
Having just started his business out of his home workshop — "The commute is a killer," he jokes — Kirkham hopes to produce two prototypes of his lightweight seamless canoe by January, with an eye on having a viable product for sale shortly after.
He designed and built a 40-pound canoe 10 years ago which he still has, adding his target market are couples aged 35 and up interested in outdoor activities such as camping.
"I don't think I'm the only person in my age group who doesn't want to do a thousand-metre portage with a heavy canoe," he says, referring to the appeal of his design.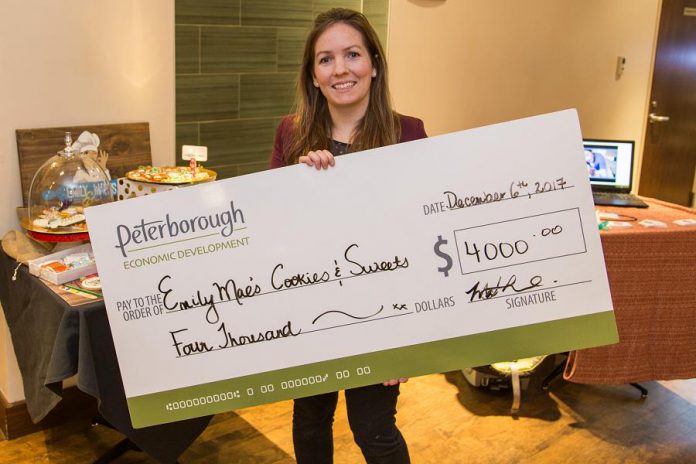 Meanwhile, Jennifer Wight of Emily Mae's Cookies & Sweets estimates she's produced some 16,000 personalized cookies since starting her business about one and a half years ago.
"I started when my little one was a few months old. I was looking for something to do and I came across this idea, tried it, and this is what came out of it. I didn't expect it to blow up like it has. The response has been amazing. I call it art on a cookie because that's what it is. People are really curious. I think that has really helped with the success of the business."
Starter Company Plus "really made me sit down and focus," she says, praising Hurrell et al for their constant support and for being approachable.
And for anyone looking to start a business or grow an existing enterprise, she has three words: "Go and apply."
"It's a lot of work, so don't expect it to be easy peasy. You have to dedicate the time. If you do, you'll come out a winner, whether you win grant money or not. The biggest thing for me was that business plan. The grant is just gravy on top."
According to Hurrell, Starter Company Plus will return with another intake round in February 2018. Those interested in applying are required to attend one of the "Starting Point" workshops held at the Peterborough Chamber of Commerce's Board Room (175 George St. N., Peterborough).
For more details on the program, visit peterboroughed.ca/starter-company-plus.