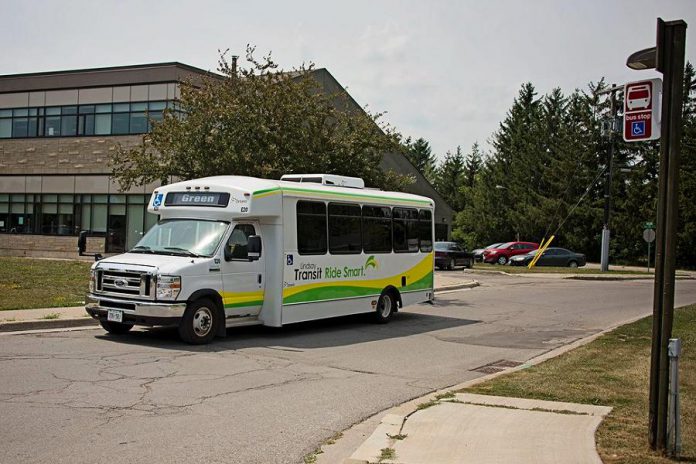 On Tuesday (February 13), City of Kawartha Lakes council approved recommendations to enhance transit service in Lindsay and surrounding areas over the next 10 years.
The recommendations, which will increase the reach of transit within Kawartha Lakes and meet the needs of an aging population, are outlined in the Lindsay Transit Master Plan.
They include a new Sunday service, expanding an existing route and adding a new route, adding evening service, adding service to Bobcaygeon and Fenelon Falls, installing smart cards and bike racks on buses, and more. The service enhancements alone will add more than $700,000 to the city's transit budget by 2026.
Currently, Lindsay Transit offers services on three routes that connect at an on-street transit terminal in the central business district of Lindsay. Service runs during the day from Monday through Saturday. The City of Kawartha Lakes also provides LIMO Specialized Transit, a shared door-to-door public transit service in Lindsay for people with physical or functional disabilities who are not able to use conventional public transit.
From 2012 to 2016, transit ridership has grown faster than the local population, with around 100,000 passenger trips annually.
The roll-out of enhancements will be implemented gradually from 2019 to 2026:
2019 – Add Sunday service to all routes and LIMO (net cost: $76,400 per year)
2021 – Add a new route to service new commercial developments and new residential areas (net cost: $233,800 per year)
2022 – Add weekday evening service until 11 p.m. (net cost: $237,600 per year)
2023 – Add three round trips per day from Bobcaygeon to Lindsay, three days per week (net cost: $50,000 per year)
2024 – Increase service between Bobcaygeon and Lindsay to five days per week (net cost: $33,700 per year)
2025 – Add two trips per weekday between Bobcaygeon and Lindsay (net cost: $54,000 per year)
2026 – Add weekday commuter service from Lindsay to the GO bus stop at Highway 35/115 (net cost: $34,000 per year).
Approved recommendations also include:
equipping all Lindsay Transit and LIMO buses with a smart card reader by 2021, with the ability to payments through smart phones
providing a large heated shelter for transit customers at the downtown transfer location
equipping existing buses with bike racks and including bike racks on future bus purchases
hiring an additional "community liaison" staff member dedicated to public transportation, who would deal with public complaints and requests, liaise on social media, work with local businesses, school boards, social service agencies and academic institutions, and more.
"Our goal is to provide a transit service plan that meets public transit needs in a financially responsible way," says Todd Bryant, Manager of Fleet and Transit at the City of Kawartha Lakes. "The plan maps out what transit services will look like for the next 10 years. We will build on recent successes, improve service reliability and accessibility and expand our reach within the city where feasible."