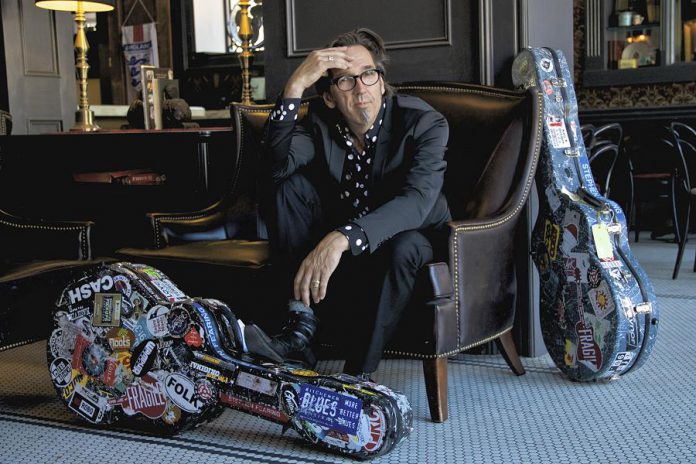 Stephen Fearing is not just a singer/songwriter — he's also a philosopher. On his latest record Every Soul's A Sailor, he continues his exploration of the journey being more important than the destination.
"The journey is this great metaphor and it's been what I've been writing about for a long time and probably will be for a long time," Fearing explains from his home in Victoria, B.C.. "Physically travelling and using it as a metaphor provides so many different 'ins' as a songwriter."
That's no surprise given that Fearing's life is a story of travelling.
Born in Vancouver in 1963, when he was six years old he moved with his mother to Dublin, where his schoolmates included future members of U2.
In 1981, he moved to Minneapolis, Minnesota and immersed himself in the music scene to learn the fundamentals of song writing and performing. He returned to Vancouver in 1984 to build his career as a professional musician.
In 1994, he moved to Guelph and then, in 2008, to Halifax, relocating to his current home in Victoria in 2015.
VIDEO: "Every Soul's A Sailor" – Stephen Fearing

"There's regret, you're leaving things behind, you're going towards something, and there's what you're observing on the way, which is a huge part of it," he says. "Songwriters are observers. When you travel through somebody else's turf, you see things that they don't see."
Fearing's journey takes him back to Peterborough on Tuesday, April 17th for a solo concert at Market Hall Performing Arts Centre, presented by kawarthaNOW.com and the Market Hall. He last performed solo in Peterborough at an intimate concert at The Spill in 2013. Since then, he also performed at the Market Hall with Irish singer-singer Andy White in February 2015, and most recently last October when he played at the Market Hall with bandmates Tom Wilson and Colin Linden (Blackie and The Rodeo Kings).
Known for his poetic storytelling, rich vocals, and masterful guitar playing, Fearing has released nine solo albums along with two collaborations with Andy White, as well as nine records with Blackie and The Rodeo Kings. He's performed countless shows at intimate venues and on the concert stages of festivals and theatres across Canada, the US, the UK, and Europe.
VIDEO: "Home" – Stephen Fearing

Along the way, he's been named Traditional/Roots Performer of the Year at the 1991 West Coast Music Awards, received a Juno Award in 2000 for Best Roots & Traditional Album: Group for the Blackie and The Rodeo Kings' record Kings of Love, was named Best Songwriter (English) at the 2006 Canadian Folk Music Awards, and received the Roots & Traditional Album of the Year: Solo Juno Award in 2007 for Yellowjacket.
In Fearing's mind, being a touring musician is a "sacred job," with rewards that go beyond tangible accomplishments.
"It's not about a big award like a Juno or even being nominated for a Juno," he says. "It's really just about showing up every day and doing the work."
VIDEO: "Wheel Of Love" – Stephen Fearing

It's not only travelling that he waxes philosophic about, but he digs deep into his music as well. Fearing made his latest record with Blackie and the Rodeo Kings rhythm section Gary Craig (drums) and John Dymond (bass). Although he has worked with Craig and Dymond over the years, he explains how the process for Every Soul's A Sailor was different.
"It was a big challenge. I've had records where I've had players come in, but to think ahead and know that I wanted to record it as a trio, I had to change my guitar parts and think about it differently."
He boils it down to the nature of a trio being much different than solo arrangements or ensembles.
"The trio format is uniquely skeletal and odd," Fearing says. "It's like there's a big hole in the middle that you've got to fill and so trying to do that has been really interesting."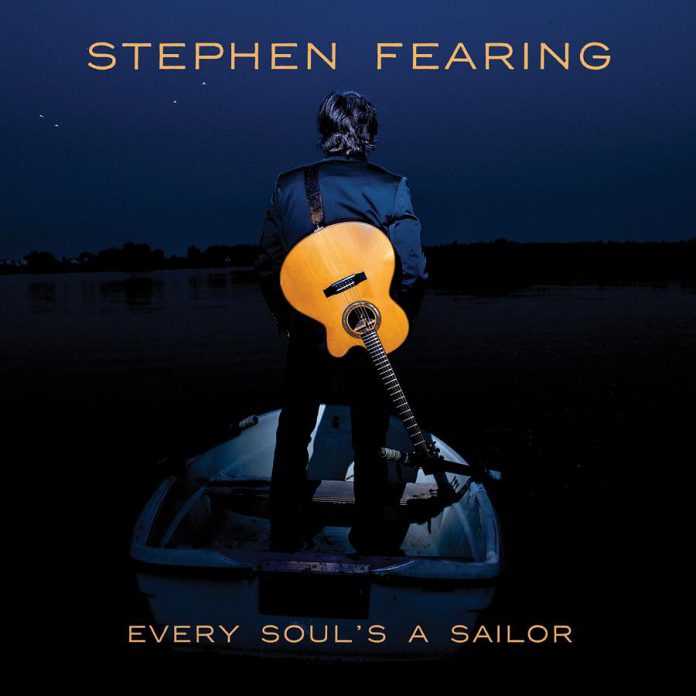 This adjustment led to a different approach with song selection in his recent shows, which have split evenly between trio and solo performances.
For his April run of shows, including Peterborough, Fearing will be touring solo. He spends a lot of time considering the best configurations for certain songs, and aims to be true to the songs as they were written.
"It's an interesting thing to think about, rather than just play the same set with a band or without a band," he says. "There are some songs like Blowhard Nation that are really important parts of the record, but it's definitely a different version solo."
Fearing's process of writing has morphed over the years.
"In some ways it has become more truncated because I just don't have the luxury of time anymore," he says.
VIDEO: "These Golden Days" – Stephen Fearing

After a chaotic year in 2015, he looked ahead and knew that there was a window for creating a new record. Despite not having new tunes in hand, he booked the studio, looked towards a January 2017 release, and worked backwards to get it done. He went to a friend's cabin in Wells, British Columbia for a week and wrote most of the tunes.
"I think all the years of doing this has given me the balls to say 'Alright, I'm just going to go off and write and album in a week.' It's a little bit scary because you wonder, 'What if I don't get the songs? Then what?'"
Fearing's favourite approach to writing is one that allows him to fully focus on the process.
"In my life it's been hard to know if I've created the chaos or if the chaos has come, but one way or another I seem to have to have a bunch of things on the go. And I some point I need to thrust everything off the table and go 'OK, I need to write songs!'"
One of those songs ended up being 'Blowhard Nation', the first single from the new record. It's a tune about Donald Trump when he was running for the Republican nomination. Fearing saw a picture of the eventual U.S. President on the cover of one of the magazines in the candy section while he was shopping in Quesnel near Wells.
VIDEO: "Blowhard Nation" – Stephen Fearing

"There was such an arrogance," he recalls. "A blowhard arrogance that really prompted the song."
With inspiration from a few Merle Haggard records, he wrote it as a protest song injected with a little humour. Now, ever since Trump became president, Fearing says he's been addicted to following coverage from the U.S.
"I have to stop myself from checking the phone in the middle of the night. I've never seen anything like it, and I don't know if this is the new norm."
Fearing believes there is a big role for songwriters in difficult political times. He suggests it's important for songwriters to have the courage to write about important issues.
"I think the onus is to write stuff that's actually coming up, rather than trying to avoid it."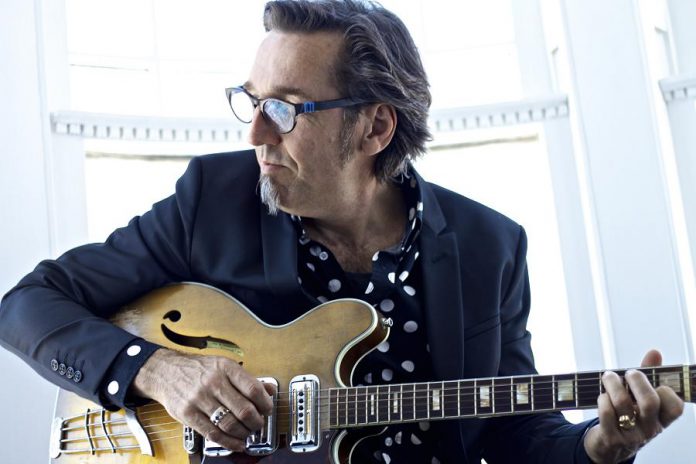 Fearing will be performing a solo concert at Market Hall Performing Arts Centre in downtown Peterborough on Tuesday, April 17, 2018 at 8 p.m. Tickets are $33 for general admission and assigned cabaret-style table seating, and are are available at the Market Hall Box Office, by calling 705-749-1146, or online at www.markethall.org.
Tickets are also available (cash only) at Moondance (425 George St. N., Peterborough, 705-742-9425).