Canadian opera singer Measha Brueggergosman has been hailed as one of the great sopranos of the 21st century. She's given solo recitals on the great stages of the world, including New York City's Carnegie Hall, Washington's Kennedy Center, London's Wigmore Hall, and the Sydney Opera House in Australia.
She's shared the stage with Bill Gates and former U.S. President Bill Clinton and given performances for Nelson Mandela, Kofi Annan, and Queen Elizabeth II. She sang to more than three billion viewers at the opening of the 2010 Olympic Games. She's won a Juno and been nominated for a Grammy.
So it might be surprising to learn that she won't actually be singing opera at her April 28th performance at Showplace Performance Centre (290 George St. N., Peterborough).
Instead, Measha will be performing a powerful selection of African-American spiritual songs, including "Amazing Grace", "Swing Low Sweet Chariot", "Go Tell it on the Mountain", "Go Down Moses", "Deep River", "This Little Light of Mine", and many more.
Along with her band, she will be joined by the Powerhouse Fellowship Soul Choir, a Toronto-based group of talented teens and young adults directed by Shawn Cotterell.
VIDEO: "This Little Light of Mine" performed by Measha Brueggergosman and the Nova Scotia Mass Choir

The songs Measha will perform are some of the same ones heard in the 2015 documentary Songs of Freedom, directed by Rhombus Media's Barbara Willis Sweete.
The film, which was nominated for four Canadian Screen Awards, also documents Measha's personal journey and connection to her faith, her family history, and traditional African-American spirituals.
"My exploration of traditional spirituals is a way for me to challenge my classically trained mind," Measha explains. "It has helped me to become a better musician. It's dear to my heart. My ancestors were stolen from Africa and sold into slavery in the United States before finding freedom in New Brunswick.
"The spirituals were born out of a time when my people were oppressed and needed to find a way not only to communicate with each other, but also to express themselves. The reason the songs survived so long is because of their immediacy. They have the universality of a mournful yet hopeful existence. They have strength."
The film includes Measha's discovery of her family's roots in the central African country of Cameroon, her ancestors' enslavement and forced transport to America in the 18th century, and their subsequent escape and arrival in Canada, where they have lived for eight generations.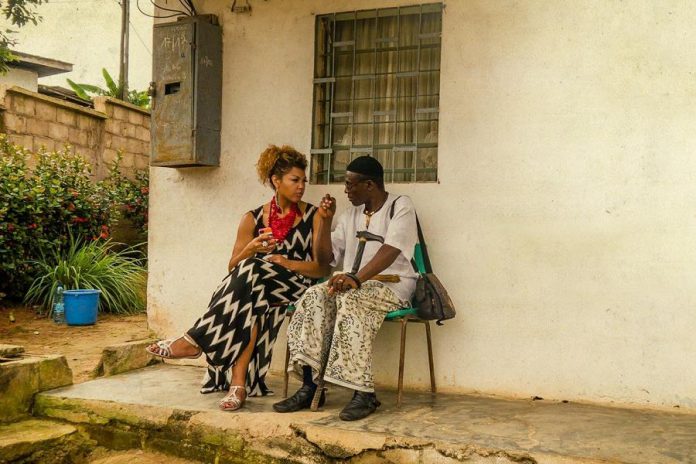 "I found the Gosman name in an entry of the Book of Negroes, a recorded list of all of the enslaved blacks (known as Black Loyalists) who gained their freedom in Canada by fighting with the British military during the American War of Independence in the late 1700s," Measha writes on the Songs of Freedom website.
"In 1779 John Gosman became a Black Loyalist when he ran away from his Colonial enslaver, Daniel Lathem of New London, New England, to join the British troops. The Book of Negroes is the first recorded evidence of John Gosman, my great-great-great-great-great-grandfather."
Measha Gosman was born in Fredericton, New Brunswick in 1977. She began singing as a child in the choir of her local Baptist church, and at the age of seven began to study both voice and classical piano.
As a teen, she continued to study voice and she met her future husband, Markus Bruegger, who was an European exchange student (when they later married in 1999, they merged their last names into Brueggergosman, pronounced broo-ger-goz-man). She attended the University of Toronto, where she earned a Bachelor of Music, then went on to earn a Master of Music from Robert Schumann Hochschule, a college for music studies at the university level located in Düsseldorf, Germany.
Since then, Measha's powerful and dynamic performances has earned her international recognition and acclaim. She has appeared with the Berlin Philharmonic in concert performances of Porgy and Bess, Angels In America with the Los Angeles Philharmonic, and a program of Barber and Duparc with the Toronto Symphony Orchestra, among many others.
Her 2005 performance in Songs of Innocence and of Experience by William Bolcom garnered four Grammy Awards including Best Classical Album. Her other awards include Montreal International Musical Competition, the International Music Competition in Munich, and the Queen Sonja International Music Competition in Oslo. She has two Juno nominations, winning in 2008 for Classical Album of the Year.
VIDEO: "Swing Low, Sweet Chariot" performed by Measha Brueggergosma

Now 40 years old and a mother of two sons, Measha published her memoir Something Is Always On Fire: My Life So Far in 2017. The book describes her struggles before and during her musical career, including being molested as a child, obesity, the death of her twins during pregnancy, infidelity and a year-long separation from her husband, and a 2009 brush with death at the age of 31 from a dissected aorta that required open heart surgery.
Measha has performed in Peterborough before. In fact, as she relates in a recent interview with Michael Bell of The Wire Megazine, she even writes about Peterborough in her memoir.
"There's a moment in my career that really did hinge on Peterborough," she says. "I'm really not sure whether I named Peterborough by name, but anybody who was there would know what concert I'm talking about. I go into great detail in my book about it. It was the very first time I sang Verdi's Requiem and that's all I'm going to say."
VIDEO: "Blessed Assurance" performed by Measha Brueggergosman and her band

Measha's April 28th Showplace concert will be a very different experience for audience members accustomed to her classical performances. Her powerful voice will still be centre stage of course, but this concert will also encourage some audience participation.
A common feature of African-American spirituals is the call-and-response format, where a leader sings a verse and others respond with a chorus. A tradition of African agriculture, during American slavery the work gangs would use these songs to regulate their pace and as a way to pass on stories orally.
"I like that I'm bringing the Songs of Freedom program because it requires a bit of audience participation," Measha tells The Wire. "It's also songs that people generally know and really love and have been a part of their lives. It's a program that invites people in and I love singing it. It's a lot of fun."
Even though opera isn't on the program for Measha's Showplace concert, there is still a connection to classical music: the event will benefit the Peterborough Symphony Orchestra (PSO) as well as the non-profit Showplace Performance Centre.
Along with the concert, there will be a VIP reception with Measha hosted by PSO Music Director and Conductor Michael Newnham. The reception includes complimentary hors d'oeuvres and sparkling wine as Measha and Michael discuss her rise to fame, her passion for music, and her current projects.
VIDEO: "Go Tell It On The Mountain" performed by Measha Brueggergosma

The event begins at 7 p.m. on Saturday, April 28th. Tickets are $60 plus fees for the concert only, or $115 plus fees for the concert and VIP reception.
Tickets are available in person at the Showplace box office or by phone at 705-742-7469 (11 a.m. to 5 p.m. Monday to Friday and 11 a.m. to 4 p.m. on Saturday) or online anytime at www.showplace.org.
For more information about Songs of Freedom, including 360-degree videos and a mobile application, visit www.songsoffreedom.ca. Measha also released an album of the same name last year, which is available on iTunes and Spotify.