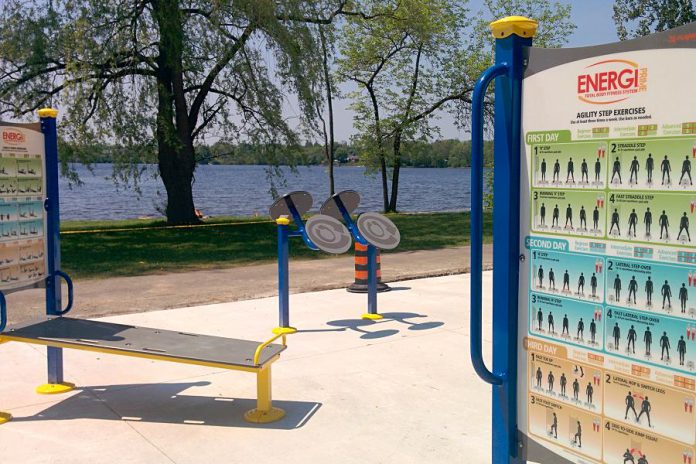 Now that summer weather is finally here, we can look back on May with a little more fondness than the rest of this spring.
We moved from winter temperatures directly into summer heat and humidity in May. On Instagram, we were suddenly deluged with photos of sunsets and trilliums tagged with #kawarthanow.
Follow us on Instagram @kawarthanow and check out our feed's monthly highlight reels for recaps of every month in 2018. Don't forget to use #kawarthanow to tag us for shares.
---
#1. Adult Outdoor Gym at Beavermead Park by kawarthaNOW @kawarthanow
Bruce Head of kawarthaNOW took this photo of Peterborough's first adult outdoor gym in Beavermead Park. See more photos of the gym at kawarthanow.com/2018/05/27/peterboroughs-first-adult-outdoor-gym/. Posted May 27, 2018. 6,908 impressions, 319 likes
#2. Bancroft Turtle Yarn Bomb by kawarthaNOW @kawarthanow
Photo by Barb Shaw, story at kawarthanow.com/2018/05/17/bancroft-turtle-yarn-bomb/. Posted May 17, 2018. 6,535 impressions, 389 likes
#3. Dockside at "The Nook" near Lakefield by The Nook @lovethenook
Photo of "The Nook" yoga studio and retreat taken by Melissa Nagy @_moonlissa/. Posted May 10, 2018. 6,366 impressions, 707 likes
#4. Fireworks over Little Lake by Devon Ulrich @devonulrich
Devon Ulrich's time lapse photo captures the glory of the Rotary Victoria Day fireworks display in Peterborough. Posted May 21, 2018. 5,685 impressions, 481 likes
#5. Trilliums on the forest floor by Kathryn Frank @_katy.did.it_
Posted May 20, 2018. 5,594 impressions, 534 likes
#6. Misty morning on the lake by The Bear Stand @thebearstand
A long weekend photo of the award-winning The Bear Stand luxury wilderness resort near Gooderham. Posted May 22, 2018. 5,562 impressions, 500 likes
#7. Ryan's dock chairs on Gold Lake by Ryan Coleman @ryancoleman
Our regular followers will recognize Ryan Coleman's dock chairs and Gold Lake. The reappearance of Ryan's chairs on the Victoria Day weekend heralded the opening of cottage season. Posted May 21, 2018. 5,439 impressions, 433 likes
Posted May 27, 2018. 5,429 impressions, 465 likes
#9. Double Kawartha rainbow by Brad McCullum @mccullum.co
Posted May 9, 2018. 5,381 impressions, 461 likes