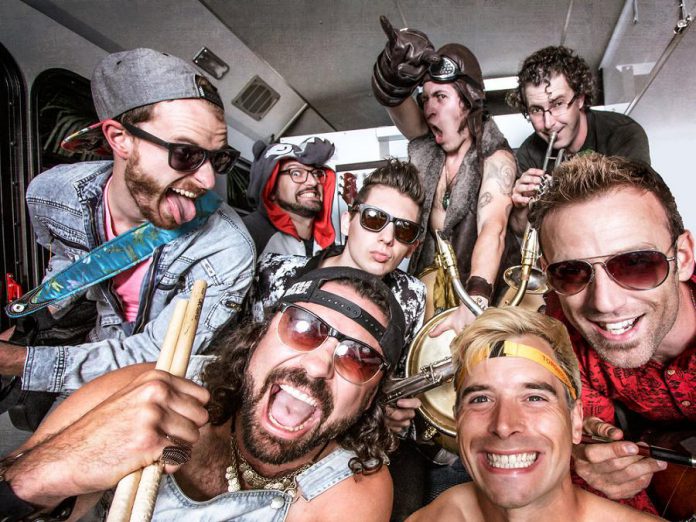 July is a fantastic time to get out to see and hear live music in Peterborough and the Kawarthas. There are many free shows all over the place, and there are others that may not be free but are entirely worth heading out to. Here are just a few of the shows that are taking place in this neck of the woods. Enjoy!
---
The Jerry Cans at Peterborough MusicFest in Del Crary Park on July 1
Celebrate Canada Day with a really fun and diverse show from Peterborough MusicFest on Sunday, July 1st at Del Crary Park (100 George St. N., Peterborough) with The Jerry Cans from Iqaluit, Nunavut.
Their music tells a myriad of stories about living life in Canada's Far North and offers glimpses of experiences in the Arctic. Their music dips and dives with their own style of Inuktitut alt-country, and folk with influences of reggae and Celtic music. High-energy drums and guitars merge with fiddle, accordion, and traditional Inuit throat-singing.
The band has been traveling around the world and had a triumphant performance as this year's Juno Awards. Their music is infectious and meaningful, catchy and deep. The show begins at 8 p.m. and is free for all. Stick around after the concert for a fireworks show.
VIDEO: "Northern Lights" – The Jerry Cans

Phoxy Music at Elmhirst's Resort in Keene on July 3
Elmhirst's Resort (1045 Settlers Line, Keene, 705-295-4591 or 800-461-1940) continues its Tuesday Live Music on the Boardwalk series on Rice Lake throughout July.
On July 3rd, catch Campbellford area duo Phoxy Music, Phil Smith and Roxanne (Flagler) Smith (filling in for the originally scheduled Kelly McMichael).
Their tune selection makes for a perfect evening on Rice Lake with feel good songs and classics. They begin around 7 p.m. and there will be a Texas-style offered up as well for a fee.
The public is welcome to check out other shows as well. The rest of the schedule in July includes: Singer-songwriter Ty Wilson on July 10th, the folk-inspired tunes of Cellar Door on July 17th, Fred Stillman on July 24th, and roots-rock cover band Odd Man Rush on July 31st. All shows are free to attend.
VIDEO: "Cool Breeze" – Phoxy Music

Pat LePoidevin at The Garnet in Peterborough on July 11
Pat LePoidevin is not necessarily your average singer of folk/rock tunes. He is also a teacher in Windsor, Nova Scotia, and one of his classes recently worked on creating a video game with him.
He will be on stage at The Garnet (231 Hunter St. W., Peterborough, 705-874-0107) on Wednesday, July 11th. I'm pretty sure he'll be playing his tunes, not the brand new game called Captain Myles and the SPR which is also the title of his new record.
LePoidevin has a great voice, sort of in the Chad Van Gaalen mold, and he writes earnest tunes. This should be a good show.
Tickets will be available at the door and the show begins around 9 p.m.
VIDEO: "Broadcast" – Pat LePoidevin

Mimi O'Bonaswin at The Garrnet in Peterborough on July 12
Mimi O'Bonaswin is a Northern Ontario born roots songstress who is steadily making a name for herself in Canada's music scene. She celebrates her Abénakis and French-Canadian heritage and her songs have a pretty ethereal quality.
Check out her show at The Garnet (231 Hunter St. W., Peterborough, 705-874-0107) on Thursday, July 12th. She recently took home two awards at the Toronto Independent Music Awards and has shared the stage with the legendary Buffy Sainte-Marie and Crystal Shawanda as the latter's own career takes off.
The show will begin around 9 p.m. with tickets at the door.
VIDEO: "Connected" – Mimi O'Bonaswin

Five Alarm Funk and My Son The Hurricane at the Red Dog in Peterborough on July 16
I can guarantee this will be the most insane dance party of the whole summer, or at least the most insane one on a Monday night! It's a double bill of esepcially funky proportions as Five Alarm Funk and My Son The Hurricane perform on Monday, July 16th at The Historic Red Dog Tavern (189 Hunter St. W, Peterborough, 705-750-1710).
Both bands are big and so is their energy level. Blasting horns, pumping drums, powerhouse vocals, and much much more are infused within the vibes and sounds of these groups.
Tickets are $20 in advance at ticketscene.ca and the Red Dog. The show begins around 9 p.m.
VIDEO: "We Play the Funk" – Five Alarm Funk

VIDEO: "Ain't My Style" – My Son The Hurricane

Wintersleep at Peterborough MusicFest in Del Crary Park on July 21
It will be a beautiful night in Peterborough at Del Crary Park (100 George St. N., Peterborough) on Saturday, July 21st as celebrated indie rock band Wintersleep, originally from Yarmouth Nova Scotia, takes the stage for Peterborough Musicfest.
Their music is alt-rock with a ton of interesting elements, layers, and a sound that captivates and entertains.
The show is free and music begins at 8 p.m.
VIDEO: "Sleep" – Wintersleep

Sarah Harmer at Westben Arts Festival Theatre in Campbellford on July 27
Influential Canadian artist Sarah Harmer is performing at The Barn at the Westben Arts Festival Theatre (6698 County Road 30 North, Campbellford) on Friday, July 27th.
There are not a lot of tickets left, so you will want to purchase them in advance now. Harmer has been on the music scene in Canada for several decades now. Her band Weeping Tile brought a new sound to Canadians in the early '90s and since then she has had a very successful solo career, with her breakout album You Were Here putting her on the map for good and earning her a Juno in 2001 as Best New Solo Artist. She has also been a frequent colloborator with many excellent Canadian artists.
There will be a farm-fresh barbeque from 5 to 7 p.m. before the show, with the concert beginning at 7 p.m. Tickets range from $5 for youth to $55 for adults and are available online at www.westben.ca.
VIDEO: "Lotta Love" by Neil Young performed by Sarah Harmer with Choir! Choir! Choir!

Wendell Ferguson at Head Lake Park in Haliburton on July 31
Here is a great show for those who like some great guitar picking and a little humour in their live music. Canadian Country Music Hall of Famer Wendell Ferguson performs at Head Lake Park (13 York St., Haliburton) on Tuesday, July 31st at 7 p.m.
Ferguson has been a career musician with more than five Canadian Country Music Association for 'Guitarist of the Year' and numerous Juno nominations, and countless collaborations with some of Canada's best country and folk artists.
Admission is by donation with proceeds going to Rotary community service. The show is family friendly and it's recommended to bring a blanket or chair for maximum enjoyment.
VIDEO: "Throw Another Fiddle" – Wendell Ferguson