For the last three years, FastStart Peterborough's weekend portage camping trip in the Kawartha Highlands has challenged young entrepreneurs to get out of their comfort zone.
This year, the new and improved Camp Startup — previously known as the Kawartha Backcountry Entrepreneurship Experience — will be held at Camp Kawartha from Friday, September 14th to Sunday, September 16th
A group of 20 successful applicants between the ages of 18 and 29 will embark on a weekend bootcamp filled with teamwork exercises and workshops designed to move their innovative ideas to the next level.
VIDEO: Camp Startup — Leave Your Comfort Zone Behind

All of the costs for the bootcamp are covered by FastStart Peterborough, a partnership between Trent University, Fleming College, and the Innovation Cluster Peterborough and The Kawarthas that focuses on training young entrepreneurs to develop solid business plans that take their products and services to market.
The relocation of this year's weekend retreat from the backcountry to Camp Kawartha is intended to make the experience more accessible for participants and to situate it closer to resources, which will allow for more intensive programming.
"While the portage trip is an exciting challenge, it is not accessible to all applicants and there are only so many supplies you can bring into the woods," says Rosalea Terry, Marketing Manager and Senior Innovation Specialist at the Innovation Cluster.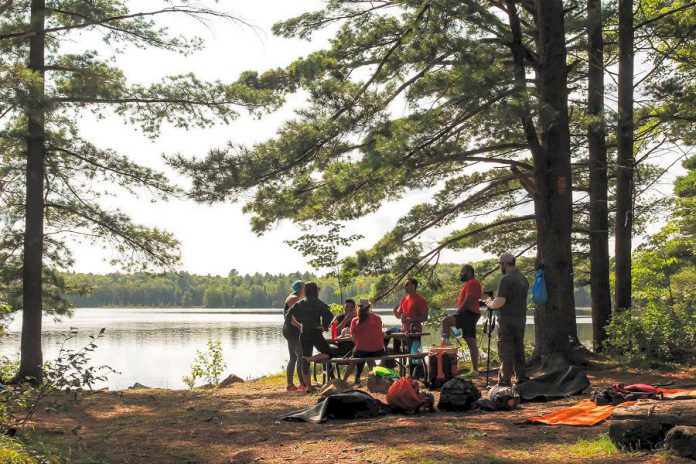 Camp Kawartha's award-winning facilities will allow workshops and activities to be diversified and expanded. In addition, the facility's close proximity to Peterborough will allow for community organizations to participate and share knowledge with the young entrepreneurs.
On Friday evening, participants will arrive at the camp and spend time getting to know the fellow entrepreneurs they will spend the weekend with. Workshops and activities will be held throughout Saturday and Sunday.
In the workshops, participants will learn how to create strong business plans. A funding panel comprised of local funding organizations, tax and finance businesses, and banks will offer advice on how to access funding and investment to the up-and-coming entrepreneurs.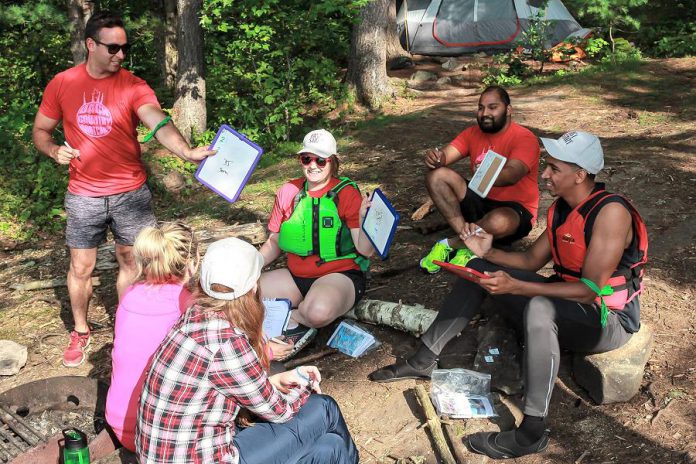 Participants will also practice and receive feedback on their pitching techniques, which will culminate in a final pitching challenge at the end of the weekend where participants will compete to win a $500 cash prize.
But it won't be all business. The young entrepreneurs can expect to have a lot of fun too.
Participants will test their skills on Camp Kawartha's high ropes course and have access to canoeing on Clear Lake, as well as an archery range.
A favourite of the last three years is the "creative campfire rap battle", an exercise that — if it hasn't happened already — breaks the ice amongst participants and is sure to end the night in laughter.
Of all the ground-breaking initiatives the Innovation Cluster has helped to develop, this weekend bootcamp stands out for staff participants.
The Innovation Cluster's downtown office space (known as The Cube) is designed to inspire, with colourful walls that encourage creativity and an open office design that facilitates collaboration, but getting out of the office and conversing in an outdoor camp setting is a unique experience that produces unique results.
"The young entrepreneurs leave after the weekend with a lot of soft skills, like communication, teamwork, and leadership skills," Terry explains. "It's hard to teach these skills in a traditional workshop setting, so the outdoor camp environment really encourages that."
One of Terry's favourite things about the weekend is the change she witnesses in participants within a short period of time.
"At first they are soft-spoken and reserved, but by the end of it they've gained so much confidence. They really open up.".
For some participants, the weekend is a chance to develop the project they are already working on. For others, the retreat is where connections start and ideas grow.
"When participants arrive, they may not know anyone," Terry says. "By the end of the weekend we see them talking about starting a business together."
Brock Grills and Spencer Langlois are two young entrepreneurs who met on a past FastStart Peterborough retreat. They formed a partnership that led to the development of a business idea, which they are currently working on at the Innovation Cluster's downtown Cube.
"Brock and I were seated in the same canoe and even though we were in different teams, we still wanted to reconnect after the trip," recalls Langlois.
Grills emphasizes the value of spending a weekend with other young entrepreneurs, guided by senior staff, in an outdoor camp environment.
"It gets young tech people out into the wilderness," he says. "It created a lot of camaraderie that still exists in the Innovation Cluster today. It was a great trip that allowed me to meet people that I have created opportunities with. It taught me a lot about how to sort things out with limited resources and reach out to business people."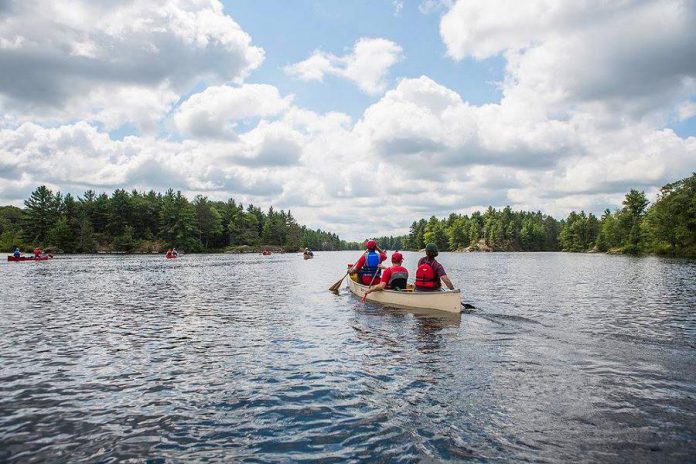 Whether participants come with a business plan mapped out or in need of help with this step, the most important thing they should possess is an interest in entrepreneurship.
"We want to encourage young people to pursue entrepreneurship as a career path," says Terry, emphasizing that the programming aims to show that becoming an entrepreneur is a viable profession.
The weekend promises to be a rewarding new experience for all involved. Retreat leaders are excited to meet the next batch of eager entrepreneurs and hope participants will leave feeling supported in their journey into the world of entrepreneurship.
Applications for this adventure are now open until Thursday, July 26th at midnight. To find out more and to apply, visit www.innovationcluster.ca/campstartup.