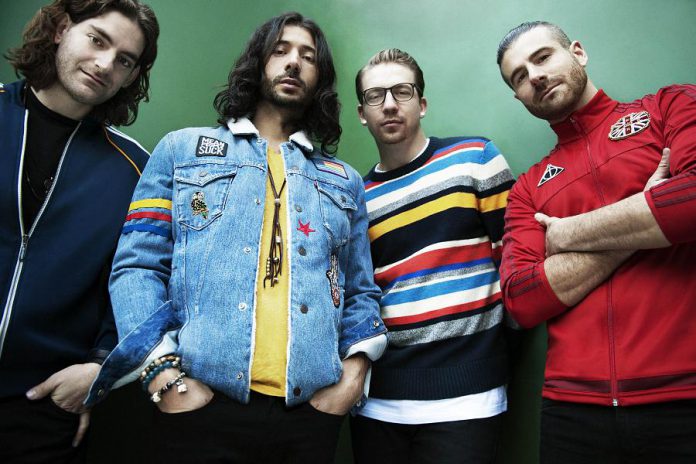 The thing about a tough act being hard to follow is … well, it's tough.
Take, for example, the song "Rude" by Magic!, the Canadian reggae-pop band currently based in Los Angeles.
Released on October 12, 2013 as the first single from the soon-to-follow Don't Kill The Magic, the band's debut album, it climbed to #6 on the Canadian Hot 100 chart, cracked the Top 10 in numerous countries including the United States, the United Kingdom and Brazil, and enjoyed worldwide sales in excess of 10 million.
A juggernaut of a tune, "Rude" received more than 350 million streams, and the official video for the song now exceeds 1.5 billion views on YouTube — making it the 40th most viewed YouTube video of all time.
VIDEO: "Rude" – Magic!

"Rude" was clearly the ultimate tough act to follow. But on Saturday, July 7th at Del Crary Park, we will receive full evidence that there is plenty of "magic" left in the aftermath of initial success as Magic! performs a free concert at Peterborough Musicfest.
"I always enjoy singing Rude … but when you're doing promo it's different than when you're touring," says Magic! lead singer and guitarist Nasri Atweh in a 2016 interview with Dan Hyman of www.rollingstone.com.
"When you're doing promo, you're singing one or two songs over and over again. We would sing Rude three times a day, every day, often acoustically. It was like 'This is ridiculous.' It was a little much but still fun."
Did the three words that every artist fears — one-hit wonder — ever fall on Nasri's ears?
VIDEO: "Lay You Down Easy" – Magic!

"Nobody ever said that. I think a lot of people were like 'Are you going to beat Rude?' No and yes and who cares? We write our own music so whether it's number one or number 20 (on the charts), it's already successful for us because we've put out music that we've created."
Each member of Magic! — Nasri along with Mark Pellizzer (guitar/keyboards), Ben Spivak (bass) and Alex Tanas (drums) — hails from Toronto. Heavily inspired by The Police and Bob Marley and The Wailers, they rehearsed their blend of reggae, pop, and R&B until they were ready to hit the studio to record Don't Kill The Magic, from which all good things flowed. Along with the ongoing success of "Rude", the album soared to #6 on the Billboard 100 chart.
VIDEO: "#SundayFunday" – Magic!

Almost overnight, it seemed everyone was talking or writing about Magic!, and the band subsequently toured with Maroon 5, performed with Marc Anthony at the 15th annual Latin Grammy Awards, and joined Wyclef Jean onstage for the 42nd annual American Awards.
Predictably, music industry acclaim followed in the form of two 2015 Juno Awards for Breakthrough Group of the Year and Single of the Year. In addition, Magic! was given the 2015 International Achievement Award by SOCAN (The Society of Composers, Authors and Music Publishers of Canada).
Striking while the iron was hot, Magic! returned to the studio, the result being the June 2016 release of Primary Colours with its hit single "Lay You Down Easy" featuring Sean Paul. Both charted high in Canada, as did "#SundayFunday" which was released as a single only.
VIDEO: "No Way No" – Magic!

And that's music to Nasri's ears, as he wants Magic! to keep making music for a long, long time.
"We want people to trust us," he says. "That's not easy. But the consistency is how you develop trust. If we say 'We're going to deliver more great songs' and fans listen and they don't like it, they've lost interest. We have a plan and that plan is to take people on a musical adventure. We're going to get old and weird and our songs have to be something that transcends everything."
Following the breakout success of "Rude", Magic!'s pop-reggae sound also attracted some criticism. One critic rather harshly wrote, "Rude is a reggae song the way a gas station taquito is a formal expression of Mexican cuisine. It's a pop object with no content and only as much form as is necessary to deliver brief chemical gratification."
VIDEO: "Kiss Me" – Magic!

That criticism hasn't deterred Magic! Nasri not only points out that the band is quite popular in Jamaica and with reggae musicians, but their genre-fusing pop sound allows them to be more creative.
"Pop music has changed," he says. "In the late seventies or early eighties, pop was pretty creative. Now it's not. But we feel like we're one of those acts that are a little more creative. We have embraced our sound. As a songwriter, I can go in a lot of directions. I can make something creative for myself that you might not really get but may sound cool or I can do something that we'll all love.
"My band mates are extraordinary musicians, so I don't want people to hear our music and not hear that. We had to write a lot of songs to get to songs that are catchy but also musical."
Peterborough Musicfest is presenting 18 free-admission concerts featuring a total of 20 acts during its 32nd season — each staged on Wednesday and Saturday nights at Del Crary Park.
Overseen by general manager Tracey Randall and staff, a board of directors, and numerous volunteers, Peterborough Musicfest's stated mission is to "provide diverse, affordable live music to enrich cultural and economic prosperity in our community."
For more information on this concert or the entire 2018 season, visit www.ptbomusicfest.ca or phone the Peterborough Musicfest office at 705-755-1111.