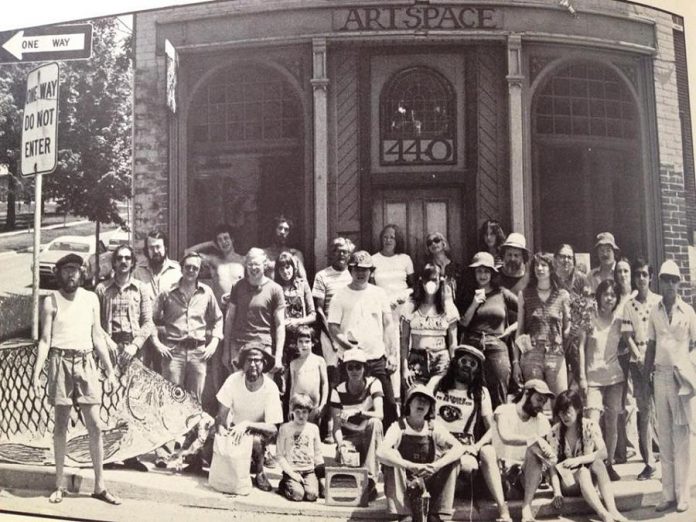 Artist Alex Bierk recently shared a historical photo on Facebook of Peterborough's Artspace, one of Canada's oldest artist-run art centres.
Artspace was founded in 1974 by Dennis Tourbin and Alex's father David Bierk, along with a collective of local artists. According to local artist Joe Stable, who was curator for Artspace when it was founded, the photo was taken in 1976. David is pictured in the front row, far left, with Joe towards the front right (in the suspenders).
Others pictured in the photo include Tobey Anderson, Eric Loder, Dorothy Caldwell, and David's first wife Kathleen Hunter-Bierk.
Both Dennis and David died young, with Dennis passing away in 1998 from a massive stroke at the age of 53, and David — who remained director of Artspace until 1987 — passing away in 2002 at the age of 58 as a result of complications from leukemia.
The original location for Artspace, pictured in the photo, was 440 Water Street at Brock Street — a building that no longer exists.
"Earlier the building was the Boy Scouts office," writes historian Elwood Jones on Facebook. "Later it was demolished for the St John's Centre. The windows were rescued by Martha Kidd, as they echoed the windows in the Market Hall where Artspace later went."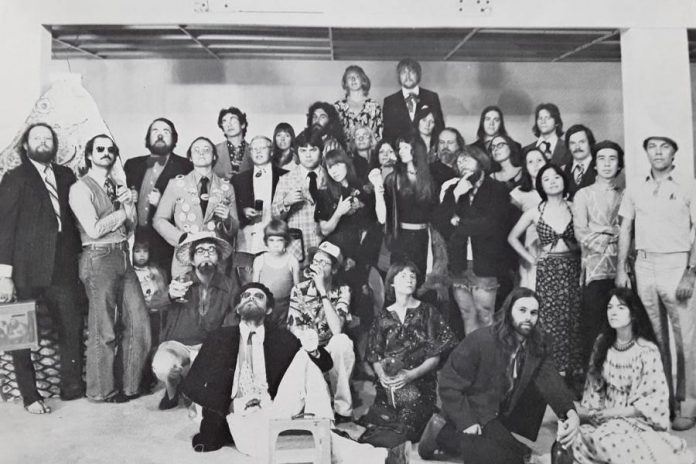 Artspace, which received non-profit incorporated charitable status in 1977, was also located for several years on the second floor of 188-190 Hunter Street West (where La Hacienda and Sam's Place are now).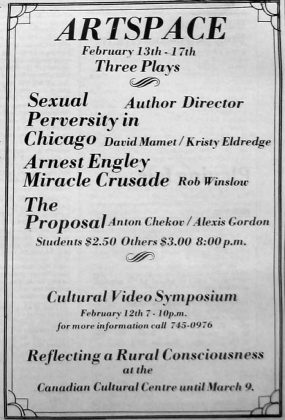 It relocated to, and operated, the Market Hall in the early 1980s, after the venue was converted from a gymnasium into a performing arts centre.
In all, Artspace had six locations in Peterborough before opening at its current site at 378 Alymer Street North in 2006.
The historical photos of Artspace are an important part of Peterborough's cultural history. While located at King and George Street, Artspace's archives were either destroyed or badly damaged after the great flood of Peterborough in July 2004.
If you're interested in the early history of Artspace, you can try to locate a copy of Artspace 79 : the first four years by David Bierk. A single copy is available for reference only at the Toronto Public Library.