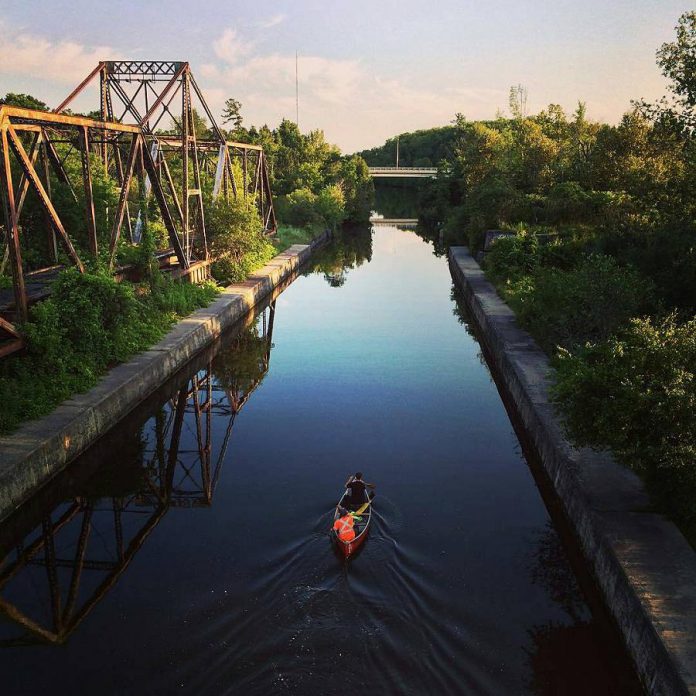 Travel website Expedia.ca has named Peterborough one of the 21 most active cities in Canada — and uses a photo from a local photographer that kawarthaNOW.com shared on its Instagram account.
The photo of two people paddling a canoe on the Trent Canal near Trent University was taken in May 2016 by Instagram user @jefflionelfitz (his account no longer exists). kawarthaNOW.com shares pictures of the Kawarthas by local photographers every day on our Instagram account @kawarthanow, which has grown to almost 11,000 followers.
Expedia writer Jennifer Cuellar ranks the 21 cities by various factors: average number of marathons and hiking trails; access to bike paths, trails, and races; per capita gyms, including but not limited to CrossFit, yoga studios, rock climbing, and more; and by abundance of outdoor activities such as kayaking, canoeing, and more.
"Peterborough is all about pushing personal limits," she tells kawarthaNOW.com. "Whether it's biking, paddling, or even indoor rock climbing, this city is a challenge for anyone who wants to see how far they can go."
In the story, Cuellar describes Peterborough as follows:
To paraphrase Salt-N-Pepa, you've got to push it when you're in Peterborough, Ontario. This means pushing your endurance along Trent Canal when you're riding your bike next to dozens of pros. Pushing your body up just a little higher off the safe ground at Rock and Rope Climbing Centre. And pushing your paddle skills on Little Lake to one day earn a glittering spot at the Canadian Canoe Museum in town. Or, if you'd prefer to stand up as you propel the water far behind you, sign up for a class with Peterborough SUP. Outdoor activities in Peterborough demand you bring your best. So, bring it on.
While Peterborough made the list, we expect area residents may dispute the city's ranking of #21 — at the bottom of the list, behind Ontario cities St. Catharines (#19), Hunstville (#17), Perth (#13), London (#12), Barrie (#8), Brockville (#7), and Toronto (#6).
The remaining cities are located in Nova Scotia, Manitoba, Alberta, Quebec, Newfoundland and Labrador, Saskatchewan, and British Columbia which, unsurprisingly, has six cities on the list — including the top ranked active city in Canada, Vancouver.
You can see the full list at www.expedia.ca/travelblog/active-cities-canada-ranked/.